On June 25, 2010, Exxon Mobil (NYSE:XOM) traded a single block trade of 25,589,700 shares at $59.10 each. The subsequent trades were also very large and since they too were traded at $59.10, it is reasonable to assume that these trades were executed on behalf of a select group of highly influential insiders.
The 25-million share block alone represents a single trade in excess of $1,512,351,270.00. It is without a doubt the largest single big block I had ever seen in Exxon Mobil. This is an extraordinarily large block, in and of itself, but when you aggregate the total value of all three trades: the total dollar amount is $2,333,506,882.20.
Without exception, money that huge always moves to the front of the line (like it or not). When an insider takes a merchandising stance this substantial, the stage is set for a high probability outcome with the added bonus of minimal risk. The media was yet again sleeping in the wheelhouse and made no mention of these trades.
By February 23, 2011, Exxon Mobil had advanced to $88.23. This is a 48% gain in less than 8 months. When you see block activity this extreme you can be certain of two things:
A market heavyweight has established a very important merchandising stance; and
Very serious price consequences will follow.
Click to enlarge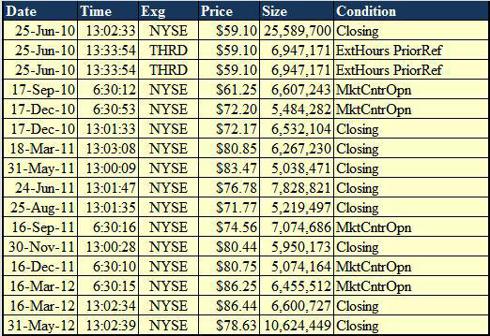 Click to enlarge
In an article I published recently, I mentioned that if ever there was a smoking gun in the room it is the date of March 16. That was the day the Designated Market Makers in many issues (Exxon Mobil included) conducted supremely important merchandising activities - which were the precursors for the current decline. Nothing moves unless something happens. In this case, the something that happened was: many large blocks, in many key issues, occurring at the market top. That point cannot be overemphasized.
The blocks in the matrix I provided speak for themselves. Nevertheless, I would like to specify with particularity as to the nature of those blocks. I believe they were distributions. If they had been accumulations, the price of this issue would have advanced. When I refer to accumulation and distribution I am always referring to the Designated Market Makers accumulation and distribution.
There are many analysts whose primary focus is on the public buying pressure and the public selling pressure. We are both essentially 180 degrees (diametrically opposed) in our view or paradigm of cause-and-effect. I believe that assuming that the public is driving the price up or down based on their buying and selling pressure is a bit like the tail wagging the dog.
It is the Designated Market Maker who creates the Buying or selling interest because it is rising prices that create demand and he sets the price. You can read my book The Stock Market Insiders Manifesto to better understand those concepts.
That said, I suspect that Exxon Mobil was extensively distributed from mid-January through March, April and May. I also believe that the 10,624,449 share block that traded on May 31st at $78.63 was the new base being established for Exxon Mobil. However, I still expect to see one more shakeout that drives the price lower by approximately $4.00.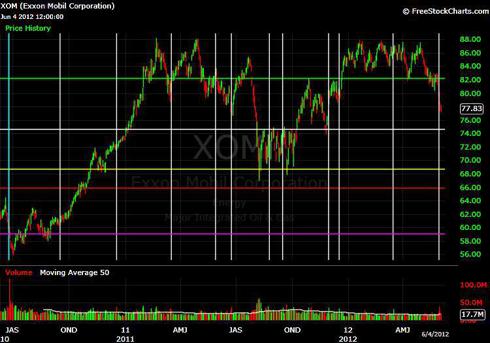 Click to enlarge
On the basis of the above, these are my views and observations:
The Trade:
I recommend establishing a long position in Exxon Mobil. Open your position with only 1/4 of whatever capital you intend to commit to Exxon Mobil at $74.63. Purchase the remaining 3/4 of the position at $68.66 and stop out at $65.86. Do not post your stop out. I have said it before, but it is so important that at the risk of being redundant and in an abundance of caution I will say it again. It is too easy for the Designated Market Maker to cash investors out by moving the price above or below your stop out and move the price right back down or up again.
In addition, when a stop out is triggered, it converts into a market order and that could be disastrous if the Designated Market Maker decides to really take advantage. Remember the "Flash Crash"? I would be looking to exit the trade at an upside price target of $82.15. Do not allow this position to exceed 5% of your overall portfolio.
A portfolio of $1,000,000 should position size in the following manner: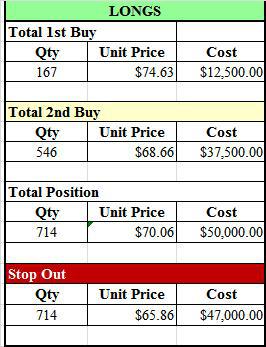 In closing, I would say this is a trade, not an investment. Be ever vigilant.
Disclosure: I have no positions in any stocks mentioned, but may initiate a long position in XOM over the next 72 hours.