At the close Monday, the S&P 500 was down slightly less than 10% since its bull market high reached on April 2nd. But the stocks that did well during the first quarter are down way more than 10%. To highlight this, we broke the index into deciles (10 groups of 50 stocks each) based on year-to-date stock performance through April 2nd and then calculated the average performance of the stocks in each decile since April 2nd.
As shown below, the 50 best performing stocks in 2012 through April 2nd are down an average of 18.8% since then. This is by far the worst performance of any decile.
A whopping 44 stocks in the S&P 500 -- nearly 10% -- are down more than 25% since April 2nd. For those interested, below is a list of these 44 big losers. The 10 worst performers are as follows: First Solar (NASDAQ:FSLR), etflix (NASDAQ:NFLX), Genworth Financial (NYSE:GNW), Abercrombie & Fitch (NYSE:ANF), US Steel (NYSE:X), Morgan Stanley (NYSE:MS), Alpha Natural Resources (ANR), Cliffs Natural Resources (NYSE:CLF) and JDS Uniphase (JDSU).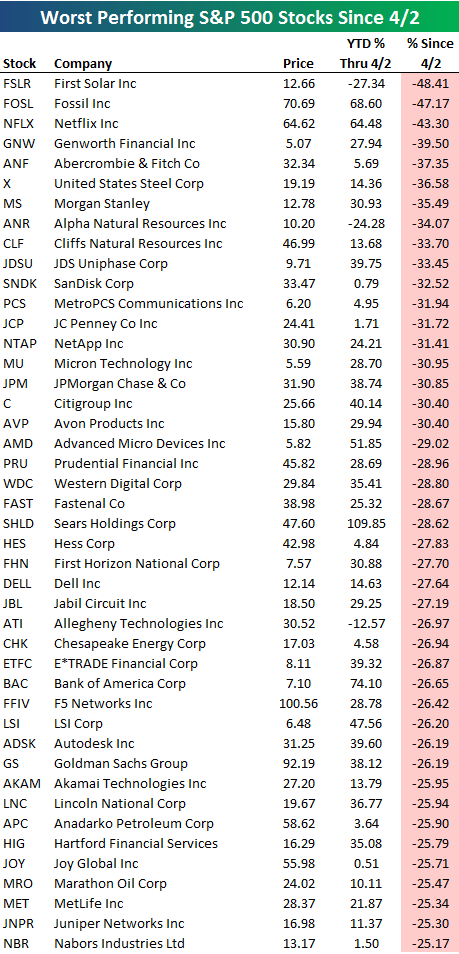 There are a few stocks that have actually gone up since 4/2, however. In fact, 28 stocks in the index are up more than 5% since then. Below is a list of these 28 stocks that have been winners during a period when not much has worked for equity investors.