On May 15th J.C. Penney (NYSE:JCP) reported its first-quarter earnings after Ron Johnson assumed the title of CEO. From the earnings report, to the signage in the store, to the advertisement on TV, it is clear that Johnson is being bold and trying to communicate to consumers that JCP is a new company. The problem is, his vision has not yet taken hold. People are confused by the company's new pricing strategy, even though prices are less than competitors. This is evidenced by a 19% decline in existing store sales. Both revenue and profit were down in the first quarter and Johnson himself stated that the recovery of the ailing retailer has been more challenging than anticipated, but that the turnaround is ahead of schedule. He stated:
Customers love the new JCP they discover in our stores. Our shop strategy has been applauded by vendor and design partners, our merchants have stepped up to the challenge of improving our merchandise and presentation, we have dramatically simplified our business model and reorganized our teams at headquarters and in our stores. While we have work to do to educate the customer on our pricing strategy and to drive more traffic to our stores, we are confident in our vision to become America's favorite store. We fully expect that the bold and strategic changes we are making to our operations will result in improved profitability and sustainable growth over the long term.
The issue that JCP is facing is that of customer perception and specifically how difficult it is to turn around the age old perceptions of a company like JCP. It is clear that the Ellen DeGeneres commercials and three color signs are not informing customers of what they need to know: not only is JCP a new store, it is for budget minded individuals. The root of Johnson's problem is that his excitement is setting expectations too high. After failing to deliver first-quarter results that meet estimates, Johnson is again setting high expectations that FY12 will turn a profit and these types of expectations are what lead to double-digit declines in stock prices. It is not wise to invest in a company that has not demonstrated that 1. customers want what it is selling and 2. that the business model is strong and sustainable. Until these now questions turn into answers, JCP is in turbulent waters.
Fundamental Change:
The strategy that Johnson brought to investors a quarter ago in his "four year strategic goals" was the idea that JCP will redesign how Americans think of a retail store in that coupons will be a thing of the past, products will be exclusively to JCP, and the store will operate as a market place for different boutiques. The fundamental problem with this model is that it is the antithesis of the old JCP and in order for customers to buy into this new concept, it will take time and a clear conveyance of information to customers (both past JCP shoppers and never JCP shoppers). The road to recovery is long in retail and Johnson needs to recognize this in the same way that Alex Smith from Pier 1 Imports (NYSE:PIR) or David Dire from Chico's FAS (NYSE:CHS) did: in promising slow and gradual change. Until expectations of JCP turnaround subside, the company will continue to be very volatile in the market.
Valuation/Financial:
The valuation/financial metrics below show that the company is not grossly overpriced at its current level, but that its levered free cash flow is negative over $500 million. This is concerning as it illustrates that if the company's revenue and profit continue to decline, the company's financial situation could become dire. This data supports the notion that buying JCP at its current level is not wise.
Forward Price/Earnings: 11.85
PEG Ratio: .81
EV/EBIDA: 12.35
Levered Free Cash Flow: -$542.12 million
Dividend: 0% from 2.80%
1 Year Chart: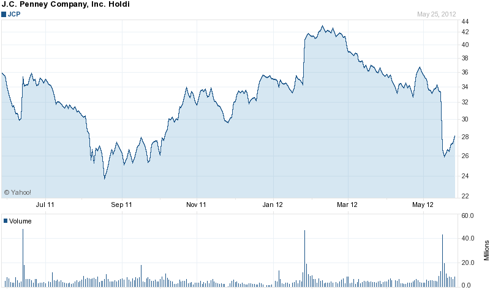 (Yahoo! Finance)
Conclusion:
Until expectations are managed by both JCP itself and Wall Street, the company is apt to have a difficult road driving a stock-price rally. Johnson's plan, if it takes hold, will be a multi-year and multi-phase endeavor that will have its ups and downs. Unless you want to ride these ups and downs with JCP, it is best to sit on the sidelines and jump in when clear and tangible results have been delivered.
(All financial metrics referenced above are obtained from Yahoo Finance, CNBC Analytics, S&P Capital IQ and Thomas Reuters.)
Disclosure: I have no positions in any stocks mentioned, and no plans to initiate any positions within the next 72 hours.