Not wanting to be remiss in giving an update on Israel Opportunity Investor portfolio member, Alvarion (Nasdaq: ALVR), we want to chime in with our two cents. We've been positive about the stock, and have seen our thesis — that of further global uptake of fixed mobile services — came to fruition, and even surpass our expectations. This is a critical lesson for investors: while stocks may perform financially as planned, how they trade is another matter.
Essentially, we've seen the stock pulverized by fear of weak global markets. Telecom spending typically gets pushed out during turbulent times.
That said, Alvarion's not seeing that yet. In fact, while we continue to think the stock has a lot going for it, we are sensing a rising sense of negativity on the stock, that is driving it down off of what ultimately was a good reporting season, and offered guidance that was not too bad in the headwinds of a weak dollar.
Last week, after Alvarion announced earnings, an article ran in SmallCapInvestor that looked at how analysts were sizing up ALVR's results. The way I read the results, and how Susquehanna addressed them is:
Alvarion had a Q4 ahead of estimates and saw WiMAX revenues up over 50% from 2006.
Higher operating expenses are certainly a negative for the company, but the company attributed this to a weak U.S. dollar.
What many investors and even analysts don't appreciate is that the dollar has fallen like a rock versus the Israeli shekel. Israeli firms like Alvarion that trade in the U.S. and are priced in dollars but conduct R&D/production in Israel, are all feeling a squeeze. We've heard this from numerous Israeli CEOs. When the time comes that the dollar ultimately strengthens against the shekel, we'll see a natural reversal in these numbers.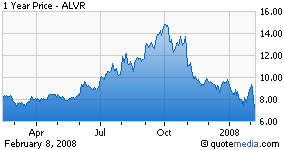 My point here is that when numbers like this are clearly attributed to fluctuations in the dollar, earnings gains/misses are not organic changes in the business model.
This same analyst's report that SmallCapInvestor disparaged actually comes out pretty positive on Alvarion. Susquehanna likes the Q4 surprise, likes the WiMAX opportunity, and Alvarion's stable of international customers. Long term investors in Israeli stocks trading in the U.S. will find it somewhat funny to think that a particularly strong shekel is weighing on earnings.
Disclosure: The author's fund holds a position in ALVR and is long the stock as of February 8, 2008.