If enough people ask you a question, you should go out and find the answer. I finished up a few days giving seminars at the Money Show in Orlando and four people asked me about a company I do not follow or recommend, Accuray (NASDAQ:ARAY). After reading some and talking to others, I am still not recommending it in my service but thought you might want to take a look, in part because it was recently crushed when it reduced revenue estimates for 2008.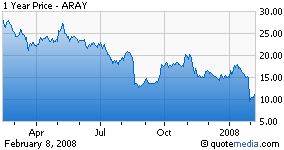 Accuray makes several products but its leader and growth engine is CyberKnife Robotic Radiosurgery System, used to directly target cancer tumors with narrow and powerful doses of radiation. Sales doubled in Q4, year over year, for the company, but a few days ago the company reduced sales estimates for 2008 to $210MM-$230MM from $250MM-$270MM. They blame tightened credit conditions, specifically as they apply to cancer and radiation treatment centers, for slowing growth. They also earned about four cents a share.
There are two ways to look at this explanation – first, if true, then these centers are overextended, which means there are too many of them and sales were going to slow to this segment sooner rather than later. Or, reimbursement rates are too low – probably driven by traditional radiation treatment, creating margins too low to generate the profits needed to keep credit ratings up. This situation, however, can be fixed with new reimbursement rates based on clinical data showing the treatments are more effective – which they are for many.
The stock was crushed on the pullback in forecasts, lemming analysts reduced their ratings, and the stock, although it sports a very high P/E, (more than 50) has a modest P/S (less than 3) given the sector – medical devices.
Bottom line: at a minimum, this is a company to watch, despite competition from industry heavyweight Varian Medical Systems (NYSE:VAR), a terrific outfit. I am waiting – I am going to ask the ChangeWave survey group to put together a survey on what is going on inside treatment and surgical centers and we may find out more about Accuray.
Disclosure: I do not currently own any stock in this company.