It's been an odd week if you're following the Australian dollar. The Reserve Bank of Australia cut its key "cash rate" by 25 basis points to 3.5% based on fears of "global gloom."
But as it turns out, Australia's GDP surged by 4.3% -- twice the pace expected.
Australia's economy expanded at more than twice the pace economists forecast, sending the local currency, bond yields and stocks higher and prompting traders to pare bets on a half-point interest-rate cut next month.
So what does this mean for the Australian Dollar? Usually a rate cut - or a series of rate cuts (this was the fourth in the past 8 months) - will make a currency less desirable. And as you can see, the Australian Dollar ETF (NYSEARCA:FXA) is down about 9% from its year-to-date peak in February.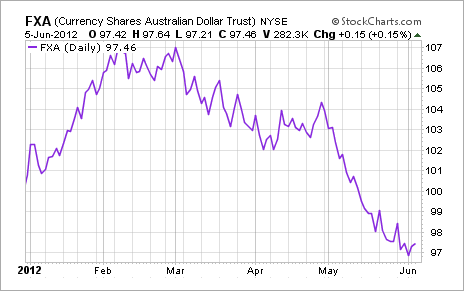 But here's a look at the currency since 2000 along with the Reserve Bank of Australia's cash rate: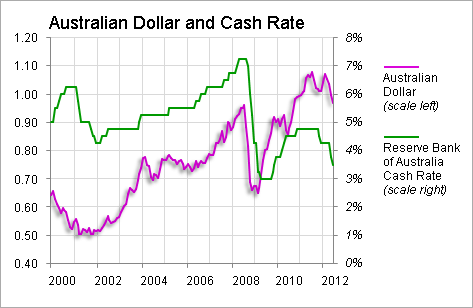 Given the rate cuts, could the Australian dollar fall back into the 80s or 70s? I doubt it. The currency has held up quite well even though Australian rates are near those 3% lows set during the 2008-09 financial crisis.
* * *
Getting a 3%+ yield on "just cash"
Perhaps this chart will frame things into a better perspective. I added a red line that shows the US Effective Fed Funds rate.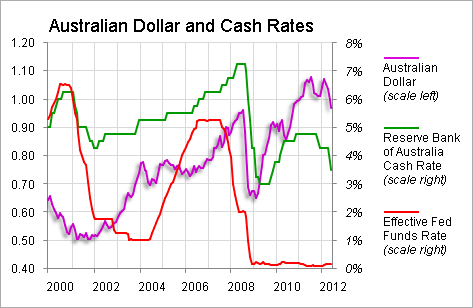 Getting a 3% yield on the Australian Dollar may not sound great, but it sure beats practically zero for the US dollar. And you can get that yield with the Australian Dollar ETF , which essentially represents cash in Australia
When I wrote about this ETF back in November, I noted that:
What you're getting with this ETF is Australian dollars sitting in a depository bank account (JP Morgan Chase if that matters to you). The fund isn't designed to provide any specific yield, but if the money on deposit earns interest, so do you (less expenses, which were 0.40% AUD last I checked).
But I also pointed out that rate cuts had probably only just begun
Unfortunately, the Reserve Bank of Australia started reducing their cash rate target this month. I say "started" because there's usually not just one rate cut.
I was right, but I think the rate cuts are over for now - and that the Australian dollar could be a place to get a reasonable yield with decent capital appreciation potential and a hedge against the US dollar.
Disclosure: I am long FXA.