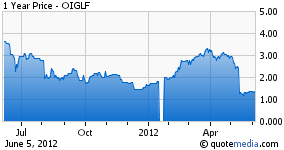 Chariot Oil & Gas (OTCPK:OIGLF) is a junior oil explorer listed on the London Stock Exchange under the symbol CHAR. The shares are also available to U.S. investors under the pink sheet symbol OIGLF.PK. Chariot's main prospects are in offshore Namibia.
On May 14th, Chariot announced a dry hole on their Tapir South prospect, which is on their Northern acreage block. The ultimate reason for failure was immature source rock. The market basically cut the stock in half after the dry hole announcement. I think the sell-off has presented a good opportunity to get into the stock for their upcoming Kabeljou well.
The Kabeljou well will be drilled on their Nimrod prospect, which is located in Chariot's Southern acreage block. The Nimrod prospect is anticipated to hold an unrisked prospective resource of 4.9 billion barrels of oil. Chariot has a 25% working interest in this block and therefore 1.2 billion barrels would be Chariot's portion.
The reasons I believe Chariot has the potential to be successful are:
Chariot has some heavy hitters, who have excellent offshore discovery track records, as partners in this Southern block [BP (NYSE:BP) 45% and Petrobras (NYSE:PBR) 30%]
Nimrod is a mega structure with a Class 3 AVO anomaly. AVO stands for amplitude vs. offset and relates to how seismic reflections change based on the distance between the seismic source and the various seismic receivers. Class 3 AVOs are typically associated with hydrocarbons and are commonly seen in the Gulf of Mexico. On the flip side, AVO responses can be misleading in certain cases.
The prospects are near the Kudu gas field which proves a working hydrocarbon system in the area. The rocks are shallower at Nimrod which would be conductive to oil production.
If successful and deemed commercial, water depth is only 1,200 feet and the wells are only ~10,000' subsea which would speed development of the field.
Also, Chariot is being carried in this first well by BP so they essentially have a free look at their largest prospect. The current market cap is around $240 million with $100 million in cash. At $85 oil and on a risked NAV 10 basis for Nimrod ALONE, Chariot is placing a value of 5.85 GBP/share (current London share price is 84p = 0.84 GBP). That is 7 times higher than the current price and does not take into account the 0.42 GBP/share of cash. On a derisked basis, with the current Brent price hovering around $100, Chariot is saying Nimrod will be worth an NPV10 of $8/bbl. With a full discovery, Chariot's prospective resources (1.2B bbls) in Nimrod could be worth $9.6B which is about 40x the current share price.
Petrobras, who is the operator of the block, has the Ocean Rig Poseidon lined up to begin drilling on Nimrod in July. The well should take approximately two months to drill. An oil or gas discovery, indicative of the full 5B bbl find will probably shoot the stock up 10-15x current levels and probably more. A dry hole or a non commercial find would probably take the stock down by 30%-50% from current levels. The high cash position would set a floor on the stock price for the time being. Nimrod is their largest prospect and a duster on Nimrod would be a huge setback for Chariot. While they do have other prospects, there are no plans to drill those until 2013.
The ultimate variable, in all oil/gas exploration, is mother nature. It's the biggest unknown and where the most risk comes from. Unfortunately, even with the best engineering and geology work, the only way to find out what is really in the ground, is drill. Don't bet the farm and only play with money you can lose.
On a related note, the Falkland Islands are another under-explored offshore area. A few companies are drilling there or will be drilling there in the near future. Borders & Southern (OTC:BDRSF) is currently drilling and Falklands Oil & Gas Limited (OTCPK:FLKOF) has the rig after Borders is done. I've written articles on Borders and Falklands.
Falklands is drilling a Nimrod-sized prospect off the Falkland Islands, however Falklands has a 100% (possible 75% if they secure a farmout) working interest on their play. Chariot would end up with 1.2 billion barrels on their play and Falklands would end up with a whopping 3.5-4.7 billion barrels on theirs. Falklands should be spudding their well in July as well. Diversify between all three to spread the mother nature risk and you may have a nice surprise come September when well logs are announced...
Disclosure: I have no positions in any stocks mentioned, and no plans to initiate any positions within the next 72 hours. I am long Chariot through their London listing of CHAR. Long Falklands through FOGL and FLKOF. Long Borders through BOR.