When almost everybody on the street seems busy calculating the real valuation and potential upside of Facebook's (NASDAQ:FB) share price (the company concluded its IPO recently and shares started trading two weeks ago), only a few are interested in what Facebook's closest rival Google (NASDAQ:GOOG) can deliver in terms of earnings in the next half decade. The social network and media giant's expected cash flow generation would have a huge impact on its potential share price. Currently the share price of Google is trading just below $600. In this article, I will present an in-depth analysis on how the share price of Google can double itself from here, based on my DCF valuation model.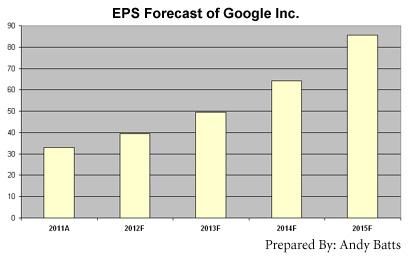 Let's begin with an assumption of Google's annual revenue. The company finished FY2011 with $37,905,000 in revenue. That was more than a 25% gain off the previous year. I assume at least 40% per annum revenue growth over the five year period from 2014 to 2018, which is well above recent performance. Actually this is going to be the main driver of Google's share price in the foreseeable future. Let me analyze how this would be possible.
M-commerce: The Next Growth Driver
Google now derives approximately $2.5 billion in annual revenue from mobile advertising from nearly all platforms, including its market-dominating Android platform. Mobile searches grew four times in the last year alone. Nearly 70% smartphone users who watch TV and use print media or the internet, do a mobile search.
Mobile ad spending worldwide stood at $3.3 billion in 2011 and will be sky rocketing to $20.6 billion in 2015, driven by search ads and local ads. In the US over half of US mobile ad spend is local. Asia continues to dominate global mobile ad spend. Market leader Google is the main recipient of mobile ad spending.
M-payments, i.e. paying by mobile, recorded a transaction amounting to $240 billion in 2011 and could be over $1 trillion by 2015. Purchasing digital goods is the largest segment ahead of physical goods. 1 in 8 mobile subscribers will use m-ticketing in 2015 for airline, rail and bus travel, festivals, cinemas and sports events. The use of near-field communications or NFC, m-banking and mobile money transfer, is expected to record massive growth in the coming months and years.
Japan is the biggest market today, but is expected to be replaced by China very soon. In Japan alone 47 million people have adopted tap-and-go phones, but they're expected to take off elsewhere as the world adopts NFC. In China, there will be 169 million users of tap-and-go payments in 2013. M-commerce market is predicted to reach $119 billion in 2015. The US m-commerce market will be $31 billion by 2016. Top m-commerce retailers globally include: Taobao, Amazon (NASDAQ:AMZN) and eBay (NASDAQ:EBAY). (Source: Mobithinking.com)
How is Google preparing to tap this massive opportunity?
A few days ago, Google released its cloud storage platform - Google Drive. With it the company just entered the enterprise, SMB and consumer cloud business. They are now developing massive reach very quickly.
Google is expected to operate as a monopoly business in m-commerce. Android handsets are the only handsets sold worldwide that feature NFC (near field communication) capabilities needed for this new form of mobile commerce. Google's Wallet program has no alternatives for operating such financial mobile transactions.
Google's Gmail has approximately 350 million active users that are now tightly integrated with all of Google's cloud services. Android users are also growing very rapidly for the past two years, and together the number of people using Google's services is expected to reach one billion by 2013.
Google's Projected Share Price
Google's silent but enormous effort to cash in from the m-commerce business will be reflected in the earnings from the year 2014 onwards. I assume the revenues of the company will grow at a minimum of 40% CAGR for the five year period from 2014 to 2018.
In the DCF model I assume the cost of revenue hovering around 30% of revenue generated per annum. Operating expenses are estimated to utilize about one third of annual revenue. Finally I estimate an effective tax rate of 40% and terminal capex adjustment of $0.0.
Terminal growth rate has been assumed to be 4% - recognizing the value of options Google is generating. Applying a WACC of 15%, I arrive at an intrinsic value of $1204.35 per share of Google Inc. For the purpose of this valuation I have used EBIT margins of 33.3%.
Key inputs into the DCF valuation:
WACC (Weighted Average Cost of Capital): 15%
Long Term Growth: 4%
Effective Tax Rate: 40%
Terminal Capex Adjustment: $0.0
I estimated the values of these parameters based on my valuation experience and the large volume of industry specific information available in the public domain. Based on the valuation I recommend Google as "strong buy" for long term investors. Time horizon for this investment is two to three years.
Disclosure: I have no positions in any stocks mentioned, and no plans to initiate any positions within the next 72 hours.