Investors are finding comfort in mortgage real estate investment trusts (mREITs). I don't think the interest is entirely due to the 12.8% - 16% annual yields. The real reason is the negligible interest rate offerings at their banks, credit unions, and in Treasury Bonds. The Federal Reserve, via quantitative easing and Operation Twist, has forced investors into riskier investments. I present my case that the mREITs are the number one spot place to be invested for the time being.

I communicate mostly with retired or affluent folks. They know a 25 basis point Certificate of Deposit is not entirely enticing. As investors, I simply state the obvious. The government is forcing down Treasury Bond rates, and one must adjust. Bernanke is not going to send a written invitation on what to do.
Occam's Razor
The most likely outcome is Treasury Bond rates will continue lower. If one assumes this, then mREITs will increase in book value. As interest rates decline, the bond value increases. Agency mortgage REITs do not own Treasury Bonds, they own Government Sponsored Entity (NYSE:GSE) Mortgage Backed Securities (MBS). Hybrid mREITs can own GSE MBS in their portfolio and also own not implicitly guaranteed U.S. Federal Government MBS.
June Treasury Bond Yields

Although Treasury Bond yields have increased in June, they have decreased since March 31st. As investors, we should prepare for mREIT's book value per share (BVPS) to increase as rates have declined. The GSE MBS yields straddle fairly closely the rates of the Treasury Bonds.
CYS Investments (NYSE:CYS)
CYS Investments has been a strong performer since entering the agency mREIT space. The trust is 6.01% above book value per share. I would try to buy this name closer to book value per share, which will likely increase in July when the BVPS is reported in the SEC 10Q.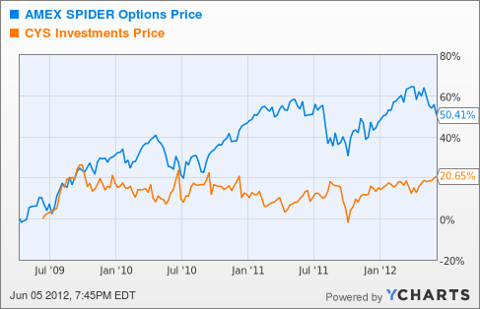 The yield should remain strong in the mid teens as long as low Treasury yields remain intact. In the mean time, I would wait for a market pull back or mREIT weakness to buy closer to BVPS.
Hatteras (NYSE:HTS)
Hatteras yields 12.8% per year. The company is an agency mREIT and has successfully produced year after year of positive returns.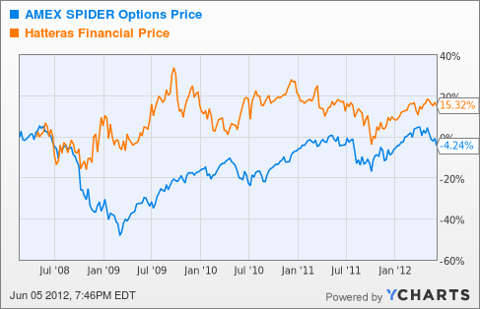 I would recommend Hatteras as an agency mREIT with a slight reduction in risk due to the lower GSE MBS duration time frame. The yield still beats most dividend income yielding stocks.
American Capital Agency (NASDAQ:AGNC)
American Capital Agency is the true champion in providing positive shareholder returns.
Managed by Gary Kain, American Capital Agency trades at the highest BVPS. Currently the company has a 12.04% premium attached to the name. I would wait for a pull back or a simple buy and hold strategy.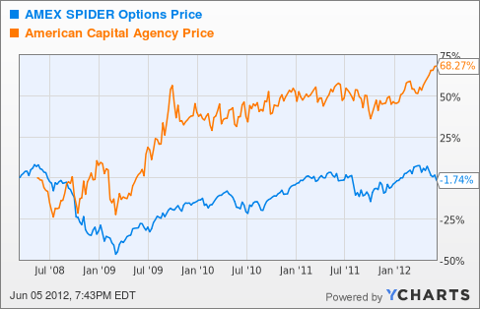 My investment strategy is to find the winning management teams and back them with my investment dollars. Gary Kain has not failed to deliver to shareholders. The reason for the 12.04% premium to BVPS is Gary Kain's success.
American Capital Mortgage (NASDAQ:MTGE)
Gary Kain manages the agency mREIT portion of American Capital Mortgage. American Capital Mortgage is a sister fund to American Capital Agency.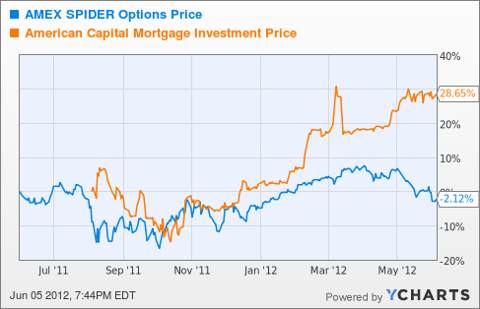 American Capital Mortgage is currently trading at a 8.82% premium to BVPS. I would prefer to own this name over American Capital Agency. American Capital Mortgage is a hybrid mREIT and can find opportunities in non agency markets. The yield is 15.3% and the mREIT has already offered a secondary in recent weeks. American Capital Agency is likely to offer an accretive secondary after their ex dividend date.
Two Harbors (NYSE:TWO)
Two Harbors is a hybrid mREIT. The company has been a favorite in the mREIT space. The management team, led by Thomas Siering, is well respected by the hybrid mREIT space and is afforded appropriate valuations.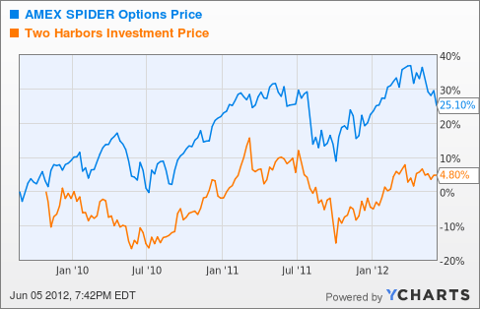 The current yield is 15.8% per year. The company's stock is presently priced slightly below the BVPS. The company recently offered a secondary to the public.
Action
If you are an investor, you know the current rates offered at the bank and at your brokerage. Take advantage of the current mREIT dividend yields to spice up your overall portfolio returns. If you prefer to buy only agency mREITs, then I would buy American Capital Agency. If you want to consider a hybrid mREIT, then I would consider American Capital Mortgage. The yields are in the mid teens and beat a less than ideal 1% interest rate environment at your bank or brokerage account.