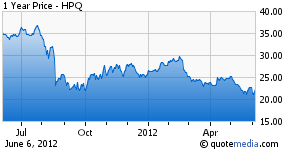 Hewlett-Packard (NYSE:HPQ) took Starbucks' (NASDAQ:SBUX) name in vain. Biding time for a miracle to strike that could pull the rusty old PC peddler up into modernity, Meg Whitman, HP's CEO, deployed lofty and, in the end, suspect rhetoric.
Whitman said yesterday that HP was like Starbucks. As such, it would take upward of five years to turn it around, she said. Her mathematical calculation allowed for the fact that Howard Schultz returned to his Starbucks CEO post in 2008 and it took -- well, three years from there to bring the company back to fine fettle.
We'll forgive Whitman her math, in favor of bending an ear to her underlying justification in making the HP/Starbucks parallel. Said Whitman:
"Usually these kinds of turnarounds take anywhere between four or five years. To have HP humming exactly the way I envision it -- this is a big undertaking."
Indeed, it is a big undertaking. But the following comment is pure claptrap:
"There's nothing fancy about these turnarounds," she said. "This is not advanced business, this is 101."
Not advanced? An intro level course? Perhaps Whitman in confusing HP with Starbucks.
Starbucks, after all, only had to be hell bent on getting back to basics. Ancillary products had undermined their focus, but their basic product (coffee so expensive you had to buy in on layaway) was still fancied by the public.
But desktops?
You don't need to get out the measuring stick to confirm that they've been losing out to tablets from the likes of Apple (NASDAQ:AAPL).
HP must reinvent itself on the fly against the best competition the history of commerce has to offer. In that sense, the historic parallel is Ford (NYSE:F), Eastman Kodak (EKDKQ.PK) or IBM (NYSE:IBM).
Success is possible. But unlike the case of Starbucks, it is neither easy nor probable.
Disclosure: I have no positions in any stocks mentioned, and no plans to initiate any positions within the next 72 hours.