Just like Research in Motion (RIMM), Nokia (NYSE:NOK) has gotten quite a beating from the emergence of Apple (NASDAQ:AAPL) and Android in the smartphone market and this has hit the stock price hard. Is there any chance of a revival? We first look at some data:
Market cap is $9.69B with 3.71B shares outstanding
Revenue is $44.28B (12 months to date) that's more than four times the market cap
Diluted earnings per share for the last four quarters (starting Q2 2011) was 10 cents, 2 cents 29 cents and 25 cents, all losses
Diluted normalized eps was somewhat better, at 3 cents, 1 cent, 8 cents and 10 cent losses
Cash and short-term investments is $10.065B at March 31 2012, with the short-term investment part at $8.24B
There was $4.921B in debt at the end of March
Cash bleed
The implosion at Nokia can even put the company in serious danger:
With the cost of Nokia's debt rising, the most bearish of analysts in a Reuters poll said the company could even be at risk of default if it fails to slow the burning of its cash. Over the past five quarters, the onetime darling of mobile telecoms has eroded its cash pile by 2.1 billion euros ($2.7 billion) - a rate that would wipe out its entire 4.9 billion euros reserves in a couple years. Analysts on average expect the company will burn through almost 2 billion euros more in just three quarters, while the most bearish see the company wiping out its 4.9 billion euros net cash buffer completely next year, a Reuters poll of 30 banks and brokerages showed on Friday. "In our opinion, the company's ability to repay even its shorter-term 2014 bond could be an issue," said Societe General credit analyst Juliano Torii. [Reuters]
Looking at those quarterly cash flow figures, we can't say that we quite share the same sense of alarm that the most pessimistic analyst seems to be burdened with, but it doesn't look pretty. The company could stop paying dividends if things got really tight, but if there is no operational improvement, that is only postponement of the inevitable. Below is a cash flow figure of the last five years: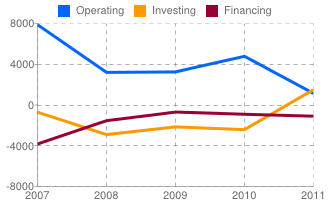 The company also has to pay off loans totaling 1.25B euro in 2014. It doesn't help that two out of the three major credit agencies have a junk status on Nokia debt. Refinancing is going to be expensive.
In less than five years, Nokia shares have lost 90% of their value, two-thirds of that since February 2011, when an alliance with Microsoft (NASDAQ:MSFT) was unveiled.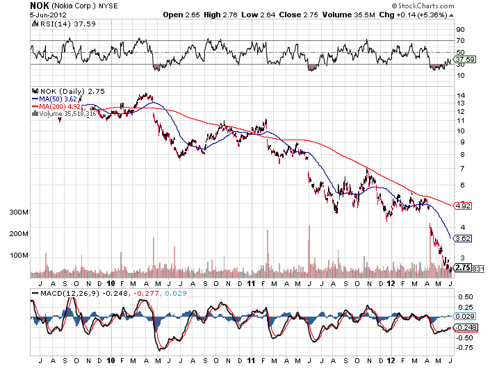 Click to enlarge
Nokia turns to Microsoft
When it became clear that Apple and Android were serious threats, Nokia turned to Microsoft's Steven Elop for salvation:
Mr. Elop in January 2011 gave an impassioned speech labeling Symbian as a "burning platform". Those words proved prophetic, though it's open to debate whether he created a self-fulfilling prophecy. Nokia went on to proclaim Microsoft's Windows Phone as the platform of the future, leaving Symbian in an awkward spot. Whether Symbian's subsequent tumultuous plunge was due to Nokia's abandonment or to customers' turning to better products in the form of Android and iOS is a hotly debated issue. [Jason Mick]
So apart from a very slow transition from Symbian to Windows Mobile, we don't even know for sure how Symbian would have fared against the competition. What's more, Nokia tried another operating system in the meantime, MeeGo.
This is a Linux based open source operating system that Nokia used for the innovative N9 smartphone (pioneering the design of the Lumia 800 and 900), but then it killed it off almost instantly.
One of the other important advantages is that Nokia supposedly receives $1B a year for putting Windows into its smartphones.
Lumia revival?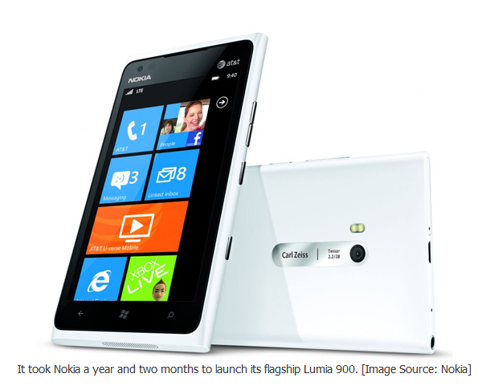 Click to enlarge
But then it came with the Lumia 800 and 900 (the latter basically a bigger version of the former) phones that are designed to get Nokia back in the race. These are fine phones, and got pretty good reviews so far, most notably from Apple co-founder Steve Wozniak. A review from PCWorld is pretty typical:
the Windows Phone platform is slick, modern, user friendly and smooth. We didn't experience any lag during general use, applications opened swiftly with no delay and most core tasks are easy to access and use on a daily basis. As Windows Phone devices are very similar when it comes to software, you can read our full review of the Windows Phone 7.5 operating system here.
The phones are not without downsides though. The battery is non replaceable, the memory isn't expandable, there is no ((NASDAQ:MINI)) HDMI out for digital video, it is likely there won't be an automatic upgrade path to Windows 8 ('Apollo'), the Lumia 900 has a beautiful AMOLED 4.3 inch screen but the resolution (800x480) is way below the competition (compare it with the 1280x800 resolution screen of the new Samsung SIII, for instance).
The latter isn't the fault of Nokia but it's a limitation of the current (7.5) version of Windows Mobile. The processor is a single core chip (with Samsung flagship SIII already running on chips with four cores), but apparently it's still quite speedy.
Opinions about the new Windows 7.5 operating system, with the new 'tiles' interface are also generally positive.
Vendor applications are one way to differentiate phones, and Nokia seems to have something of a hit with Nokia Drive, a free 'turn-by-turn' GPS application that doesn't require an internet connection.
Anyone who has traveled overseas and been forced to find a local SIM (or worse, eat roaming charges) in order to navigate understands just how crucial this addition is
However, not everybody is enthralled with Nokia's alliance with Microsoft. Here is John Dvorak from PCMagazine:
I have a Nokia 800. It's gorgeous-beautiful lines, a great screen, and responsive. How would this phone be if it ran Android, rather than requiring me to run Zune software to grab a simple photo and move it to my machine? The product differentiator for Nokia products was never the Symbian or any other OS. In fact, that was the drawback. The reason people liked Nokia was because of the hardware. Apparently, it has never figured that out and now, it is facing extinction.
The launch of these new phones were far from problem free. There was a nasty software glitch (which Nokia blamed on Microsoft) that made users lose data connection.
The remarkable thing is that many users experienced this almost instantly. It's difficult to imagine how these problems can have escaped Nokia, especially considering the rather long gestation time these phones took.
Nokia is allowing customers who have already purchased the phone to return them and swap them out for another phone if they wish. AT&T is offering to give people who have already bought the phone, or plan to buy it before April 21 a $100 credit on their first phone bill. Since the phone costs $99 with a two year contract, they are basically allowing you get a free phone if you pick one up now. [Marketintelligence]
We can only hope a launch like that will not damage the Lumia brand, especially since Nokia went on one of the biggest marketing campaigns ever. Some don't see success:
Nokia's response to the iPhone, the Lumia, has not so far demonstrated it can compete. "Nokia's Lumia was an attempt to catch up, but it was simply too little too late," said Nancy Utterback, credit strategist at Aviva Investors. [Reuters]
And the expectations for a revival of sales are pretty stark:
Analysts on average expect Nokia to sell 46 million of the phones next year, compared with 20 million expected this year. [Reuters]
That seems quite a tall order, but the Lumia's are off to a reasonable start. Here is Pacific Crest's James Faucette:
Our checks indicate that sales of Nokia's flagship Windows phones, the Lumia series, continued at run rates in the United States roughly equal to those we detected a month ago. We continue to believe that Lumia 900 sales at AT&T in particular are benefiting from an extremely broad advertising campaign, which may also be helping out sales of the Lumia 600 at T-Mobile by giving the Lumia platform greater overall exposure. Our checks indicate that sales of Lumia products in Europe likely increased from April.
They even seem to outsell Apple in China, albeit with a very small margin:
Nokia actually owns a larger chunk of the Chinese smartphone market than Apple -- 7% versus 6%. [minyanville]
Margins
While sales could do well, this doesn't actually guarantee that Nokia will earn a lot on these top-end phones. Here is what the Wall Street Journal noticed:
Nokia Corp.'s new top-of-the-line smartphone sells for $200 less than Apple Inc.'s cheapest iPhone 4S. But under the hood, Nokia actually pays more for the phone's components.
The findings indicate Apple makes nearly twice as much on iPhone sales as Nokia does on the Lumia 900, excluding costs like manufacturing, marketing and distribution.
In the following figure you'll notice why: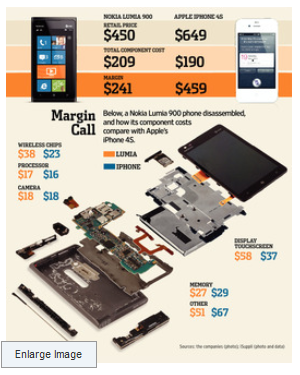 Some of the cost differential comes from the larger screen and 4G connectivity (which the Lumia 900 has but the Apple iPhone4 hasn't). There is also cost from the free 25GB of dropbox online data storage that buyers of the Lumia 900 get (to compensate for the lack of memory expandability).
The brutal reality is however that Apple and Samsung take 99% of the smartphone profits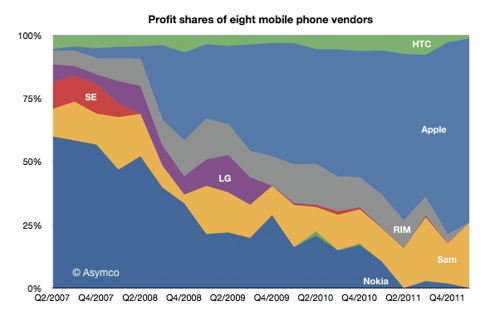 Click to enlarge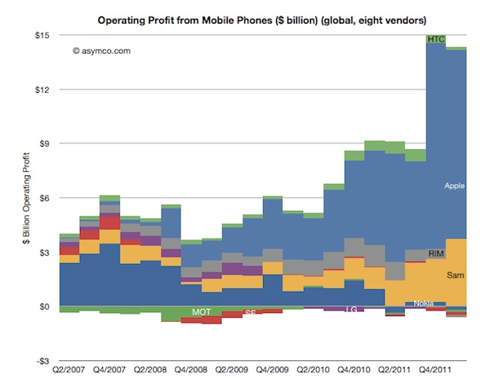 Click to enlarge
Cheaper Lumia's
Perhaps Nokia's best bet is the low and mid-end of the market. After all, that's where most of its sales come from. Cheap smartphones for the masses in emerging markets like India, and China, still seems a pretty good opportunity.
It has the Lumia 610 for instance, the cheapest way to get a Windows phone. But the experience is rather underwhelming with its 1GHz processors and 512MB of RAM, it can't even run applications like Angry Birds or Skype.
Nokia tablets
According to former Nokia CEO Ollila, there are also Nokia tablets in the works, with the new Windows 8 operating system. This is a market that is even more dominated by Apple. On the other hand, here Nokia would benefit more from its alliance with Microsoft. Undoubtedly there are users, especially corporate users, who see advantages in a unified operating system environment. After all, Windows 8 is actually a tablet operating system.
Takeover target?
Nokia seems an attractive takeover target with a valuable patent portfolio and the possibility for a revival with Windows phones and tablets. Microsoft is invariably mentioned as the suitor, but we don't see much reason for that. The main reason for Microsoft to get involved with Nokia is to increase the footprint of its mobile operating system in order to make it more attractive for developers of applications to join the Windows platform. That would create a virtuous cycle, making the platform more valuable for consumers, drawing yet more application developers, etc.
But Microsoft is already doing just that under the current arrangement with Nokia; no need to buy the whole company. There might very well be other suitors, Chinese ones in particular, willing to increase their brand recognition outside China, their intellectual property portfolio and technological know-how.
Conclusion
Nokia is down, but by no means out. It has developed a couple of attractive new smartphones and with the advent of Windows 8 it could even have a chance on the tablet market. The low and mid segment of the phone market in emerging markets is traditionally a sector where Nokia thrives. Takeover speculation might also support the stock price.
However, the margin for error is pretty small, and much of the destiny isn't in its own hands anymore. Much of the company's fortunes depend on the traction Windows 8 is going to get in the smartphone and tablet markets. That's no reason to be very confident.
We think the most likely scenario is for Nokia to regain some footing on the basis of the newness of the Windows phones, the integration (and familiarization) with PC software (attractive for corporate IT management), and its position in the low end, mid end segments, particularly in emerging markets. A return to anywhere near former glory doesn't seem in the cards any time soon. Apple and Samsung seem too far ahead of the curve right now.
Disclosure: I have no positions in any stocks mentioned, and no plans to initiate any positions within the next 72 hours.