MGIC Investment
(NYSE:
MTG
) is expected to report Q4 earnings Wednesday with a conference call scheduled for 10:00 a.m. ET.
Guidance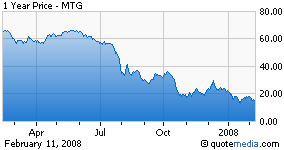 Analysts are looking for EPS of ($6.77) on revenue of $416.12M. The consensus range is ($9.00) to (39c) for EPS, and revenue of $407M to $427M, according to First Call. On February 7, in order to lower its losses, MGIC said it would offer fewer insurance policies to subprime home purchasers in California, Florida, Arizona and Nevada. On January 22, MGIC forecast that it would report $1.3B in incurred losses for Q4.
Analyst Views
The company announced that 107,120 of its insured loans had been delinquent at the end of 2007, an increase of about 16,000 loans since the end of Q3.
Piper
responded to the news by downgrading MGIC to Neutral from Buy. The firm wrote that the company's announcement, combined with the uncertainty facing the housing and subprime markets, led them to recommend a Neutral stance on MGIC.