The European debt crisis, the derailing of Chinese economic growth, and an underemployed United States all point toward a "global crunch." Today's economic superpowers are faltering as the spillover of the EU disaster continues to increase.
The eurozone is the third-largest market for U.S. goods, importing more than China and Japan combined. So the face value here is that the EU represents nearly 13% of all U.S. exports. If the euro continues its sharp decline against the dollar, and I believe that it will, U.S. goods will become too expensive for the European markets. That means it will be increasingly more difficult for U.S. manufacturers to compete with their European competitors.
In the first quarter of this year, the EU purchased $49.2 billion worth of U.S. goods. A decline in the amount of exports will inevitably impact the economic development within the United States that is directly related to job growth. In short, a continued EU spillover would be devastating for U.S. citizens, and a double-digit unemployment rate would not be unforeseeable.
The unemployment rates within in the U.S. are already ascending, which has caused a negative reaction in the markets this week. Friday's U.S. unemployment announcement for May was a tenth of a percent higher than the previous month at 8.2%. There were 642,000 more Americans who entered the workforce and only 422,000 of them received jobs.
Economists officially announced the end of a U.S. recession three years ago, but both domestic and international events have prevented the country from a swift recovery. As these global events continue to unfold, a slow U.S. growth rate may be the least of our worries.
Indicators on Watch
Eurozone Producer Price Index (Monday)
Eurozone Retail Sales (Tuesday)
Eurozone Gross Domestic Product (Wednesday)
European Central Bank Rate Decision (Wednesday)
USD Fed Releases Beige Book Economic Survey (Wednesday)
Technical Outlook
The USD lost strength against the EUR after Friday's unemployment announcement, retracing 23.6% of the A, B, C correction. Based on my analysis, there are two possible scenarios for the coming wave. The first scenario is that this move is an "X" wave and that the pair will reverse off of the 23.6% line, continuing in its downward trend. The second scenario is that this corrective move is part of a bigger "B" wave. The expectation in this case is that the USD will continue losing strength against the EUR, climbing to at least $1.2678 for a 38.2% reversal of the previous A, B, C, correction and will then reverse continuing in its downward trend. Either way, I am predicting that the euro's sharp decline will continue another leg or two.
Click to enlarge image.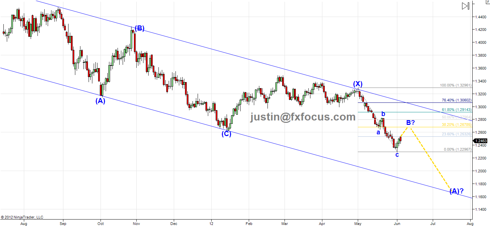 Click to enlarge
Disclosure: I have no positions in any stocks mentioned, and no plans to initiate any positions within the next 72 hours.