The recent market has been exceptionally volatile, with a strong downward trend. Low-beta dividend paying stocks may offer income investors a more stable supplement to their fixed income portfolios, especially if this heightened asset volatility is a concern.
Companies with low betas tend to be less volatile than the general market, and also are often less correlated to general market gyrations that are not related to the company's actual business. Several low-beta stocks now offer yields that are competitive with highly rated bonds. These could be seen as compelling supplements or alternatives for income portfolios.
This is a recent performance review for five well-known S&P 500 components that are have a beta of below 0.5, dividends of at least 2 percent and are dividend aristocrats, meaning that they have increased their dividends every year for at least the last 25 consecutive years. Each of these companies is also fairy well known. These, below, have a beta of between 0.46 and 0.52.
Hormel Foods Corp (NYSE:HRL)
Beta: 0.46
Yield: 2.0%
Year To Date: 0.24%
(click charts to enlarge)
PepsiCo Inc (NYSE:PEP)
Beta: 0.48
Yield: 3.2%
YTD: 0.84%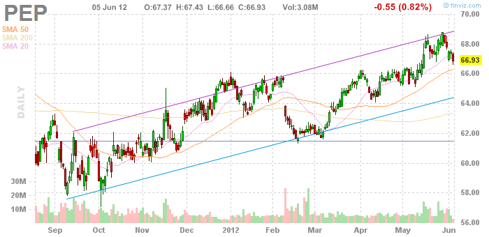 Click to enlarge
Chubb Corp (NYSE:CB)
Beta: 0.5
Yield: 2.3%
YTD: 1.55%
Exxon Mobil Corp (NYSE:XOM)
Beta: 0.5
Yield: 2.9%
YTD: -8.81%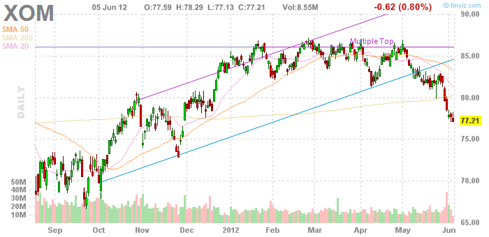 Click to enlarge
Coca-Cola Co (NYSE:KO)
Beta: 0.52
Yield: 2.8%
YTD: 5.08%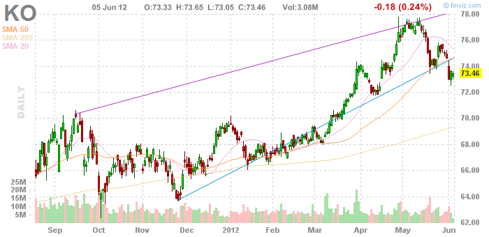 Click to enlarge
These low-beta companies offer stable and ever-rising dividends that are above market average and comparable to the yields offered by 10-year or greater Treasuries. Their performance in 2012, so far, has been varied.
Of the five listed equities, only XOM is down year to date, having fallen 8.81 percent due, at least partially, to declining oil and gas prices. Exxon is down 4.79 percent over the last 12 months. The only other listed equity to be down over the last 12 months is PEP. Coke is the best-performing listed equity over the last 12 months (up 12.21%) and year-to-date (up 5.08%).
These equities are also Dividend Aristocrats, which means they have increased their payout every year for at least 25 years. Increases are probable this year and next year, though changes to dividend tax policy could alter future business judgments as to whether dividend increases are an efficient enough use of funds.
McDonald's increased its quarterly dividend at the end of 2011 from $0.61 to $0.70. This year, Hormel increased its quarterly payout from $0.1275 per share to $0.15. Pepsi recently increased its quarterly payout from $0.515 per share to $0.5375, while Chubb increased its dividend from $0.39 to $0.41 per quarter. Exxon recently increased its dividend from $0.47 to $0.57, which is an increase of over 20 percent.
Disclosure: I have no positions in any stocks mentioned, and no plans to initiate any positions within the next 72 hours.
Disclaimer: This article is intended to be informative and should not be construed as personalized advice as it does not take into account your specific situation or objectives.