I've been short Costco Corp. ((NASDAQ:COST) or the "Company") for several months and recent results continue to support the initial thesis I laid out. Unimpressive Q1 2008 results were released in December and the past two months' same store sales results have shown that COST is pretty much in the same boat as other large, big box general merchandise retailers.
Unlike other retailers that have traded at much lower valuations and/or have corrected much more significantly ahead of performance news, COST's valuation and stock price have generally been lagging its operating performance. Given that COST's operating performance and same store sales figures have shown little immunity to broader macro trends, the Company still presents itself as a very attractive short opportunity.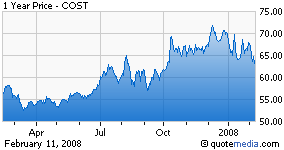 COST is a great company, but it's not immune to the economic malaise facing the U.S. consumer. However, given COST's track record of delivering impressive operating performance and growth, the stock's valuation and price have not corrected ahead of any operating performance shortfall. This could mean either my short thesis is incorrect or that this is just a simple delay in terms of the inevitable. Given I'm short COST, I obviously believe that the market will eventually catch up to the Company and correct its valuation.
COST is a company that Wall Street likes and its track record with respect to its operating performance has bought it time in regards to any significant stock price correction. To me, COST is perceived in a similar to manner to how Target Corp. (NYSE:TGT) was perceived for the few months prior to Bill Ackman initiating his stake in the company. The Street had been conditioned to think that TGT would always deliver a certain level of comp store sales growth and operating performance and that its customers were less sensititive to economic constraints. This resulted in forward estimates that were based on historical growth rates that were probably too aggressive when applied to the current economic situation. Consequently, economic reality caught up with TGT and the share price floundered.
I see the same likelihood for COST and Q1 2008 results and recent comp store sales figures are starting to indicate that COST's customers are feeling the pinch just like everyone else. Table I presents a quick analysis of COST's P&L, taken from its latest 10-Q. The Pro-Forma EBIT figure excludes the previous impairment charges COST recognized in Q1 2007 and 2008. The reason they were excluded is because, while minimal and non-cash, Q1 2007 EBIT would be understated making the EBIT margin comparisons inaccurate and also providing an illusion of greater EBIT and net income growth on a QvQ ("quarter vs quarter") basis. Secondly, the tax rate was adjusted to be the same for both quarters, allowing for a better QvQ comparison.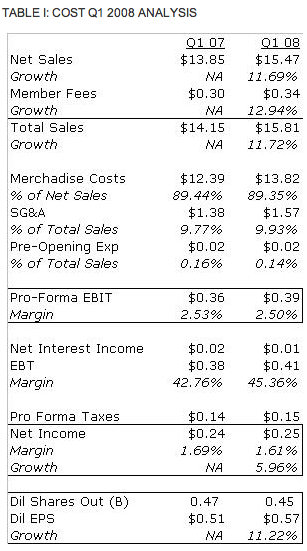 The conclusion from Table I is pretty clear - COST's net income really grew by just 6% on a QvQ basis and its EPS grew by just 11%. In addition, a good portion of that EPS growth was due to the Company repurchasing 22MM shares. Without the share repurchase, COST's EPS growth would have been in the single digits (even if one adjusted the cash balance and interest income to reflect no shares repurchased). Gross margins increased slightly which was not a surprise and increases in SG&A and pre-opening expenses more than offset those gains, resulting in declining operating margins. Even if one excluded pre-opening expenses, operating margins would still be down on a QvQ basis.
The reason the improvement in gross margin was not a surprise was due to food inflation which has benefited COST over the past year. The net 9 basis point increase in gross margin was due to a 44 basis point increase in food margin, which was offset by decreases in ancillary businesses and more penetration of the two-pecent reward program for Executive memberships. As the economy further slows, food inflation should start to recede. Even if food inflation does not recede, I would expect the downward pressure on other parts of COST's business to start to offset any future food inflation such that gross margins decline.
Recent U.S. comp store sales have also been weak. International sales have been impressive but I believe the market is rightfully discounting this because it seems an investment thesis including "foreign growth" is included in every megacap company from General Eletric (NYSE:GE), to Coca-Cola (NYSE:KO), to McDonalds (NYSE:MCD), to Wal-Mart Stores (NYSE:WMT). The market is saying the U.S. story is important and in COST's case, the U.S. story is basically its entire story at this point in the Company's lifecycle. In December, COST reported 4% same store sales growth while in January same store sales growth was 3%. These figures exclude the impact of fuel inflation which is included in the Company's headline PR numbers. However, they do not adjust for food inflation which is why I think these figures could actually still be overstated.
At the end of the day COST is a great company but like TGT, it "suffers" from being a Street favorite. This means that the coming quarters will put increasing pressure on COST to "prove" that it can deliver growth and margins similar to its historical track record during less turbulent economic times. If performance deteriorates, downward EPS revisions will occur making COST look much more expensive on a "new" forward EPS basis. COST is currently trading for ~19.0 forward EPS while its peer group trades for ~14-15x forward EPS. Based on my estimates, COST could really be trading closer to 21-24x forward EPS making it extremely rich relative to its peer group and on an absolute basis given the current market environment.
DISCLOSURE: AUTHOR MANAGES A HEDGE FUND THAT IS SHORT COST AND MCD