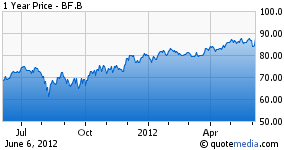 Jack Daniel's whiskey maker Brown-Forman (NYSE:BF.B) reported full year 2012 results Wednesday morning. Shares are up almost 4% at the time of writing as investors are encouraged by the 2012 results and impressed by 2013 full year guidance. Shares are trading at $87.85, which is only 1% off of the company's all time high.
Net sales increased 6% to $3.6 billion for fiscal 2012. Earnings per share decreased to $3.56, from 2011's $3.90. Last year's earnings per share included $0.54 in gains from the sale of a wine business and foreign exchange rates.
International sales grew 12% for fiscal 2012 and accounted for 58% of total net sales. Brown-Forman saw its emerging markets represent 45% of the sales growth in the fiscal year. The key Jack Daniel's brand grew its sales 12%. Brown-Forman's twelve largest markets all saw positive net sales grains in the fiscal year. Emerging markets had a total return of 17%. The United States saw a gain of 5% during the fiscal year.
The strength of the Jack Daniel's brand was led by the introduction of Jack Daniel's Tennessee Honey. The new brand was well received in the United States and will be expanding to new markets in 2013. Other new products like Gentleman Jack, Jack Daniel's Single Barrel, and Woodford Reserve saw Brown-Forman record double digit growth in its super-premium whiskey category.
During fiscal 2012, Brown-Forman bought back $216 million worth of its stock and also paid out over $190 million in dividends throughout the year. Brown-Forman increased its marketing throughout the year to promote new brands and also promote its flagship Jack Daniel's Tennessee Whiskey. Long term debt was also paid down by $250 million throughout the year. The company increased its dividend to $0.35 per quarter. The company has paid a quarterly dividend for 66 straight years and has increased the payment amount each of the past 28 years.
In 2013, Brown-Forman is forecasting earnings per share of $3.60 to $4.00. The company forecasts high single digit growth in operating income. The forecasted earnings include the impact of foreign exchange rates. The growing base of international sales may be a negative for the company as the Euro and other currencies weaken against the US dollar. Analysts on Yahoo Finance project Brown-Forman to earn $3.98 for the fiscal year.
Brown-Forman has sold off many of its non core assets over the years including luggage and wine. The company has made a couple of small acquisitions throughout the last ten years. I see Brown-Forman making a major purchase in fiscal 2013 that could impact earnings and the share price. I would wait to purchase shares of Brown Forman until they drop as I believe they are fully valued at this level.
Disclosure: I have no positions in any stocks mentioned, and no plans to initiate any positions within the next 72 hours.