By John J Critchley Jr.
Chesapeake Energy (NYSE:CHK) has been almost a daily fixture in the financial media and has been taking a beating in the past few months.
Surprise, Surprise. Another day is upon us and there is another Chesapeake story circulating on the street. Today, the news is that Chesapeake is in talks to sell $4B in pipeline assets to Global Infrastructure. (Source: Click here)
So goes it in the world of Chesapeake and its charismatic yet embattled CEO Aubrey McClendon. Chesapeake is involved in the acquisition, exploration, development, and production of natural gas and oil properties in the United States. It sports an $11.2b market cap, is 83% institutionally owned and has a 13% short interest float.
Recent timeline of events:
6/4 Shares of $CHK trade lower, mostly on the fear that there is too much debt on the company's books. To alleviate this concern among institutional holders, Chesapeake has been selling holdings to raise cash. It's most recent sale consists of more than 300K acres of land rich in oil and natural gas in Ohio.
6/3 Chesapeake is facing corporate-governance controversies involving its CEO, Aubrey McClendon. The CEO has had an agreement with the company to take a partial ownership stake in some of the company's wells. There is also the SEC investigation into some questionable third-party loans to McClendon from a company that does business with Chesapeake.
5/30- Bloomberg mentions Chesapeake as a possible takeover target.
5/24- Black Rock (NYSE:BLK) reportedly boosts its stake in the underlying to over 4 million shares.
5/15- Carl Icahn, the famous activist shareholder, accumulates a 7 % stake in the company.
There seems to be three emerging conflicting views on the future on this oil and natural gas giant. These views run the gamut from extremely bearish (going out of business) to mildly bullish to takeover feverish.
The 30-day implied volatility is trading around 61.45%, significantly higher than the 52-week implied volatility low of 27.54% hit in July of last year. The argument that implied volatility for CHK options is too high is made by those who believe the overall market implied volatility is too high and will eventually mean-revert lower to the 18-22% range. However, the opposite argument that implied volatility is just about right considering the uncertain economic climate has many followers and is quite understandable. Is the natural gas and oil business broken and the stock have further to fall? Or does the depreciation in share price to near a 52-week low make the underlying a tempting purchase for value investors and a possible takeover target.
The chart below shows the implied volatility of Chesapeake options over the past year. Notice the implied volatility trough in July of last year of 27% and the apex hit recently of 105%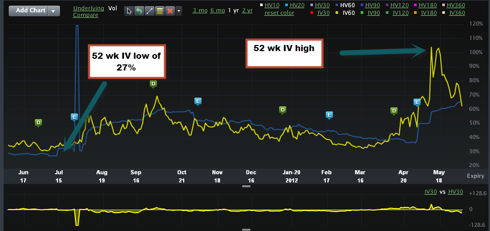 Source: Livevol(NYSE:R) Pro

Option Plays
Let's look at three options plays that should fit whatever camp you find yourself in; bull, bear or takeover delusional.
Trade idea #1- A Bullish Options Play
The Bullish Camp
The bullish camp is convinced that a new management structure can turn around Chesapeake. If this turns out to be the case, there seems to be quite amount of upside potential considering the attractiveness in Chesapeake when you apply some traditional pricing metrics: Price-to-Book Ratio: 0.7x, Price-to-Sales Ratio: 0.85x and an extremely attractive Price-to-Earnings ratio of 7.31x.
Obviously, Chesapeake is also an indirect play on natural gas and with natural gas trading near multi-year lows, any bounce in the natural gas market may substantially increase Chesapeake's bottom line.
Let's take advantage of these possible upside catalysts to initiate a brand new long implied volatility position in CHK. The downside implied volatility skew in the CHK option marketplace allows for a compelling upside speculative play.
In order to accomplish this, let's go to the October '12 options.
The play: To capitalize on the downside implied volatility skew.
a) Buy Oct 20 calls @ 1.89 Buying 59.25 IV( Implied Volatility) is not expensive for 4 months of upside potential plus an earnings release. This implied volatility purchase is higher than the nearer term June & July options priced in the mid 50s, but remember there is an earnings announcement premium already priced into these options.
To finance this purchase:
b) Let's sell the October 15 puts @ 1.73 This is approximately 73.33 % implied volatility. You are selling implied volatility in these puts at a 14.08% skew premium to your call purchase. This is quite normal and standard option pricing behavior. Let's take advantage of the downside-implied volatility skew in these options to lessen the debit of our call purchase.
Net debit: $.16
Risk: You will have Chesapeake stock put to you @$15. In other words, you will be long the stock at $15 if Chesapeake trades below $15 and you are assigned the puts. A 16.67% downward move in CHK over the next three months.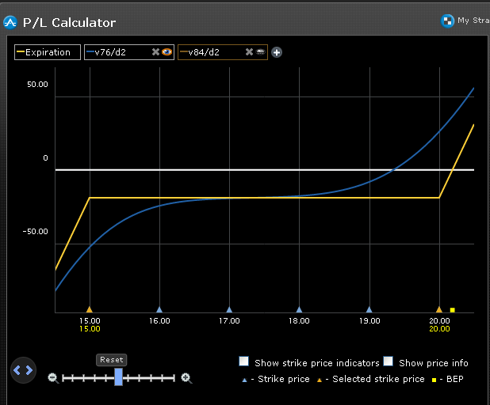 Source: sogotrade.com
Trade idea #2 A Takeover Options Play
The Takeover Camp
The upside skew in the Chesapeake options is persistent. This is indicative of the takeover potential for this company and is appropriately reflected in the option prices. An interesting observation is that the At-The-Money (ATM) implied volatility in the weekly (front) expiration is equal to or lower than the long dated options. There appears to be little conviction in the marketplace of an imminent takeover in day or two, but rather a deal sometime in the future.
The play: To capitalize on the reverse upside call implied volatility skew.
For those who view a deal as a medium term possibility, let's do a medium term bull call spread.
a) Buy July '12 20/25 call spread for @ .65 You are buying the July'12 20 strike calls for approximately a 57.4% IV (Implied Volatility) and selling the July '11 25 strike calls for a 60.12% IV.
Net debit: $0.65
Maximum Profit: $4.35
The sale of the July'11 25 calls caps the upside profit to $4.35 and lessens the debit by $.10 One could further lessen the debit by substituting the sale of the 20 calls with the 24 strike calls ($.17) or the 23 strike calls ($.25). Remember, however that using these strikes in any spread lessens your potential profit by $1 and $2 respectively.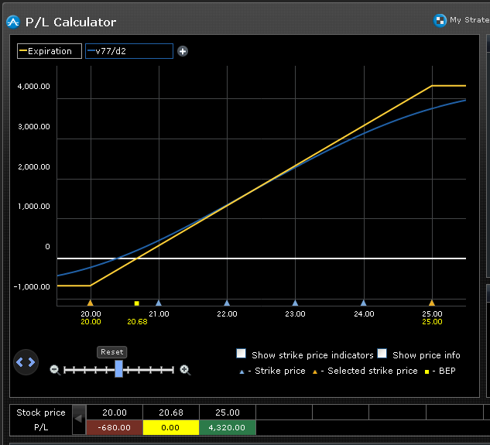 Source: sogotrade.com
Trade idea #3- A Bearish Options Play
The Bearish Camp
Is the natural gas and oil business broken and the stock has further to fall? Are you in the 'apocalypse will eventually come' bearish camp towards Chesapeake? If yes, let's look at a bearish options play:
The 90-day implied volatility appears to be quite reasonable at the 65-70% level considering the dramatic sell-off in the underlying. These options are trading significantly lower than 52 week IV highs of 105% reached May of this year.
This may be an opportune time to initiate a bearish position through some put plays as the elevated implied volatility across the board in Chesapeake options creates opportunities in the options marketplace.
To find a decent implied volatility option play, let's go out to the Jan 2013 options, which present some compelling long term option value.
The play: To take advantage of normal downside implied volatility skew and to benefit from any continuing downward pressure in Chesapeake over the next few months.
a) Buy Jan '13 16/10 put spread for $ 1.75. Receiving about 19.9% in Implied Volatility skew (buying 68.4 IV vs. selling 88.3 IV)
To finance this spread:
Let's sell the Jan '13 23 calls @ 1.65 This is approximately a 59.1% Implied Volatility.
Net debit: $.10
Why sell the Jan '13 23 line? There are two reasons:
1) There is a camp of investors and speculators that still believe in the Chesapeake turnaround story and therefore the upside call options are still quite bid. By selling the Jan '13 23 calls at a 59.1% IV, you are only 'giving' up a
9.3% discount to the Jan '13 16 puts. Let's take advantage of this anomaly.
2) If your bearish view is incorrect, you still may be able to get away with being short some upside calls as you only start to feel some real pain if CHK rallies over 27% between now and Jan '13 expiration.
Risk: You will be Short the stock over $23, a 27.77 % upward move in Chesapeake over the next couple of months.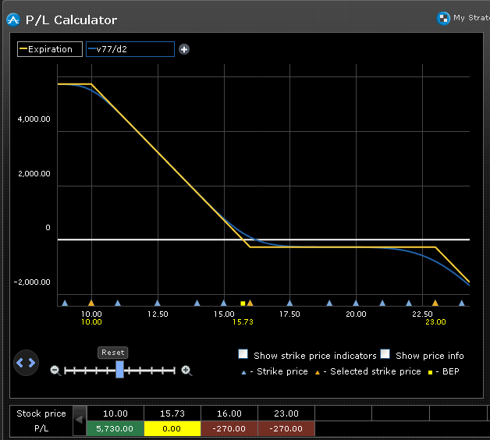 Source: sogotrade.com
Stay tuned...
Notes: Prices quoted where the prices at time of submission and do not reflect current market prices. You are solely responsible for your own trading and investments decisions and the ideas presented in this article are trade analysis, not recommendations.
Disclosure: I have no positions in any stocks mentioned, and no plans to initiate any positions within the next 72 hours.
Disclaimer: We are not liable for any trading decisions made by any reader. NO advice is given or implied. The information offered in this article is for demonstration purposes ONLY and should not to be either construed as an offer or considered to be a recommendation to buy or sell any options.
Your use of this information is entirely at your own risk. It is your sole responsibility to evaluate the accuracy, completeness and usefulness of the information. You must assess the risk of any trade with a professional broker, or financial planner, and make your own independent decisions regarding any trades mentioned herein. This is not a solicitation to buy or sell any options, or to purchase or sell any credit spreads. Trading options only carries a high degree of risk, is not suitable for all traders/investors, and you may lose all of your premium money invested in the options. If you have never traded options before, we strongly recommend that you read a little background information made available by the government. Only you can determine what level of risk is appropriate for you. Also, prior to buying or selling an option, a person must receive a copy of Characteristics and Risks of Standardized Options.
Past performances DO NOT guarantee future results. Please consult with your own independent tax, business and financial advisors with respect to any trade. We will NOT be responsible for the consequences of anyone acting on this purely demonstration material.