Being a glass half full optimist such as myself, I am always trying to find positives during dire situations. And Friday, June 1st was a dire day in the markets. Although compared to last summer's negative 4% days, Friday was a good day. But one thing that was proven is that during weak periods the biotechnology sector sells off with no regard for the included firm's pipelines.
This, after all, should be expected considering the nature of biotechnology stocks. It may not be true for every biotech, but the majority trade at fairly high multiples in the anticipation of a blockbuster treatment. And since these firms are dedicated to creating new extraordinary treatments then the possibility of great returns is always there. This is important to note because during weak periods investors look to realize profits in risky equities while placing that money in stable equities. Contrary to this I personally believe that the right biotech stocks are great picks during weak periods. But this is a topic for another day.
More importantly, on Friday the Dow Jones, S&P 500, and Nasdaq tumbled 2.2%, 2.4%, and 2.8% respectively. Five of the more popular biotech ETFs faired worse. The two worst performers the First Trust NYSE Biotech Index (NYSEARCA:FBT) and the iShares Nasdaq Biotechnology ETF (NASDAQ:IBB). One note to make about FBT is that the ETF has outperformed the Nasdaq by over 20% year to date. This is important to note because during a very bullish first half of the year the biotech sector has performed better than other classes. This can be seen by simply viewing some of your favorite biotech stocks. such as Regeneron (NASDAQ:REGN); which soared about 120% during the first half of this year due to strong earnings results and news from the firm's pipeline.
(Source StockCharts.com)
Unfortunately Friday's slide caused Regeneron to give back over 8% of those gains. Again, not exactly surprising because after a 120% rally something has to give. Moreover, the majority of biotech stocks were off around 4% on Friday. Some, such as BioSante (BPAX) fell off a cliff over 17%.
The worst performing biotech ETF was the Proshares Ultra Nasdaq Biotechnology ETF (NASDAQ:BIB); which is a 2x leveraged ETF. As expected, BIB was off over 6% on Friday. Contrary to this, in a year where biotech stocks are performing very well, this dip might be a great opportunity to take up a position because the leveraged nature will double your returns. With that said, leveraged ETFs are most suitable for extremely risky investors and traders.
(Chart comparing BIB to BIS. Perfect example of how well Biotech stocks have performed in 2012. Source: StockCharts.com)
On the other hand, the 2x inverse version, the Proshares UltraShort Nasdaq Biotechnology ETF (NASDAQ:BIS), returned over 5.5% to investors on Friday. This was more than welcomed because the ETF is down over 25% in 2012. Two other positive stocks from Friday were Chelsea Therapeutics (NASDAQ:CHTP) and Optimer Pharmaceuticals (NASDAQ:OPTR). Chelsea avoided the red because the stock was fresh off a 31% dive bomb the day before.
I already mentioned Regeneron, but what about the biggest Biotech cats on the block. Amgen (NASDAQ:AMGN) and Gilead (NASDAQ:GILD) both performed in line with the broader markets. Amgen and Gilead gave back about 2.5% on Friday; which, by the way, beat the Nasdaq by 0.3% and since both stocks trade on the Nasdaq then this was a positive sign. Celgene (NASDAQ:CELG) and Biogen (NASDAQ:BIIB) on the other hand were two of the many biotech stocks off over 4% and 3% respectively. Fortunately Biogen made up for all of Friday's losses and then some on Monday and continued higher Tuesday and Wednesday.
At the end of the day most biotech stocks lost out big time on Friday. Some have recovered well, but not all. These types of slide happen because during weakness the psychological mindset is "I have to put my money in safe securities." Moreover, Friday's slide can be blamed on a weak job's report, it is not known whether the market will embark on a months long slide; therefore it is wise to invest in safe securities when the economic data is ugly.
However there are two keys to point out here. The first is that during weak periods the biotech sector sinks to the bottom of the ocean. Excluding the handful of firms that end up getting first time or blockbuster FDA approvals, the biotech sector should be avoided as a whole during weak periods. The second key point is that during strong market periods the biotech sector performs extraordinarily well. This is likely because during periods of strength investors and traders are more willing to take on some added risk.
Let's use FBT as the example here. During the market dive in 2011 FBT lost out to the S&P 500 by about 20%.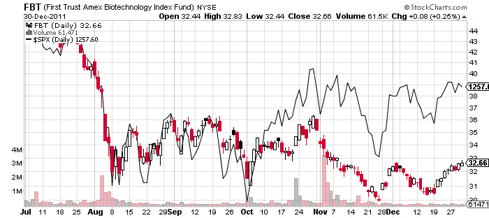 (Click to enlarge)
(Source: StockCharts.com)
And as mentioned above, thus far in 2012 this trend has reversed.
(Source: StockCharts.com)
Again, this should not be surprising because the market acts in a cyclical nature. But this is important to note because as we move forward we can use these trends to help ourselves. For instance, now that we have definitive proof that the biotech sector vastly outperforms the market during periods of market strength, then as stock prices fall lower this sector's investments become more viable options.
However the nature of most small cap biotech stocks mean that investments should not be made too hastily. Furthermore, Biotech ETFs are great options for investors that want some risk exposure but do not want too much risk exposure by taking a position in one specific biotech stock. Two of the better performing biotech ETFs are FBT and the Market Vectors Biotech ETF (NYSEARCA:BBH).
The most important question to ask yourself is whether you feel the economy and stock market will strengthen or weaken in the future. The truth is if you look deep enough you can find pros and cons in every economic report and an argument can be made either way. Therefore it is best to look at the information yourself and decide where you think the market will be in the next six months. If for instance you are anticipating continued weakness then the biotech sector will not be your friend; except perhaps our leveraged inverse friend BIS.
If, however, you are anticipating a continued rally after this typical retracement period ends then there are plenty of stable biotech stocks and/or ETFs ready to move substantially higher. And of course regardless of the market and economy there will always be a slew of biotech small caps that give investors and traders substantial returns and even bigger losses on FDA decisions and clinical trials data.
Disclosure: I am long REGN.