The Iron Ore sector was perhaps the one I have been more vocal about. Starting in January 16 with the article "The China Syndrome", I then warned multiple times about how developments were taking a negative course for iron ore, with such articles as "The Iron Ore End Is Nigh" or "It's A Long Way Down". Superficially, this was not an easy prediction to make. These were companies at the top of their game, highly profitable and showing low earnings multiples at that point. Also, many specialists had the confidence that iron ore supply was constrained and no new large projects threatened to come online in the short term. So I was really going against the grain and the grief sometimes showed itself in the comment section.
In spite of this, I kept my opinion and re-iterated it in multiple articles showing my rationale for it, and claiming that several stocks - BHP Billiton (NYSE:BHP), Cliffs Natural Resources (NYSE:CLF), Rio Tinto (NYSE:RIO) and VALE S.A. (NYSE:VALE) - were exposed to the developments that made me be negative on the sector. These developments were mostly about China's slowdown in three specific sectors (residential construction, auto making and shipbuilding) together with expanded production both by Chinese producers and elsewhere in the world, attracted by the incredible returns available in iron ore.
So what happened to the stocks since I first mentioned them? This was their performance: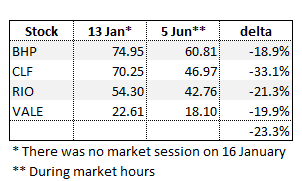 Again, the thesis regarding iron ore proved itself entirely accurate. All the named stocks fell substantially, with the average plunge coming in at 23.3%. This in spite of the market having rallied quite a bit after my first article speaking negatively of the sector (though I kept the negative stance even at higher levels, so it would have been possible to get even larger drops).
Iron ore's pricing behavior was not as clear cut as the stocks, though. Here's how the price evolved (62% Fe spot; $/metric ton; source: Bloomberg):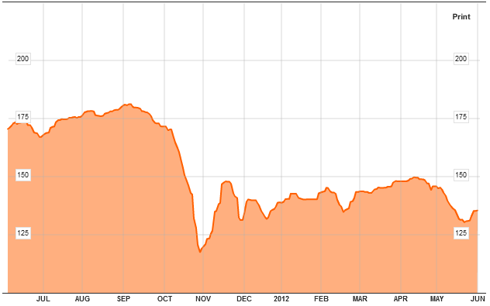 Click to enlarge
(Click to enlarge)
With several ups and downs, iron ore basically went from $140.50/metric ton in January 16 to $135/metric ton today. A 4% drop that shows the large iron ore producers still have considerable control over the market. However, this drop also happened during the seasonally favorable period, and is bound to become larger as seasonality becomes less helpful.
So where does the sector stand now?
The basic thesis remains valid, we're still in the early stages of a significant contraction in China's residential construction. Also the large margins in the iron ore sector remain unsustainable. That the iron ore prices haven't yet collapsed just increases the likelihood that they will do so in the future, because these high prices remain attractive for those thinking of bringing expanded production capacity online.
On the other hand, one of the sectors that was pushing down steel demand, auto making in China, is now looking stabilized. This might remove some downward pressure.
A possible factor that could turn these stocks around instantly would be action by monetary authorities, namely the FED or BCE providing further monetary stimulation (quantitative easing or further LTRO operations); or the Bank of China moving interest rates substantially lower. It makes little sense to speculate when such action might happen, but it might make sense to react positively if it does happen.
Conclusion
The thesis remains intact. There should be further downside for the iron ore producers, punctuated by brief relief rallies. This trend can be broken for a longer period by monetary action, so attention should be focused on that action. Any new quantitative easing by the FED, large scale LTRO by BCE or maybe a large drop in interest rates by the Bank of China should be considered a buy signal. Up until then there's little reason to be long the sector.
Disclosure: I have no positions in any stocks mentioned, and no plans to initiate any positions within the next 72 hours.