Now that Yahoo (NASDAQ:YHOO) has formally rejected the buyout offer of Microsoft (NASDAQ:MSFT), there is debate as to what will happen next. People are talking again about a merger between Yahoo and AOL. Even though this merger would be probable, as Time Warner (NYSE:TWX) has been trying to spin off AOL for some time now, it is not too exciting.
The combination of two search engines that are losing market share is not the answer. Instead, the answer is to acquire another separate search engine in a new and developing market.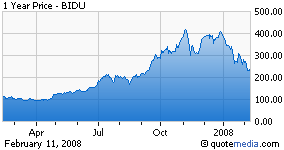 The answer for Microsoft or Yahoo is Baidu.com (NASDAQ:BIDU). We've argued this many times. The way to compete with Google (NASDAQ:GOOG) for search market share is not on the home front where internet growth will be significantly limited to about another 30%. China's internet market, on the other hand, is growing annually about 20%. BIDU still dominates the search engine market in China. The best and cheapest way for Microsoft to compete long-term with Google for search engine prowess is simply by acquiring BIDU. We have written two previous articles in the past two years analyzing in-depth an acquisition of BIDU by a larger internet corporation.
Disclosure: none