Not that long ago, a curse would visit me on a very regular basis once each month. Sometimes those months had 4 weeks and sometimes those months had 5 weeks, but the curse came like clockwork on the third Friday of each month.
No this isn't that monthly curse that mothers must instruct their daughters upon, although many would call it a miracle, rather than a curse.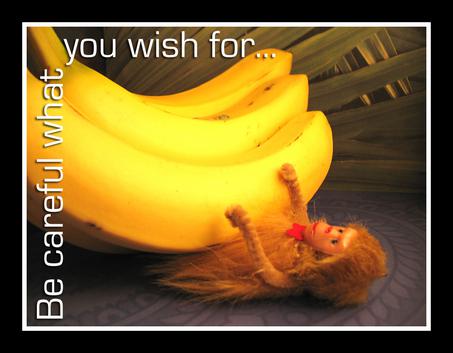 But in my case this was the curse of wishes and hopes.
Now, by my own choice, I've invited that one time monthly curse into my life every week and am at the point that i would even invite it in on a daily basis.
But the problem with selling options is that you often find yourself wishing for stock movements that are inconsistent with human hopes and desires.
Unless you're a short seller.
But most normal people want to see an unabated rise in the stock market. The higher and faster the better.
Although I'm an inveterate believer in covered option strategies, I certainly understand the flip side, particularly since I've lived through the agony of losing a stock to assignment after an unexpectedly large run-up in price.
My wounds are still fresh from having lost Green Mountain Coffee Roasters (NASDAQ:GMCR) at $45 when it shot up to $65.
Did I mention that it was about $24 now? Unresolved accounting and inventory issues are still an overhang on that particular company and the cynic in me believes that there's still another drop on the horizon. On the positive side, in pure dollar terms, it can no longer be as steep as its drop from $80.
So when the unthinkable happens, such as today (June 6, 2012) and there is a spectacular rise, there's only one thing that you can do, since ranting and breath holding isn't very adult-like.
Instead, you wish and hope for the price to fall. That's much more adult like.
Even though you don't really think of it in such terms, what you are really doing is wishing for financial pain to be inflicted on others so that you don't suffer the pain of missed opportunities. I'm fine with that, as long as my anonymity is maintained.
To explain that in terms a child could understand, when you get to the window to order your ice cream cone and are told that they're all out of your favorite flavor, you secretly hope that the person next to you who got the last scoop suddenly drops theirs to the ground below.
Granted, that puts you at odds with everyone else and if your the kind the craves human acceptance, you really don't want to be lumped in with short sellers in the eyes of society, or the type of people that wish to see ice cream cones littering the floor.
Now that there are far more stocks that have weekly options available the wishing and hoping comes far more often and societal scorn just gets heaped on and on.
Next week happens to be the end of the June options cycle, but these days, the third Friday of the month just doesn't carry the same cache as it once did.
Remember when triple and quadruple witching hours threw the fear of God into even the most hardened of traders? Those too are just yawners these days.
Lots of people still talk about unusual price swings near the close of trading on options expiration, but really they're just rehashing memories of a time long ago. They can't face the reality of what their high school sweet-heart looks like at the reunion, so instead they remember the good old days, when men were men, screaming buy and sell orders at one another as the seconds were ticking away toward the close of another month's options cycle.
Those days are gone, too. There's not that much screaming anymore. Someone probably wished that away too, tired of all the noise and chaos, and ultimately ushered in electronic trading and settlement.
On Tuesday (June 5, 2012) we finally had a day that didn't deconstruct its gains and actually ended in the green. During that day, I was busily sending out Trading Alerts to the faithful that were understandably nervous about some of their positions. Following the close of trading on Friday, I sent out a "Game Plan" for the coming week, which assessed hopeful actions to be taken the next week on existing positions.
Normally, I focus on the weekly opportunities, but with little optimism and the desire to lock in premiums and achieve ROI objectives, about half of the recommendations looked at selling option contracts expiring in two weeks, rather than this coming Friday
The opportunity to follow the Game Plan wasn't great on Monday, but with a bit of stability on Tuesday, most of the anticipated trades were made,albeit at lower premiums than I had projected, in addition to the prospective alerts for the coming week.
With those in place, my hope was for some modest gains in the market over the coming 8 trading days. That would allow for a mix of assigned and unassigned positions and the opportunity to put cash from assigned positions to work in new positions, perhaps in those that were lagging the market a bit.
As it turns out I got what I had hoped for but far too much. Sometimes the magnitude of the gains can be crushing as you begin to approach your strike prices and perhaps begin to feel as if you had sold your birthright far too cheaply.
There is really not much worse than the scenario of having reached expiration day with many of your positions well below their strikes and then facing the market on Monday with cash that needs to be redeployed. On those days, you really find yourself wishing for a plunge so that you can get back in.
Talk about market timing. Wish for falls on Friday so that you can retain your shares and then wish for surges on Monday so that you can snag the highest premium possible.
But to be a call seller you can neither give in to greed, fear or regret. You can still hope, wish and keep fingers crossed. Maybe even use well placed expletives in mixed company.
With a 200 point gains such as today, occurring mid-week, after many positions had already been covered, I'm not a terribly happy person at the moment. On the positive side, whereas I typically write near the money or in the money options, that was not part of this week's Game Plan, as it looked to sell options at the share's cost points, trading off on option premium income, in exchange for price recovery in shares. The previous week, it was quite the opposite, as pessimism ruled the week's outlook and in the money options were recommended
This week, the siren call had already gone out to sell calls on British Petroleum (NYSE:BP), Boeing (NYSE:BA), Halliburton (NYSE:HAL), Mosaic (NYSE:MOS), Direxion 3x Bull ETN (NYSEARCA:FAS), Abercrombie and FItch (NYSE:ANF), Transocean (NYSE:RIG), Goldman Sachs (NYSE:GS) and JP Morgan CHase (NYSE:JPM). Quite a "Who's WHo" of recent losers, whose calls may have been sold far too early.
Of course, whatever made today so diametrically different from just a couple of days ago is a complete mystery, other than the fact that Ben Bernanke, Chairman of the Federal Reserve is expected to say something tomorrow that would have a perceived material effect on the economy.
The perversity is that he's expected to possibly say something about QE 3 (Quantitative Easing), which the market is seeing as a positive for the future, even though QE3 would be in response to a currently faltering economy.
I'm a big Bernanke fan, but if QE3 is announced, once again the cynic has to ask if the independent Federal Reserve is bending to political needs.
I doubt that to be the case.
So while watching the market maintain that 200 point advance, I cursed my lack of funds to sell Barclays Volatility ETN (NYSEARCA:VXX) put contracts and instead did what the god forsaken short sellers do. Just as I like selling calls into strength, I like selling puts into weakness and the VXX has been a very nice trade after large S&P 500 drops.
So, I could do nothing but now hope and wish for the market to fall a little and to take some of my share advances with it in the process.
The key word here was "little".
My hopes were answered, at least in the case of Halliburton, but the keyword was ignored. Having just purchased shares at $29 yesterday and having sold the $29 June 2012 call for $0.90, I was pretty happy to see it up to about $30 at its intra-day peak. But then came the trading halt for Halliburton's unexpected announcement that earnings were going to be impacted in the short term by 300bps. Despite qualifying the problem as short term and despite suggesting that it would be able to pass on some of those costs to customers, Halliburton share prices recoiled.
My fault, I should have been more specific with regard to which stocks should fall and by how much.
But as any good believer who beliefs are shaken so hard and so suddenly, the opportunity to buy back the contracts at a profit and then sell the $28 calls instead, would still result in a 1.3% ROI for a bit more than a week of holding.
I guess at this point I need to wish for its share price to go up or for the world to be a more rational place.
With the market up nearly 2%, a number of my beaten down stocks have rebounded beyond that 2% level for the day, but they also over-reacted on the downside the past two weeks.
In my ideal world, prices would drop just to the point that all of the holdings closed just below their strike prices and then we'd do the same thing over again.
That may happen tomorrow as the market will likely react to whatever it is that Bernanke says. The market will likely be disappointed by whatever the message is, particularly since they used up so much euphoria today. If the Chairman's message is that there will be no QE3, the market's will run to reverse today's poorly conceived buying spree. However, if Bernanke does lay the groundwork for QE3, then the realization is that the economy is worse that we had though. What recovery?
When you make these wishes you really do have to be careful what it is that you're wishing for and set out the parameters very carefully. Sorry,, Halliburton. I just wasn't being careful.
So tomorrow, while I'm hoping for a market drop, I'll just put in a request for Friday, hoping to see it just roll over and flat line.
The power of hope is pretty amazing. I just wish I could make up my mind and know exactly what I should be wishing for. That would make me a better person, one much more in tune with society.
Nah. Maybe next cycle.
Disclosure: I am long ANF, GS, JPM, BA, HAL, ROG, FAS, GMCR, MOS.