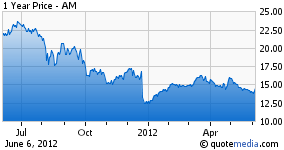 American Greetings (NYSE:AM-OLD) is one of the largest greeting card makers in the country. As technology evolves and paper is used less and less, fewer greeting cards will be sold, driving down demand. This can be seen in the company's income statements over the last 10 years as it has gone from $1.9 billion in 2002 to $1.7 billion in 2012. In spite of this slow downturn, the firm is still earning a profit. Usually, firms that have slowly declining revenues are doomed to fail. In this case, greeting cards are going out of style, and bearing less cultural significance. The other main issue with this firm is its acquisition policy and resulting investments. Several different purchases in the last 10 years have not lead to an increase in revenue or income.
Despite these major downsides, there is one major saving grace: management of cash. First, they have significantly reduced debt over the last 10 years. In 2002 and 2012, the debt to equity ratio was 0.77 and 0.31 respectively. This leaves out lease debt, which would slightly increase both ratios. Second, they have given a significant amount of the returns back to investors in the form of dividends and stock buy backs. In dividends, they have paid out about $184 million in the last 10 years. In buy backs, they have purchased about $881.6 million in the last 10 years. The average cost for the stock AM bought back was about $37.84 per share (average purchase price equals total cash used in purchasing stock divided by reduction in diluted shares over 10 years). This is far higher than the price of the stock at any point in the last 10 years due to the stock being bought back for dilution reasons. In comparison, AM earned net income of $877.1 million over the last 10 years (after adding back three non-cash charges, two being goodwill impairment and one non-cash debt expense).
During these 10 years, AM has actually grown its book value from $14.14 to about $18.00. Even so, to compare this amount to other firms, the LIFO inventory needs to be converted to FIFO, increasing its equity by about another $81 million to the equity, increasing book value by a little more than 10%.
American Greetings is a prime example of earning a positive return in a declining industry. While growth in earnings is the primary method of creating a return on investment, opportunities still exist in firms with declining revenues.
(Source: here)
Disclosure: I have no positions in any stocks mentioned, and no plans to initiate any positions within the next 72 hours.