Buy-recommended San Juan Basin Royalty Trust (NYSE:SJT) offers pure concentration on natural gas selling at half price, judging by the incremental price of liquefied natural gas in Asia. Last week, according to trade reports, Japan paid $18 a million btu for the liquid form of the same commodity that is priced in the futures market at $8 for the next six years.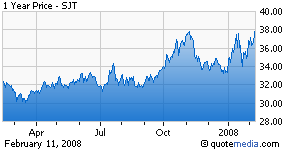 Since $18 LNG is roughly equivalent to $100 oil burned in the same Japanese power plants, the stark difference points to an upward price trend for the clean fuel. Meanwhile, monthly distributions are likely to be higher in early 2008 judging from the trend in the industry index price for the San Juan Basin and taking account of the time delay to cash distribution.
We take most of our volume and cost estimates from the trend of recent monthly results. The price of SJT stock is influenced by long-term natural gas price that after a stable period may be poised to resume an uptrend. In the illustrative McDep Energy Portfolio, SJT has the largest natural gas representation followed by Gazprom (OTCPK:OGZPY), EOG Resources (NYSE:EOG), XTO Energy (XTO), Devon Energy (NYSE:DVN), Hugoton Royalty Trust (NYSE:HGT), Encana (NYSE:ECA) and Cimarex (NYSE:XEC).
Originally published on January 7, 2008.