Market Recap: Well, the relief rally that many had been waiting for and expecting to occur finally did occur today with the market shooting higher on the back of hopes for some European type of bailout, technical consolidation around key levels, short covering, and general bargain hunting. As the market continued higher, it also sparked off some covering of shorts along the way, which allowed for the rise to be so considerable. Shorts were forced to cover as the Dow Jones (NYSEARCA:DIA) failed to bust below 12000 and S&P (NYSEARCA:SPY) failed to drop below its 200-day MA.
With that said, the rally today was relief and not driven by change in policy, new exciting data, great earnings, or anything of substance. For that reason, we need to remain wary. The market can rally for a long time on hope, but the pain that will come when hope runs out is a lot worse when missing out on short-term gains. It's important to remember that. We continue to remain neutral on this market looking for good opportunities to go long and maintaining shorts/bear call spreads on things that are weak.

Two Trades
Two trades that we are looking at right now that we like are going long on AutoZone (NYSE:AZO) with Jul21 Bull Put Spread as well as Salesforce.com (NYSE:CRM) reverse iron condor. AutoZone has not failed its 200-day MA in two years, and that MA is right at the 350 line right now. We like selling the 350/340 bull put spread for some solid income on a stock that has rallied nicely despite market weakness in past week. The company has moved off a dip on earnings with analysts coming out behind the stock. We like for this stock to remain strong over the next month as earnings are not due out, and the stock tends to not follow general market movements. With a lot of volatility in the market right now, we like doing reverse iron condors, which are successful when banking on large price swings, on high beta names. One such company is CRM. This company moves drastically and we like doing this after the recent surge as its in the middle of its bollinger bands. We like the 130/125 bear put spread along with 135/140 bull call spread for about 3.50 in price. If it closes above 140 or below 125, we will make 43% on the trade.
Trade #1: AZO, Bull Put Spread, Jul21
Trade #2: CRM, Reverse Iron Condor, Jul21
(Click to enlarge)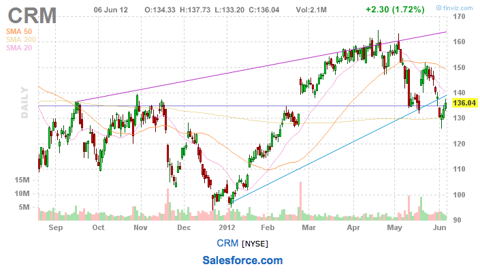 Click to enlarge
(Click to enlarge)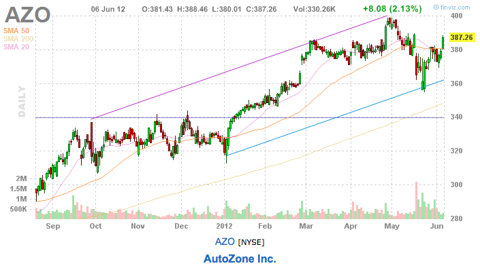 Click to enlarge
Tomorrow's Outlook
After a day like today, we tend to expect follow through days. Since this day was based a lot on just short covering mixed with low volume mixed with trading mixed with hope ... it does not spur a lot of confidence in us. We are going to have headlines moving these markets without a lot of attention to what occurred the day prior. Tomorrow, we get another nice round of data that should be able to give the markets some movement. If good, we should definitely see a very solid follow through. Without it, though, this rally could be short-lived. We get the Bank of England rate decision from Europe tomorrow as well as a lot of news out of Switzerland. Yet, the most important data is going to be initial jobless claims and then the testimony given to Congress from Fed Chairman Ben Bernanke. That speech will be hotly contested for any QE talk. If there is no hints, we could see the market give up a good portion of today's gains.
Oxen Group Moves
Our newest portfolio that follows Goldman Sachs upgrades and downgrades is doing well so far as we took gains off the table in trades we had in BlackRock (NYSE:BLK) and Apollo Global (NYSE:APO) for 2% and 3% gains, respectively. We did not prosper a lot from the day as most of our option spreads and earnings plays were already around worthless and we're just waiting for Friday expiration. We added the AZO play above as well as a Dow Chemical (NYSE:DOW) bull put spread for Earnings Alpha.
We have the following positions. In our Short-Term Equity Portfolio we are long Under Armour (NYSE:UA), Sanderson Farms (NASDAQ:SAFM), Bed Bath & Beyond (NASDAQ:BBBY) and TripAdvisor (NASDAQ:TRIP). We are short Illinois Tool Works (NYSE:ITW), Tyson Foods (NYSE:TSN), Molson Coors (NYSE:TAP) and SPDR Dow . In our Options Portfolio, we are long AutoZone, Comcast (NASDAQ:CMCSA), Monster Beverage (NASDAQ:MNST), Disney (NYSE:DIS) and Panera Bread (NASDAQ:PNRA). We are short Priceline.com (NASDAQ:PCLN), Sina (NASDAQ:SINA), Apple (NASDAQ:AAPL) and General Dynamics (NYSE:GD). We have a reverse iron condor on Ultra Proshares Financial (NYSEARCA:FAS). In our Earnings Alpha portfolio, we are long Dow Chemical, Discover (NYSE:DFS), Western Digital (NYSE:WDC) and Dollar General (NYSE:DG). We are short Adobe (NASDAQ:ADBE) and Walgreen (WAG). We have a reverse iron condor in Verifone (NYSE:PAY) and reverse iron butterfly in Joy Global (NYSE:JOY) and Decker's Outdoor (NASDAQ:DECK).
Chart courtesy of finviz.com.
Disclosure: I am long DIS.