Standard Pacific's (SPF) financial problems, including the possibility it will default on its debt obligations, are worse than its share price suggests, and SPF's options for overcoming its challenges are bearish for equity holders.
Our reasoning
SPF has breached its tangible net worth bank-debt covenant just one quarter after negotiating relaxed covenants with its bankers.
Further deterioration of the company's balance sheet, caused by additional inventory writedowns and deferred tax writeoffs, is likely to trigger a breach of SPF's leverage covenant of 1.75 in 2008.
SPF's recent and impending covenant breaches, the prices of the company's credit default swaps, and its reported hiring of restructuring specialist Miller Buckfire, indicate a high probability that the firm will need to restructure.
The two primary ways for SPF to improve its leverage ratio and balance sheet -- via an equity/preferred-share offering or a debt-for–equity swap (probably implemented within a Chapter 11 restructuring) – are bearish for the firm's equity investors.
Elaboration
Current and Impending Breaches of Bank-Debt Covenants.
SPF has breached its tangible net worth bank-debt covenant just one quarter after negotiating relaxed covenants with its bankers. At the end of Q4-2007, SPF reported its tangible net worth at $972MM, vs the minimum $1,000MM required by the relaxed covenant it negotiated during Q3-2007.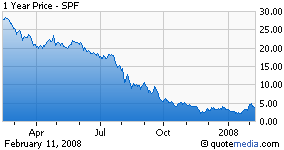 More important than SPF's problem with its shrinking book equity is the company's worsening leverage ratio (debt to equity ratio), which we believe will soon fall below SPF's already-relaxed bank-debt limit of 1.75. SPF has written off a portion of its inventory every quarter since the second quarter of 2006 (Q2-2006). On average through Q4-2007, the company has written off 3.5% of its beginning-of-quarter inventory during this period. Over the same time SPF's writeoffs have been well correlated to decreases in the Case-Schiller home price index and to reductions in median new-home prices. Currently we see no bottoming in the Case Schiller or home price indexes (or in any other housing industry data we follow), and we believe that SPF's future writedowns will loosely follow further declines of these indexes.
SPF should also face further deferred-tax asset writedowns in 2008. For Q4-2007, KB Homes (NYSE:KBH) wrote down its deferred tax asset by 66%. SPF, which shares its auditor with KBH (Ernst and Young), and is in worse shape that KBH by almost any measure, wrote down its deferred tax asset by only 53% in the same quarter. Given that KBH is the stronger company and that the continued housing market mailaise decreases SPF's chance of using its remaining deferred tax asset, we expect this asset to be further written off in 2008.
Our SPF writedown model, based on correlations to home price declines and our expectations of further deferred tax asset writeoffs, indicate that SPF's leverage ratio may increase to 1.8 to 2.1, even if it pays off all its remaining 2008 bond maturity (about $125MM) out of its expected tax refund of $235MM. This would put the company well out of compliance with its leverage ratio maximum of 1.75, as reported in its Q4-2007 conference call. (This ratio tightens to 1.65 on 7/1/2008). Our model does not include additional factors that may degrade SPF's balance sheet, such as operating losses (SPF's current gross margin for home sales is just 2.5%), or the possible return of SPF's "homebuilding interest capitalized" from 6.1% of inventories owned ($126MM at 12/31/2007) to Q4-2006's 4.0% of inventories owned.
Lenders should not necessarily care if a company's balance sheet shrinks, as long as the lender's debt is being amortized and the lender's safety factor, as measured by the borrower's debt/equity ratio, is held constant or improves. Conversely, if a borrower's equity is shrinking while its debt/equity ratio is increasing – as is the case for SPF -- this directly decreases the probability that the lender will not be made whole.
The need for SPF to undergo balance sheet restructuring.
SPF's recent and impending covenant breaches have surely reduced its bankers'comfort level, especially since these challenges emerged so soon after the homebuilder was awarded a round of covenant relief. Arguably more bearish is the company's hiring of Miller Buckfire (as reported by debtwire in January), and the high prices of the company's credit default swaps.
Miller Buckfire [MB], which describes itself as "delivering unbiased, strategic and actionable advice to clients facing issues that are complex – and urgent," is well known as an advisor to companies in need of a balance-sheet makeover – often in Chapter 11. MB's past clients include, for example, high-profile bankruptcy filers Calpine, Dana, and Foamex.
As reported on Bloomberg on 2/11/08, the annual cost of default protection on $1,000 worth of SPF's bonds through 3/20/09 is $246, or 24.6% of the face value of the bonds per year. This is a stunningly bearish figure considering the annual yield of SPF's 5.125% bonds maturing 4/1/2009 is just 19.5%, based on a 2/11/08 Trace price of 86.0. The cumulative probability of SPF's defaulting on this bond is 37%, as implied by the cost of the default protection. Taken together, this default protection data, SPF's hiring of Miller Buckfire, and the company's covenant-breach-challenges suggest a high probability that the firm may need to restructure its balance sheet this year.
Restructuring SPF's balance sheet will hurt equity holders.
In the face of continued housing price declines and poor operating margins, SPF cannot sustainably improve its balance sheet through its operations. To improve its leverage ratio, the company must raise cash from investors or swap some debt for equity. The first option could be effected by a common or preferred share equity offering – adding cash and shareholders equity to the firm. SPF has recently doubled its authorized share count from 100MM to 200MM, which suggests its management is seriously considering this option. An equity offering would dilute the value of current holders' shares (even in the case of a rights offering for holders who chose not to add to their positions) and push down the price of SPF's stock.
SPF could also execute a debt-for–equity swap by issuing a shares-for-bonds tender offer to existing debtholders. Given that debtholders typically buy bonds because they are less risky than stocks and these investors are more risk-averse than stockholders, we do not expect that this strategy is viable.
Finally, SPF could restructure its balance sheet in a Chapter 11 reorganization -- a 37% probability during the next two years according to the credit default swap market. In this case, as is usually true in bankruptcies, we expect that SPF's current shares would be worthless and that current debtholders would be issued 'new company" stock in exchange for bonds.
Conclusion
We believe there is a very good chance that SPF will incur further covenant breaches in 2008 and will need to restructure its balance sheet to satisfy its bankers. Whether or not this restructuring occurs as part of a Chapter 11 bankruptcy reorganization, the implication for current shareholders is bearish.
Disclosure: West End Advisors' had a bearish position in SPF's equity when this article was submitted to Seeking Alpha.