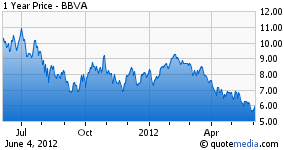 The Spanish banking system is teetering on the edge of collapse as the true extent of toxic loans to property developers and speculators grows leaving some of Spain's largest banks insolvent. This is placing an incredible burden on an already deeply troubled economy leading to speculation that the Spanish government will not be able to keep these banks afloat without an external aid package. This has seen investors hastily make for the exit with increasing capital flight and a spectacular sell down of Spanish banking stocks.
This affected Banco Bilbao Vizcaya Argentaria (NYSE:BBVA), where like its larger Spanish peer Banco Santander (STD), investors are unable to see past the economic turmoil engulfing Spain and they have headed for the exists sharply selling down it shares. As a result for the year to date BBVA's ADRs alone are down by over 30%. But not all Spanish banks are created equal and as my analysis will illustrate investors have misunderstood BBVA's operating model and exposure to the Spanish financial crisis. They have mistakenly identified it as another of Spain's zombie bank shuffling along seeking government life support, rather than the global bank it is with limited exposure to the Spanish economic crisis and a geographically diversified portfolio with significant exposure to some of the fastest growing economies.
Financial Performance
Overall, BBVA's first quarter 2012 financial results in comparison to the same period in 2011 (YoY) were disappointing, despite the bank reporting a 3.5% increase in revenue to $7.3 billion. This is because of increased provisions being set aside for its non-performing loan exposure in Spain, which contributed to net attributable profit falling by 12.6% to $1.3 billion. In comparison to fourth quarter 2011 (QoQ), the first quarter 2012 financial results were an improvement despite revenue falling by 1.2%, because net income rose by 823%. Furthermore, and perhaps most importantly, BBVA's balance sheet strengthened during this period with cash and cash equivalents rising by 8.1% YoY and 20% QoQ, to $33.7 billion. However, for this period loan loss provisions increased by 2.5% YoY and 0.5% QoQ to $12.8 billion.
Overall, despite the poor result on a YoY basis, BBVA has reported improved financial results and most importantly a stronger balance sheet, with a substantial increase in the amount of cash available. This bodes well for the bank's continued capacity to meet any further contingencies that may arise in Spain as well as being able to maintain its current dividend payment.
Dividend Payments
BBVA historically has maintained one of the highest dividend payout ratios in its sector and the bank had previously established a dividend floor of €0.42 or around $0.52 per share. Despite the fall in net income for both the full year ending 2011 and now in the first quarter 2012, BBVA has reiterated that it will maintain the total dividend at this payment. BBVA Chairman Francisco González has made this commitment despite the rising loan loss provisions and falling profitability caused by ongoing bank solvency and economic crises in Spain.
To date BBVA has honored that commitment, making a the third quarter 2011 dividend payment of $0.13 per share, which went ex-dividend on 5 January 2012, as well as its fourth quarter dividend payment for 2011 of $0.15 per share, which went ex-dividend on 11 April 2012. These final two payment show that 100% of the promised annual dividend for 2011 has been paid. The first dividend payment for 2012 is expected to go ex-dividend in early July 2012.
Investors have the choice of taking the dividend as either scrip or cash. The advantage for ADR holders in taking the scrip dividend is that it allows them to avoid Spanish withholding tax of 21% payable on the dividend payment. In addition, where a shareholder takes the dividend as scrip they are entitled to sell the underlying rights to the ADR for a fee, allowing them to receive cash. By maintaining the dividend the payout ratio has lifted well above 100%, but as BBVA's profitability returns the dividend payout ratio will drop well below 100% and return to sustainable historical levels.
By issuing scrip existing shares will be diluted, though this dilution should be minimal and not sufficient to constrain future growth in the share price. Nor is it a mechanism for the bank to be able to maintain its dividend payout ratio above a sustainable level because the decision to accept dividends as either cash or scrip rests with the individual shareholder and not the bank.
Obviously there are those who believe the dividend would be cut and there were analysts predicting that this cut would be up to 50%. But based on the bank's public commitment and payments to date it is my view that any cut is extremely unlikely. As a result, BBVA now has an incredible dividend yield of around 11%, which is lower than Banco Santander's yield of 17% but still quite impressive for a major bank.
Performance and Efficiency Measures
Just like Banco Santander with an efficiency ratio of 44.7%, BBVA is delivering an outstanding efficiency ratio of 47.5%, which as the chart shows has declined on a YoY basis but improved QoQ.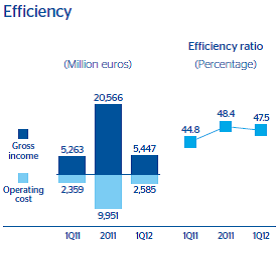 Source: BBVA Financial Report First Quarter 2012
This is an extremely positive sign for investors as it indicates that despite the extremely difficult operating conditions management has maintained control of costs and that the bank has continued to generate income.
In conjunction with this very credible efficiency ratio BBVA has a solid profit margin of 22%, which is an increase of 3% QoQ and it is marginally higher than Banco Santander's 19%. BBVA's solid efficiency ratio and profit margin are not however translating into a credible return on equity, with BBVA having a return on equity at the end of the first quarter 2012 of 10%. This as the chart below shows is part of a downward trend on both a YoY and QoQ basis, which can be attributed to the funds diverted to loan loss provisions.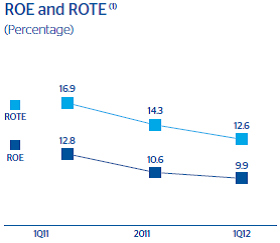 Source: BBVA Financial Report First Quarter 2012
This moderate return on equity is further concerning when it is considered that BBVA has a debt to equity ratio of 2.5 and it is unable to translate this high degree of leverage into a superior return on equity as would be expected. Again this can be attributed to the increased loan loss provisions set aside due to the worsening outlook of its Spanish loan portfolio and the difficulties of the current operating and economic environment. Furthermore, BBVA is delivering a superior return on equity with a lower degree of leverage than Banco Santander, which has a debt to equity ratio of 3.7 compared to BBVA's 2.5.
Risks
Spain is seeing experiencing a banking system wide solvency crisis caused by the collapse of a decade long property bubble that has seen many of the country's banks face insolvency due to extensive exposure to toxic loans. This has combined with the European sovereign debt crisis to leave many of Spain's banks dangerously close to collapse. But I believe that BBVA's exposure to these toxic loans is significantly lower than many of its peers by virtue of its operational structure and strong risk management practices.
European Sovereign Debt Exposure
In total, BBVA has $84.7 billion in European sovereign debt according to the European Banking Authority, as set out in table 1 below. Of this the bank has a total of $81 billion exposed to the PIIGS and $149.6 million with the country that is believed to be the most likely to default, Greece.
Table 1: European Sovereign Debt Exposure
Country

Gross Long Sovereign Debt Exposure

€Euros

$USD*

Austria

€25 million

$33 million

Belgium

€114 million

$152 million

Czech Republic

€24 million

$32 million

Finland

€24 million

$32 million

France

€534 million

$713 million

Germany

€1.4 billion

$1.9 billion

Greece

€112 million

$149.6 million

Hungary

€58 million

$77 million

Italy

€4.3 billion

$5.7 billion

Netherlands

€35 million

$46.7 million

Poland

€186 million

$248 million

Portugal

€485 million

$647.8 million

Romania

€77 million

$102.8 million

Spain

€56 billion

$74.8 billion

Total

€63.4 billion

$84.7 billion
Source: European Banking Authority
*Exchange rate $1.3356 USD = €1
While this exposure seems quite large as a percentage of total assets BBVA's European sovereign debt exposure is not extreme at 11% of total assets, although this is almost triple Banco Santander's exposure as a percentage of total assets. Furthermore, its exposure to the PIIGS as a percentage of total assets is only 10% of total assets, which is more than double Banco Santander's exposure to the PIIGS of 4% as a percentage of total assets. BBVA's exposure to Greek sovereign debt is particularly low and is 0.01%.
Despite no clear end to the sovereign debt crisis in sight, it has appeared until recently that except for Greece the likelihood of a default among the PIIGS was decreasing. However, the latest news concerning Spain's deepening economic crisis and the health of its banking system is concerning. There are claims of increasing signs that external intervention in Spain maybe required, which increases the risk associated with the Spanish sovereign debt held by BBVA. However, there are no clear signs that Spain would default on this debt and it is unlikely that they would, given the lengths the Spanish government is going to in order to bailout insolvent or deeply troubled Spanish banks.
Regardless, I still believe that the risk of defaults and their potential impacts upon BBVA are being driven predominantly by sentiment and anxiety. This becomes apparent when it is considered that the European Union and the European Central Bank have established a rescue package and bailout fund to further minimize the risk of default and mitigate the impact if a default were to occur.
BBVA has a substantially higher exposure to European sovereign debt and the PIIGS as a percentage of total assets than Banco Santander. This leads me to believe that in the event of a default, BBVA is not as strongly positioned to manage the losses from its sovereign holdings as Banco Santander.
Credit Risk
Another key catalyst for BBVA's share price plunge has been the growing economic crisis in Spain triggered by a massive real estate bubble bursting, leaving many of Spain's banks heavily leveraged and over-exposed to non-performing loans. However, BBVA like Banco Santander is a global bank and of its total gross customer loans $478 billion, 58% are in Spain, which is slightly more than double Banco Santander's gross Spanish loan exposure. The remainder of BBVA's loans are distributed across its other European, Asian, U.S and Latin American businesses.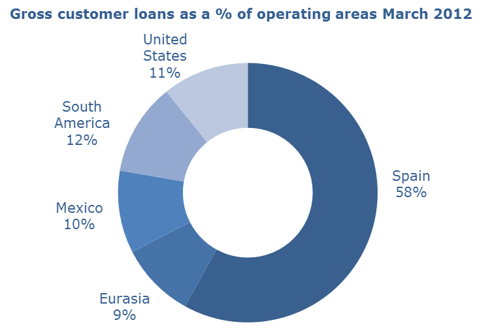 Click to enlarge
Source: BBVA Financial Report First Quarter 2012 Data
Despite the ongoing problems in Spain and investors sentiment seeming to indicate that BBVA would be facing an implosion of the quality of its loan portfolio, the total group wide value of impaired loans only grew moderately during the first quarter 2012, increasing by 3.7% YoY and 1.5% QoQ to $21.5 billion. BBVA's total non-performing loans represent 2.7% of total assets, which is only marginally higher than Banco Santander's exposure of 2.5%. This indicates that if all of those loans were totally unrecoverable Banco Santander could comfortably absorb those losses. In addition, the total value of the bank's group wide loan loss provisions during the same period only increased by 3.7% YoY and 1.5% QoQ to $13 billion.
Furthermore, BBVA's non-performing loan ratio fell slightly by 0.1% YoY and QoQ remained steady at 4%. While this is higher than what I would ideally prefer to see and the accepted range of 2.5% to 3.5% for a healthy loan portfolio, it is not alarming and is in line with its Spanish and international peers.
In comparison Banco Santander has a non-performing loan ratio of 3.98%, CaixaBank's is 4.9% and BBVA's U.S peers Bank of America (NYSE:BAC) and Citigroup (C), for the same period reported non-performing loan ratios of 4.88% and 4.5% respectively. BBVA's non-performing loan ratio is substantially lower than the Spanish industry average of 7.91% and the U.S banking industry 2011 average of 4.17%. BBVA's non-performing loan coverage ratio at the end of the first quarter 2012 is a solid 60%, which on a YoY and QoQ basis has remained steady. It is only marginally lower than Banco Santander's 62% and higher than the Spanish industry average of 58%.
Spanish Real Estate Loan Exposure
The Spanish loan portfolio's total value is $297.8 billion, which is 58% of BBVA's gross loans and because of the financial deleveraging process the total gross loans in Spain fell by 1.7% YoY and 2% QoQ, effectively reducing the total risk faced by BBVA. Overall the quality of BBVA's Spanish loan portfolio has remained stable on both a YoY and QoQ basis with the non-performing loan ratio rising by 0.1% to 4.9%. This is also noticeably lower than Banco Santander's Spanish non-performing loan ratio of 5.7%, Spain's industry average of 7.91% and the industry wide property only non-performing loan ratio of 9.3%.
In comparison to Spain's other banks BBVA has one of the lowest exposures to the Spanish property development sector with only 7% of all of BBVA's Spanish property loan portfolio, compared to an industry average of 18%. This exposure is also lower than Banco Santander's which makes up 22% of its Spanish property loan portfolio.
Most recently the Spanish government has approved a bailout package totaling $24.9 million for Bankia, which had previously disclosed a substantially lower exposure to non-performing loans. This has obviously further spooked investors who are now concerned about whether Spain's banks are reporting the true extent of their exposure. However, for all of the reasons discussed above I believe that BBVA's credit risk in Spain is within acceptable levels and the least risky loan portfolio of the major Spanish banks.
There is a natural cap on BBVA's exposure to the Spanish loan crisis, but however unlike Banco Santander that only has 28% of its loans in Spain BBVA has the majority of lending exposure in Spain at 58%. In comparison to Banco Santander it does make BBVA riskier proposition on this basis. Investors should also consider that unlike many of its U.S peers at the time of the sub-prime crisis, BBVA is not subject to lawsuits relating to predatory lending practices, the misleading sale of mortgage backed securities and derivatives or significant regulatory investigations. Furthermore, it appears to have a cleaner bill of health in this respect than Banco Santander.
Liquidity and Capital Ratios
A healthy loan deposit ratio is generally considered to be 95% to 105% and BBVA has a loan deposit ratio of 83% at the end of the first quarter 2012. This is a 4% increase YoY and a 2% drop QoQ. While the ratio is not optimal because if the ratio is too low, banks may not be earning as much as they could be it is certainly superior to Banco Santander's loan to deposit ratio of 115%.
The importance of a bank's loan deposit ratio as a measure of liquidity and financial stability can't be emphasized enough. At its most basic level it represents the ratio of funds loaned in proportion to funds taken as deposits and therefore is indicative of how much of a bank's loan portfolio is funded through wholesale or short-term loans, which leave a bank's costs base vulnerable to movements in interest rates and as the chart below shows BBVA's loan to deposit ratio is well under this. )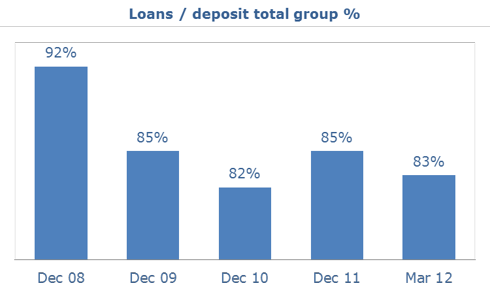 Click to enlarge
Source: BBVA Financial Report First Quarter 2012 Data
As part of increasing its liquidity BBVA has also been steadily increasing its tier one capital and by the end of the first quarter 2012 had a tier one capital ratio of 10.7%, as the chart below illustrates.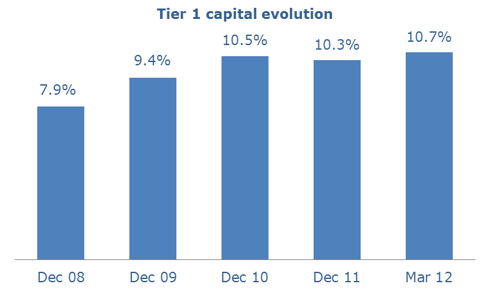 Click to enlarge
Source: BBVA Financial Report First Quarter 2012 Data
Furthermore, BBVA's tier 1 capital is lower than Banco Santander's 11.05% but higher than its other Spanish competitor CaxiaBank with 10.4%. It is also higher than Bank of America's tier 1 capital of 9.9%, but lower than Citigroup's 14.2%. If anything this further supports my view that BBVA well capitalized and able to absorb the impaired loans currently on its books.
Spanish Economic Risk and Currency Risk
The dominant catalyst for BBVA's share price plunging lower is the deepening economic crisis in Spain, which has now become linked to the European sovereign debt crisis. This has caused a sell down of Spanish banks including BBVA, which has seen the share price fall by over 30% since the start of 2012. This crisis commenced with the collapse in 2008 of a decade long real estate and property development bubble, which saw Spain's economy fall into a deep recession. Now investors are becoming increasingly spooked by the growing toxic loan exposure of Spain's banks that has seen many left teetering on the brink of insolvency.
It was only recently that Spain's government had to inject $24 billion into Bankia, Spain's third largest bank and the one with the largest loan exposure to property developers as part of bailout package to prevent its collapse. Initially Bankia had disclosed that it needed a $19 billion bailout, but this then increased as the bank disclosed further losses from toxic loans. This has left investors fearful that the other banks' full exposure to these toxic loans is greater than that disclosed triggering a further sell down in Spanish bank shares.
This has also placed the Spanish government in an even more difficult position because now it has the added weight of attempting to prevent the country's banking system from imploding while managing an economy deep in recession. This has in fact left the Spanish economy reeling, with all of its key economic indicators showing there is worse to come for the economy. At the end of the first quarter alone real GDP growth had contracted by 0.4%, industrial output had deteriorated by 7.5% and unemployment had risen to an incredible 24.4%. This has led the Spanish government to implement further austerity measures in an attempt to remedy the situation, but will only cause further economic contraction.
Spain's ailing economy has placed a significant cap on the funds that the Spanish government has available to bailout other Spanish banks. This may require the government to tap bond markets for further funds or even seek an external bailout if the Bankia bailout is representative of the funds required to ensure the solvency of other Spanish banks. This has seen many investors become even more fearful that any injection of cash into the banking system is beyond the capability of the Spanish government and with sovereign bonds at such a high unsustainable yield that the country will need an external bailout.
This also fueling concern regarding the creditworthiness of the Spanish sovereign and whether a debt default is a realistic possibility, creating speculation of a Spanish withdrawal from the euro-zone or external intervention. As a result the interest rate yield on Spanish 10-year bonds, a key indicator of market confidence in a country's ability to pay down its debt, has climbed to over 6.5%.
All of these problems and the fear they have created is further harming the Spanish economy with an upsurge in capital flight as well as creating further downward pressure on the euro. As a result it will be some time before BBVA is able to expect revenue, margin and profit growth in its primary market of Spain. The falling value of the euro is also not assisting the value of BBVA's U.S dollar denominated ADRs because overall a depreciating euro is bad for stock prices denominated in U.S dollars. This has also seen the value of BBVA's non-dollar denominated assets fall in value as well as increasing the costs of its U.S dollar denominated debt.
While the credit ratings awarded by ratings agencies such as Standard and Poor's are little more than lagging high level indicators as to the financial robustness of a company they are a useful indicative measure of how that company rates in comparison to the rest of its industry.
The Spanish economic crisis, plunging asset values and growing exposure to substandard loans has also seen credit rating's agencies for Spain and the Spanish banks. In April Standard and Poor's downgraded BBVA's credit rating to BBB+, which is still investment grade and the same as Spain's sovereign rating. This rating is one notch below Banco Santander's A-.
In mid-May when downgrading other Spanish banks Standard and Poor's affirmed BBVA's rating at investment grade of BBB+, which is one notch below Banco Santander, on the basis;
"Strong capitalization and satisfactory earnings capacity; Adequate management practices, including conservative originations standards; and Adequate liquidity ratios. "
However, while BBVA has a substantially greater exposure to Spain than Banco Santander its overall exposure is less than any of the other Spanish banks, therefore any further deepening of the Spanish crisis will naturally be limited by this fixed exposure.
Catalysts for Growth
There is a strong belief among investors that BBVA is a Spanish bank and as a result its valuation is being punished every time Spain's banking solvency crisis or economic outlook worsens. However, as the analysis of the bank's credit exposure has illustrated and as the following analysis of its assets and income will confirm, BBVA like its larger Spanish peer Banco Santander is a global bank, with a considerable exposure to the growth market of Latin America. As a result its assets and income are significantly geographically diversified effectively mitigating investment risk associated with investing in any single market.
Portfolio Diversification
BBVA as a global bank has a presence in over 40 countries including the U.S, Argentina, Colombia, Mexico, China and Turkey as well as Spain, with 7,466 branches globally as the chart below illustrates.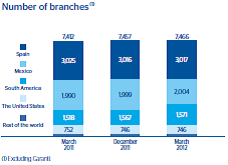 Source: BBVA Financial Report First Quarter 2012
BBVA only derives 16% of its attributable profit from Spain with the majority of the bank's income coming from Latin America, which accounts for 55% of the bank's total attributable profit. The single largest contributor in Latin America is Mexico at 30%, as set out in chart below.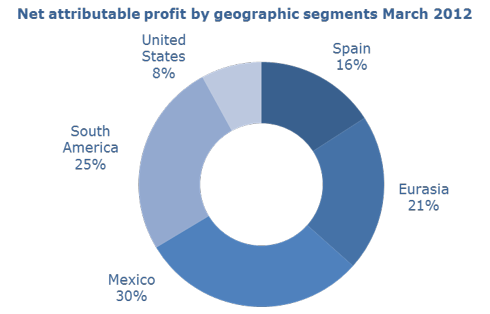 Click to enlarge
Source: BBVA Financial Report First Quarter 2012 Data
Like its net attributable profit, BBVA's total assets are geographically diversified. Although unlike Banco Santander it has a greater concentration of assets in Spain, which accounts for 54% of the bank's total assets. This indicates that BBVA potentially has a greater exposure to sub-standard or toxic Spanish loans than Banco Santander, though at this time its credit risk metrics demonstrate otherwise.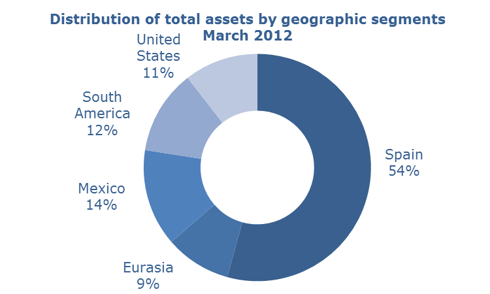 Click to enlarge
Source: BBVA Financial Report First Quarter 2012 Data
However, this geographical diversification still mitigates risk for investors as it would require a global economic contagion off a significant scale for all of the bank's major markets to be affected.
Latin America Banco Santander's Growth Engine
Despite the global economic slowdown Latin America as a region is an important growth market for BBVA. This is for two reasons, firstly the majority of the economies across Latin America are still growing rapidly particularly in comparison to Europe and the U.S, and will continue to do so for some time. Over the last decade the region has experienced an average annual GDP growth rate of almost4%. This growth potential was evident in the bank's first quarter 2012 results which BBVA report tremendous gains in profit in its South American businesses, with the regions total profits up by 27% YoY. The standout performers in the region were Colombia with profit growth of 76% YoY to $112 million and Venezuela where profits increased 11% YoY to $113 million.
The region's banks are experiencing solid growth fueled by a burgeoning middle-class, which has grown by 10% of the population over the last decade leading to greater affluence, a and a higher regional per capita income. This is pushing up demand for consumer products and retail banking products including consumer credit, mortgages, investments and insurance. In a region with a young and growing population in excess of 550 million this can only bode well for strong future growth even if there is a prolonged global economic slowdown.
However unlike Banco Santander, BBVA does not have any exposure to the highly lucrative Brazilian banking market and the tremendous growth potential in that market. It also is exposed to a greater degree of country risk having significant operations in Argentina through its listed subsidiary BBVA Frances (NYSE:BFR) and Venezuela. The share price of its Argentine subsidiary has been hit particularly hard and not only because of the negative sentiment surrounding BBVA and Spain but also because of the additional geo-political risk associated with Argentina and the interventionist actions of the current government.
Final Outlook
For the reasons discussed above I believe that investors have misunderstood BBVA's business and its actual level of risk associated with this bank and its exposure to toxic property loans in Spain. Like Banco Santander, BBVA is not a Spanish bank but a truly global bank with a thoroughly geographically diversified portfolio of assets and revenue streams with significant exposure to one of the fastest growing consumer banking markets, Latin America.
It is clear that BBVA is well managed having a solid profit margin and efficiency ratio. In addition, it is my belief that investors have over reacted by heavily selling down the bank's shares on back of its loan exposure to Spain's toxic property development sector. I have formed this view because BBVA has solid credit risk management metrics that are within acceptable levels, particularly its non-performing loan ratio.
Any exposure to Spain and increasing risk created by the deepening of the Spanish economic crisis is clearly mitigated by its geographic diversity and the fact that it derives 84% of its net attributable profit from markets outside of Spain. Furthermore, the bank continues to exhibit strong risk management practices, through reducing loan exposure to troublesome markets, de-leveraging its balance sheet and taking measures to increase liquidity. Even with the further deepening of the Spanish economic crisis its credit risk indicators are still healthy and within acceptable parameters. I also like the fact that unlike Banco Santander that BBVA has a healthy loan to deposit ratio which is substantially less than 100%, which reduces the risk of the bank requiring a bailout if there is a run on it deposits.
I believe that BBVA has been mispriced by the market and its shares oversold because of its association with Spain. However, as its first quarter 2012 results demonstrate it is far from being a zombie bank desperate for a government bailout. Not only did it strengthen its balance sheet but it returned to profitability with a substantial rise in net attributable profit. Furthermore, BBVA reported increased liquidity and capital combined with steady credit risk indicators, all of which are within acceptable levels and show a healthy bank that has to date managed its exposure to the collapsed Spanish real estate bubble well.
For all of the reasons discussed I believe that BBVA is well positioned to grow within Spain over the long-term when the Spanish economy moves into recovery mode. In addition, over the short to medium-term it is well positioned to benefit from its significant exposure to stronger growth markets in Latin America. The bank is also in a better position than either its Spanish peers or U.S banks were at the time of the sub-prime crisis.
Disclosure: I am long STD.