The ongoing European crisis, disconcerting and frightening as it may be, has provided an opportunity for the long-term investor looking for value in large-cap stocks. It is true that the world economy is in disarray. Economic growth around the world is slowing down and some major European economies may even shrink. It is difficult to guess how long it will be before things start to improve in Europe (and elsewhere).
I consider myself a contrarian long-term investor who generally looks for dividend growth stocks but sometimes aims for total growth as well. Recently, I have been poring over my various stock watch lists and looking closely at major international supermarket retailers. The common man has been spending less at supermarkets especially on discretionary items and as a result most of these supermarkets had either poor quarterly results or have given profit warnings. The market reacted by punishing the stock prices. However, in some cases, I believe that this has created a buying opportunity for an investor with a minimum holding period of two years.
I must caution the reader that investing in Europe is not for the faint of heart. There are significant risks involved including a continued depreciation of euro and pound against the dollar. There is a real and present danger of dividend cuts as well. Though, I believe that the risk of large grocery chains going out of business is extremely limited. A patient investor just might reap total returns commensurate with the risk involved.
Foreign Tax Withholding on Dividends
Most of the foreign stocks attract a foreign withholding tax on dividends distributed. The implications of foreign taxes have been discussed in a previous article - Foreign Tax and Withholding Tax Rates. The following table lists the key figures and ratios for four grocery and retailing giants. A brief overview of the companies and their businesses is given later. I have extracted all the information in the article from the respective company websites. The dividend yield is computed in U.S. dollars while the dividend growth rates are based on the native currency. If you are new to investing in foreign equities then my two-part Primer on International Investing may provide further reading material - Part 1 and Part 2.
Stock

Ticker

Country

Withholding

Price

P/E

TTM
Div Yield

Div Growth
1-Yr

Div Growth
3-Yr

Div Growth
5-Yr

Payout Ratio

Ahold

AHONY.PK

Netherlands

15%

11.71

10.1

4.25%

37.93%

30.50%

n/a

43.01%

Carrefour

CRRFY.PK

France

30%

3.56

25.6

3.63%

-51.85%

-21.62%

-12.78%

92.86%

Delhaize

DEG

Belgium

25%

36.77

5.8

5.95%

2.33%

5.95%

5.92%

34.71%

Tesco

TSCDY.PK

England

0%

14.14

819.2

4.82%

2.07%

7.26%

8.89%

39.45%
Ahold NV (AHONY.PK)
Ahold is a multinational retailing group with its headquarters in the Netherlands. It was started in 1887 as a grocery store. Ahold operates strong local supermarkets and grocery stores in Europe and the United States. Its brands include Albert Heijn, Etos, Albert, ICA, Stop & Shop, Giant and Peapod. Ahold has more than 3000 stores and operates one of the world's largest online grocery stores. The company was started in 1887 and expanded rapidly in the Netherlands in the early 20th century. Ahold expanded into international markets in the 1970s by acquiring various international grocery chains.
Ahold was involved in a major accounting crisis in the 2001-2004 period related to promotional allowances and other accounting regularities at its American subsidiaries. Various cases against the company were settled by 2006 and the company has been on the "Road to Recovery" under the then new CEO. It got rid of low-margin businesses especially those in the U.S. It managed to grow revenue in the mid-single digits over the last 5 years while maintaining debt levels at comfortable levels. Dividend growth was amazing as the payout ratio increased. However, going forward I suspect that the dividend growth may slow down. I do think that the current yield is attractive and if the share price comes down by another 5% then it might be a great entry point.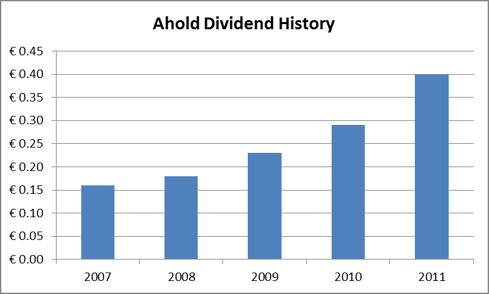 Carrefour SA (OTCPK:CRRFY)
Carrefour SA is world's second-largest supermarket chain, with its headquarters in France. It is second in revenue to Wal-Mart (NYSE:WMT). The word "Carrefour" means "crossroads" in French. The first Carrefour store was opened in 1958. The group now has more than 1400 Hypermarkets, 3000 Supermarkets, 5000 Convenience stores and more than 100 Cash & Carry stores. It is present in 32 countries and more than 55% of annual revenue is derived from outside France. The company continues to invest in emerging markets like China, Brazil, Indonesia, Poland, and Turkey. Its presence in United Kingdom and the U.S. is negligible. The sluggish European economy has affected its operating results in the last few years and Carrefour has been trying to do a mini-makeover. It announced plans to spin off its Spain-based deep-discount supermarket chain called Dia. There is a plan to convert a few Western European hypermarkets into new Planet stores that sell everything from grocery, electronics, beauty and home products. If successful, such transformations may increase revenue and visibility.
Even while the stock appears undervalued, the dividend history is not too impressive at Carrefour unfortunately. It posted a 19% drop in 2011 profits and slashed the dividend by 50%. In general, such a drastic cut would be a red flag and I would pass up on the stock. But I already hold the stock and am willing to make an exception this time. I plan to hold Carrefour hoping for a recovery in the 2014-15 time frame.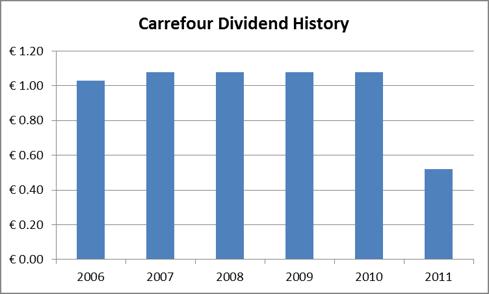 Delhaize NV (DEG)
Delhaize is a major Belgian food retailer that was founded in the 19th century. It operates supermarkets in United States (Food Lion, Hannaford, Sweetbay, and Bottom Dollar), Belgium (Delhaize, Shop & Go), Albania, Bulgaria, Greece, Romania, Serbia and as far as Indonesia. It used to be present in the Czech Republic and Germany, but has since exited these countries. It has more than 2800 stores around the world. Its biggest competitors in the U.S. are Wal-Mart, Kroger (NYSE:KR), and Supervalu (NYSE:SVU). Delhaize gets almost 65% of its revenue from the U.S. so is less international than the other three companies discussed in this article (Carrefour has almost no exposure in fact).
Delhaize has grown revenue every year for the last four years, which is quite commendable. The free cash flow is also very attractive. The company reported disappointing results last month and expects operating profits to fall 15%-20% this year. The stock price fell quite drastically as a result and yields more than 5% now. I feel that the current payout ratio at about 35% is quite manageable. The dividend has grown at a slow rate of 6% for the last 5+ years, though the latest increase was only 2.3%, which is a bit disappointing.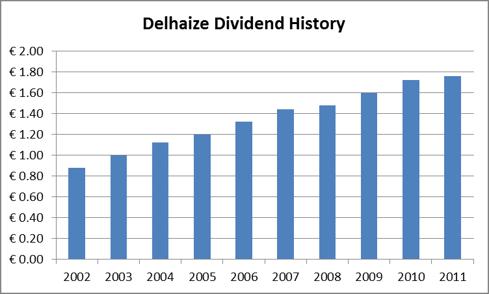 Tesco Plc (OTCPK:TSCDY)
Tesco is a multi-national grocery store and supermarket headquartered in England. It is world's third-biggest retailer by revenue after Wal-Mart and Carrefour. The company has a rich history - founded in 1919 by Jack Cohen as a market stall in London's East End. The name Tesco came from the initials of a prominent tea supplier, T.E. Stockwell, and his own last name Cohen. Tesco now operates in 14 countries and employs close to 500,000 employees even though United Kingdom still contributes more than 50% of revenue and profits. It operates close to 3000 stores in United Kingdom and about 1700 in Asia. Its presence in continental Europe is limited to Poland, Hungary, Czech Republic, Slovakia and Turkey. U.S. presence has not been satisfactory with its Fresh & Easy stores still generating operating losses. Tesco used to be a grocery store but has diversified over the last 20 years into clothing, electronics, furniture, media (including books, software, and music) and even operates a bank now. Its biggest competitors in United Kingdom are Asda (owned by Wal-Mart) and Sainsbury's.
Tesco grew rapidly in the last 20 years but has faced serious headwinds in the last couple of years. It gave a profit warning early this year, which is rare for Tesco. The stock price was punished significantly as a result. It does appear that 2012 would remain tough and future revenue and profit growth will come from its Asian operations in Thailand, South Korea, and China, in 2013 and beyond. I find it a bit comforting to know that Warren Buffett has invested in Tesco.
The dividend growth history was fabulous until last year. Tesco has increased dividends each year for more than 25 years, though the latest increase was just 2.1%. The current dividend yield is approximately 5% based on the latest ADR price. I feel that Tesco will eventually generate higher total returns compared with Wal-Mart. I expect yield-on-cost to reach 5% in approximately eight years with a current yield of 2.4%. I further expect Tesco to return to growth via its investments in emerging markets and eventual cleanup of the European mess, leading to better valuation of European stocks.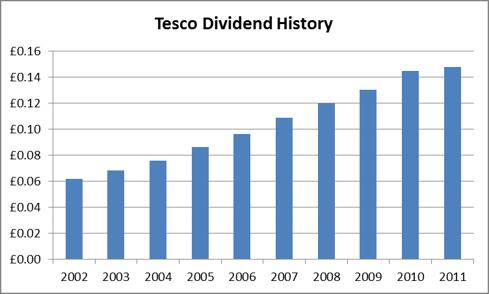 Conclusion

These four retailers are not the easiest to recommend given their most recent operating results and less-than-super dividend growth history. However, the stock prices already reflect this and now may be as good as it gets for locking in a decent yield-on-cost. I am willing to take on some risk and continue to nibble as I have funds available to invest. I find Tesco attractive at the current price, followed by Ahold and Delhaize. I plan to hold my Carrefour stock for now even though the company is not doing very well. I may exit if things worsen at Carrefour or if Tesco and Ahold become more attractive before I have more funds to invest.
Disclosure: I am long OTCPK:CRRFY.
Additional disclosure: I plan to buy Tesco at $13.50 and Ahold at $11.00 if they reach there.