(NYSE:GM) seemed to have a beat but it was due to a $1.6Bn tax benefit, otherwise earnings really sucked!
Let's see if the markets can shake that one off. This was another one of those times where I wish I was a pre-market trader as the headline was earnings of .08, which would have been a huge beat of the estimated loss of 55 cents a share expected. The stock shot up to $28.50 on the release and then quickly fell $2 - we could have picked up a quick 7% by simply having better reading comprehension skills than the first wave of buyers!
GM lost $38.7Bn in 2007 overall so the Q4 loss of $722M seems like an improvement I guess. Revenues for the year were $181Bn, down from $206Bn in '06, a year that also sucked. They also finished the year selling just 3,000 more cars than TM: 9,369,524 to 9,372,524. I think I'll go out on a limb here and predict TM will outsell them in '08.
How can a company with a $15Bn market cap lose $38.7Bn in one year? I'm just sorry I'm going to be missing the conference call. In "good" news for the company, they have reached a deal with the UAW on an "attrition program" for 74,000 workers.
Speaking of TM, Japan was up 4.7 today! Unfortunately, it was up 4.7 points, not percent - but they continue to hold the 13,000 line, barely, barely, barely! Hong Kong gained 305 points but couldn't crack 23,000, the Shanghai was negative and India was flat. Europe is trying to bounce back from a bad day yesterday but they are moving up on a commodity rally and that's really no fun. UK producer prices rose at the fastest pace since 1991, which should stop the BOE from easing further.
I'm very disturbed by a story that got little attention today as the media has decided to turn bullish but both IDC and Forrester reasearch have significantly lowered their IT spending forecasts for the year. IDC's Stepen Minton said: "While there is still debate over the severity and length of a U.S. economic slowdown, we do know that the IT market will not escape unscathed from any significant downturn."
On the brighter side, Warren Buffett is moving forward with my plan to backstop the bond insurers in a move that would certainly restore the AAA rating to those agencies. $216Bn Berkshire will effectively put up $800Bn to shore up the bond market, proving my point that our $13.5Tn US Government could have done this with a pen-stroke at any time to avert this whole issue before it became a "crisis."
Our futures are looking very good at 8 a.m. and I have to head to a meeting so I will simply say that we need to make sure we make some legitimate progress before getting overly excited but this is just about what we were expecting so far. We are still WAY down for the week and we need to see positive reversals hold on the SOX (16 points), Russell (24 points) and Transports (3 points) today in order to gather some technical strength: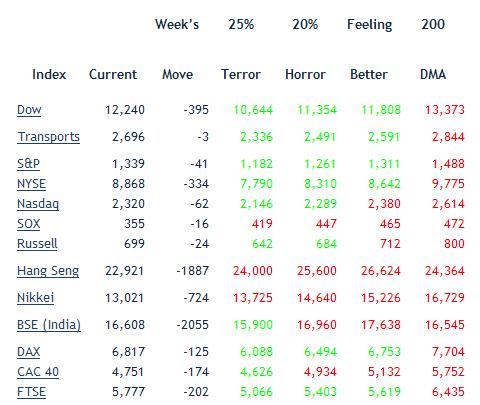 I don't think we are in any danger of crossing any 200 dma's today so let's just try to enjoy ourselves and take the opportunity to roll into some higher premiums where possible. I'll be letting my winners run and rolling up the remaining index puts to cover in case we get a quick reversal but up is good, so have fun today!