On Friday, February 8, Alliance Data Systems (NYSE:ADS) dropped its lawsuit against Blackstone (NYSE:BX). The lawsuit, which was filed on January 30, was seeking to have Blackstone complete its merger with ADS. It had followed Blackstone's notice on January 25 that it did not anticipate the closing condition relating to approvals from the Office of the Comptroller of the Currency could be satisfied.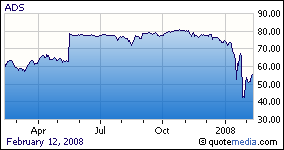 In my report issued on January 29, I expressed doubt that the closing condition was the main hurdle in getting the deal done. Rather, it looked like a clear case of buyer's remorse – the deal price of $81.75 was just too rich for the current market. While the news of Blackstone's withdrawal was disappointing to holders of ADS, the drop in price to the low 40's appeared to be a great buying opportunity.
So why did ADS drop its lawsuit? Here is what the news release said:
Since the filing of the lawsuit, Blackstone has in its court filings, correspondence with federal regulators and public statements said that it is committed to working toward the closing of its acquisition of the Company, including working with Alliance Data on proposals directed to resolving regulatory issues.
This news helped to push ADS higher by $3.56 on Friday. However, the market obviously remains skeptical, with the stock trading 33% below the merger price.
The news release made no mention of renewed discussions between ADS and Blackstone concerning price or conditions. Could it be as simple as one gesture of goodwill (Blackstone's indications that it is committed to closing the acquisition) was reciprocated by a like gesture (ADS' dismissal of its lawsuit), or has more transpired behind the scenes?
While it is impossible to say for sure, my guess is that the lawsuit dismissal indicates real progress is occurring. To me it looks like the probability of this deal closing has increased significantly, although it would not be surprising to see a lower price than the original offer. As noted previously, it seems that price was the real issue, although some other concessions might be necessary to make this deal work.
Whether the deal closes or not, ADS still offers good upside potential for long-term investors. It trades at just 12.8 times 2008 estimated EPS and has a projected consensus five-year EPS growth rate of 18%. At its current price level, the stock has appeal to both long-term value and growth investors, with the potential of short-term upside if the deal closes soon. While last week's news was positive, there appears to be very little takeover premium in the stock at its current price.
Disclosure: Author owns a position in ADS and manages accounts which hold ADS.