I believe a new U.S. Federal Government quantitative easing plan will boost a few segments and stocks. These stocks offer high dividend yield, capital appreciation, and will benefit directly from U.S. fiscal stimulus. Stocks ramped over 2% on Wednesday due to Fed Chairman Bernanke's Thursday meeting on Capital Hill. Here are a few stocks which can make money based upon the current economic back drop.

Gabelli Global Gold, Natural Resources & Income Trust (NYSEMKT:GGN)
Gabelli Global Gold is a closed end fund with a June 6th closing net asset value of $13.24. As of June 6th, Gabelli Global Gold is trading at a 5.28% premium to net asset value. Gabelli Global Gold owns gold and natural resource stocks. The business model is to sell covered calls against the long stock positions. Assuming a new round of quantitative easing is issued, gold should move up.
Gabelli Global Gold pays an annual $1.68 dividend per share. Gabelli Global Gold has paid a 14 cent per month dividend for approximately 6 years. Based upon today's $13.92 closing price, shareholders are receiving a 12% dividend yield.
I would recommend investors buy Gabelli Global Gold at net asset value prices. Current shareholders are sitting back collecting their monthly 14 cents per month dividend.
Main Street Capital Corporation (NYSE:MAIN)
Main Street is a business development corporation. The company has a portfolio based upon an 80.1% first lien ownership. The first lien is the enviable place to be in case of client financial problems. Equity warrants are a kicker for Main Street. The equity can turn out to be very rewarding to shareholders.
Per the below table, the lower middle market (LMM) and middle market add up to an aggregate 80.1% first lien debt position sheet.
A common Main Street deal involves management working with a institutional or private placement group. Main Street provides 5% - 10% of the total equity deal for the client. The remaining partners provide the additional 90% - 95% funding.
An example is the One Financial Plaza. The acquisition occurred in November 1999. The cost was $36.3 million. The property was sold in March 2007 for $65 million. The investor internal rate of return was 24%. Major renovations were performed to increase the recognized sales value.
Main Street pays a 14 cent monthly dividend. The current annual dividend yield is 7.9%. This is my favorite name in the business development corporation space. I believe it is valued higher than other business development corporations, and Main Street does trade at a premium to its net asset value per share. A 7.9% yield and focus upon first lien debt are the major attributes to own this name.
Ellington Financial LLC (NYSE:EFC)
Ellington Financial LLC is a specialty finance company. The company focuses in agency mortgage related securities, non agency debt securities, manufactured housing and subprime residential mortgage loans. The company is a small cap enterprise with a sound management team.
Management
Michael Vranos founded Ellington Management. Ellington Financial Management, an affiliate of Ellington Management Group, manages Ellington Financial. Mr. Vranos was previously known by some folks as "the most powerful man on Wall Street". Ellington Financial has a solid team backing up the $335 million market cap entity.
Dividend
The dividend has been sporadic, but a 10% plus payout has been achieved over the past 12 months. Per the June 5th Keefe Bruyette & Woods Inc. Mortgage Finance Conference, Ellington Financial LLC confirmed they plan to continue to pay 70 cents per quarter per share. This would be an annual $2.80 per share dividend or almost an annual 14% dividend yield.
Valuation
The March 31st net value was $24.09 per share. This was an increase from the December 31st net asset value of $22.55 per share. The stock is currently trading at 84.6% of net asset value. The company is off the radar and backed by a proven management team.
Action
Ellington Financial LLC is offering a 13.7% annual dividend yield. The stock is trading at a 15% discount to book value. Management owns 20% of the company. I remain long this position.
Conoco (NYSE:COP)
Conoco has successfully completed their spinoff from Phillips 66 (NYSE:PSX). As quantitative easing is likely to be implemented, oil should increase in price. This will benefit blue chip Conoco and its hydrocarbon production. Currently the stock yields a 5.1% dividend.
Per the June 5th Citi Global Energy Conference, management is focused upon maintaining a lower risk international project profile, increasing shareholder dividends, and maintaining a sound balance sheet.
The June 5th presentation discussed the various domestic and international oil projects on the table. The company is a $67 billion enterprise trading at a 5.85x price to earnings multiple. This is a conservative trading price with a shareholder friendly management team.
Altisource Portfolio Solutions S.A. (NASDAQ:ASPS)
Altisource Portfolio Solutions offers tools, services and product offerings to the real estate and mortgage portfolio management, asset recovery, and customer relationship management businesses. As the U.S. home recovery begins in earnest, the needs of Altisource will be needed more than ever. The mortgage services are focused at loan originators and loan service providers. There likely isn't a better business to be in as the U.S. beige book, the Fed, and the country all seek lower home payments via lower interest rates, improved U.S. economic growth, and job growth.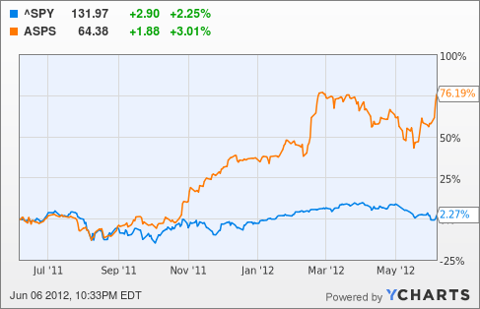 Altisource Portfolio Solutions recorded revenues of $474 million over the past year. This is an increase of over 200%. The company's stock has outperformed the market as the business fundamentals have driven earnings and free cash flow metrics higher.
Over the past year, the company earned $81 million. This represents 17% of total revenues. This is a high margin business. The March 31st quarter provided insights on the cash flow growth. The company grew from $17 million cash flow to $28 million cash flow year over year for the quarter.
Summary
My goal is to make money. The Fed's actions, printing more and more money, are not positive for the U.S. future. In a broad sense, deflationary impacts are more dangerous than inflationary impacts. If Europe was not experiencing its own debt issues, then the U.S. fiscal debt cliff would be on page 1 of the news. At some point the U.S. debt and deficit levels will be back on page one, and my investment game plan will have to change with the times.