Western Digital (NYSE:WDC) is one of the three large hard disk drive ("HDD") companies that command the magnetic disk market. Magnetic discs are the primary storage medium for digital media and are used in computers, data centers, and other storage devices.
If you examine the industry further you will see that Western Digital and Seagate (NASDAQ:STX) have an effective duopoly whereby the two firms command an 84% marketshare at the end of 2011. Western Digital was the market leader with a 47% share that was held-back by the Thailand flooding. Now that the industry has sufficiently consolidated you will see fewer price wars and both Western Digital and Seagate should benefit.

Source: Yahoo! Finance
There are continued fears that HDDs will become obsolete as consumers are increasingly switching to flash memory devices that provide the storage for devices such as Apple's (NASDAQ:AAPL) iPhone. These concerns are far overstated because there is a limited supply of flash memory which causes it to be quite expensive compared to HDDs. Make no mistake, I am not implying that your next iPhone or iPad will have a HDD but HDDs are still a critical part of our technology ecosystem. In an interview with Seagate CEO Steve Luczo, Eric Savitz explains why HDDs are not going to lose relevance anytime soon:
"Five years ago, Luczo notes, the industry shipped 100 exabytes of data storage a year. In 2011 the total was 400 exabytes. By 2015 or 2016, he thinks, the total will hit a zettabyte. A zettabyte is equal to all the data that's been digitized from 1957 through 2010," he notes. By 2020, he contends, that total will jump to somewhere be- tween 7 and 35 zettabytes. He's not worried about flash. Instead he fears the opposite: that within a couple of years there will be a shortage of magnetic-disk media. [Emphasis added]
This explosion in data usage is reflective of our increasingly online society that generates an unprecedented amount of digital content ranging from pictures to videos to software that consumers want to share with each other. Every time you take a picture on your iPhone and upload it to Facebook you just increased the amount of data that both Apple and Facebook (NASDAQ:FB) must store. If you then send those same pictures via Google (NASDAQ:GOOG) Gmail or backed up those pictures to Dropbox, you helped to create an even larger digital burden. The "cloud" is nothing but massive data centers and both Google and Amazon (NASDAQ:AMZN) provide coherent overviews of how the services work.
Per WDC's 2011 10-K,
We believe that growth in the unit sales within the electronic data storage industry has continued to outpace the growth in the unit sales of all personal computers. For example, there were approximately 89% more hard drives sold than PCs in calendar 2010, based on industry data. [Emphasis added]
Last week the stock broke below its 200 day moving average of $33.26 after Barclays analyst Ben Reitzes downgraded both Western Digital and Seagate to Equal Weight due to weak PC demand. Mr. Reitzes is concerned about a lowering of guidance later this year but I still contend that this is a strong long-term play. This is quickly becoming less of a PC component play and more of a digital storage play as indicated above. Despite the downgrade, Barclays maintains a $37 price target which is approximately twenty percent below where the stock is currently trading. WDC is now virtually flat on the year after tumbling twenty percent in the last month.
From a financial standpoint Western Digital is one of the most attractive companies I follow and it is apparent to me that the fears surrounding this company are far overstated. The financial metrics below are staggering as you have a highly liquid company trading at a 3.2 forward P/E and .4 PEG. Not only does the company have minimal debt but it is currently paying 1.44% on its loan facility that expires in February 2013. There is some refinancing risk but it is very minimal given the company's strong financial condition.
Perhaps most surprising about WDC is that it is currently trading at $30 and has $13 per share in cash. The 2.3 price-to-cash ratio is another way of saying that approximately 40% of Western Digital's market price is represented by cash - let that settle in. Additionally, Hitachi is the largest shareholder with 25 million shares, or 9.6% of the company as a result of Western Digital's $4.8 billion acquisition of the hard disk drive business last year. This should help to further stabilize the stock and strengthen the downside protection.
To sum up, you have a company with strong growth prospects trading at a depressed multiple and a strong cash stockpile to offer downside protection.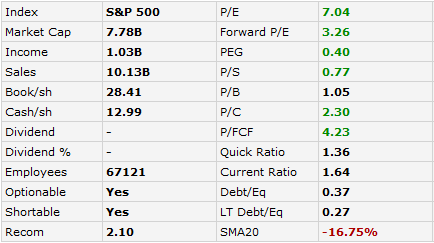 Source: Finviz.com
If the catalysts discussed above and attractive valuation are not enough to perk your interest then you might went to read Western Digital's press release from last week regarding share repurchases. The company plans to repurchase an additional $1.5B of stock as CEO John Coyne stated, "we believe that Western Digital's stock is a compelling investment based on our ability to create additional value for our customers and shareholders in the growth markets we serve." With a $7.8B market capitalization this means that Western Digital is prepared to repurchase almost twenty percent of the company.
This follows $334B (per 2011 10-K) in repurchases from 2005 through July 2011 as management continues to take advantage of the attractive stock price. For reference, Apple announced a share repurchase plan earlier in 2012 to repurchase $10B over a three year period. To provide a rough approximation of the scale of the repurchase, this would be similar to Apple repurchasing approximately $100B of its outstanding stock.
Both Western Digital and Seagate are strong companies that are attractively valued and I personally chose Western Digital due to its larger market share and cash stockpile; however, Seagate is cheaper and offers a very healthy 4.5% dividend yield. Seagate also trades a 2.5 forward P/E and one of the deciding factors for me was that Seagate has appreciated 47% in 2012 while Western Digital is flat year-to-date.