Co-authored by Christopher Gannatti, Research Analyst, WisdomTree
The Case for Emerging Market Corporate Bonds and Dividend-Payers
The emerging markets (EM) are widely expected to comprise a greater share of the world's economic growth going forward[1]. In particular, we believe emerging market corporations are strategically positioned to benefit from this next phase of growth. Traditionally, investors have focused on exposure to emerging market corporations almost exclusively through equities. The long-term potential returns inherent to such investments are counterbalanced by significant near-term risk[2]. These risks may have limited the degree with which investors have been comfortable adding high conviction, larger portfolio allocations to emerging markets.
Within this piece, we utilize index-level data to draw out certain conclusions. Indexes, like the MSCI Emerging Markets Index, are not inclusive of every security within a particular universe (this case, Emerging Market Equities), but they do function to largely capture a measure of its broad performance. Additionally, investors cannot invest directly in indexes, and index data and returns do not account for costs, fees, or expenses that may have an adverse impact.
The emergence of emerging market corporate bonds as a distinct asset class allows investors to more finely target a desired risk tolerance to their overall emerging market exposures.
Combinations of Emerging Market Equities and Bonds that Target Risk Levels of U.S. Equities.
Figure 1: Asset Class Risk & Return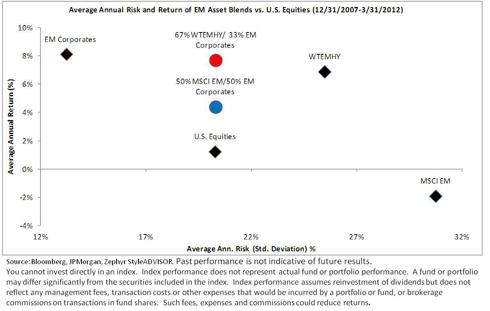 Click to enlarge
Figure 1 indicates that a 50/50 hypothetical allocation between the MSCI Emerging Markets Index (MSCI EM) and the JP Morgan CEMBI Broad Index (EM Corporates) exhibited approximately the same amount of average annual volatility as the S&P 500 Index (U.S. Equities) from December 31, 2007 through March 31, 2012-however with 3.16% greater average annual returns. The takeaway: the use of EM Corporates allowed the creation of a hypothetical allocation during a period inclusive of the global financial crisis that was 100% exposed to EM assets but that produced a similar level of risk as U.S. equities.
However, Figure 1 also shows that the incorporation of an additional risk-management tool, through a hypothetical blend which includes WisdomTree Emerging Markets Equity Income Index (EM Dividend-Payers) does even better. We believe that this is because WisdomTree employs a methodology with EM Dividend Payers that focuses specifically on the highest-yielding dividend-paying[3] emerging market equities, whereas the MSCI EM is market cap-weighted[4] and does not employ a dividend focus. A 67% EM Dividend Payers/33% EM Corporate hypothetical allocation had an identical average annual standard deviation to the 50% MSCI EM/50% EM Corporate hypothetical allocation over the period, but it did so with a 3.30% greater average annual return.
· The 67% EM Dividend Payers/33% EM Corporate hypothetical allocation produced a 7.70% average annual return over the period. This was 3.30% per year ahead of the 4.40% which was produced by the 50% MSCI EM/50% EM Corporate allocation, and nearly 6.50% per year better than the return of U.S. equities.
· The 67% EM Dividend Payers/33% EM Corporate hypothetical allocation exhibited an average annual standard deviation that was over 5.00% lower than utilizing a hypothetical allocation to EM Dividend Payers alone and more than 10.00% lower than using MSCI EM alone within the hypothetical allocations.
· Note, due to the lower risk numbers seen through EM Dividend Payers, over this particular period a similar level of volatility to U.S. equities is achieved with a hypothetical allocation that included 17 percentage points more to equities than bonds (as compared to the 50% MSCI EM/50% EM Corporates hypothetical allocation). One way to interpret this data point is that the benefit of focusing on dividend paying stocks for the emerging markets provided the same reduction in risk as an allocation that shifted 17 percentage points more to EM Corporate bonds and away from EM equities.
Conclusion
Ultimately, as the capital markets of emerging economies continue to develop, a wider array of tools continues to become available-tools that respond in attractive ways and improve the risk/return tradeoffs observable during past periods within hypothetical allocations. We view Emerging Market Corporates as an asset class that can be used to maintain exposure to emerging market growth while changing the overall risk-profile relative to equity-only emerging market allocations.
To read our full analysis of how to manage risk in the emerging markets click here.
Index Definitions:
JP Morgan CEMBI Broad Index: Widely cited measure of the performance of emerging market corporate debt denominated in U.S. dollars.
MSCI Emerging Markets Index: A free float-adjusted market capitalization index that is designed to measure equity market performance of emerging markets.
S&P 500 Index: Market capitalization-weighted index of 500 stocks selected by the Standard & Poors Index Committee designed to represent the performance of the leading industries in the United States economy.
WisdomTree Emerging Markets Equity Income Index: Dividend-weighted index designed to measure the performance of the highest-yielding dividend-paying equities within emerging markets.
Investors should carefully consider the investment objectives, risks, charges and expenses of the Fund's before investing. To obtain a prospectus containing this and other important information, please call 1-866-909-WISE (9473) or visit wisdomtree.com to view a prospectus online. Read the prospectus carefully before you invest. There are risks involved with investing including the possible loss of principal. Past performance is not indicative of future results.
There are risks associated with investing, including possible loss of principal. Foreign investing involves special risks, such as risk of loss from currency fluctuation or political or economic uncertainty. Funds focusing on a single sector generally experience greater price volatility. Investments in emerging, offshore or frontier markets are generally less liquid and less efficient than investments in developed markets and are subject to additional risks, such as risks of adverse governmental regulation, intervention and political developments. Please read the Fund's prospectus for specific details regarding the Fund's risk profile.
International Indexes Source: MSCI. Neither MSCI nor any other party involved in or related to compiling, computing or creating the MSCI data makes any express or implied warranties or representations with respect to such data (or the results to be obtained by the use thereof), and all such parties hereby expressly disclaim all warranties or originality, accuracy, completeness, merchantability or fitness for a particular purpose with respect to any such data. Without limiting any of the foregoing, in n event shall MSCI, any of its affiliates or any third party involved in or related to compiling, computing or creating the data have any liability for any direct, indirect, special, punitive, consequential or any other damages (including lost profits), even if notified of the possibility of such damages. No further distribution or dissemination of the MSCI data is permitted without MSCI's express written consent.
Jeremy Schwartz and Christopher Gannatti are registered representatives of ALPS Distributors, Inc.
WisdomTree Funds are distributed by ALPS Distributors, Inc.
WIS004168 5/2013
---
[1] International Monetary Fund (IMF), 2012.
[2] Risk: Standard Deviation, a measure of the dispersion of returns about a particular average. A high standard deviation means a higher chance of being farther away from that average during any given time period.
[3] Specifically, WisdomTree focuses on emerging market equities that have paid $5 million or more in aggregate trailing 12-month dividends as of 5/31 of each year. These equities are ranked by trailing 12-month dividend yield (dividends over the prior 12-months divided by share price), and the highest-ranking 30% gain inclusion within the WisdomTree Emerging Markets Equity Income Index (EM Dividend Payers).
[4] Market cap-weighted: Market cap = share prices x number of shares outstanding. Weighting by market cap means that firms with the highest market caps receive the highest weights.