Shares of New York Times Co (NYSE:NYT), publisher of the New York Times are down 86% over the past 10 years as the fortunes for the newspaper business have deteriorated significantly. However, the deteriorating business model has not stopped legendary investor Warren Buffett from finding value.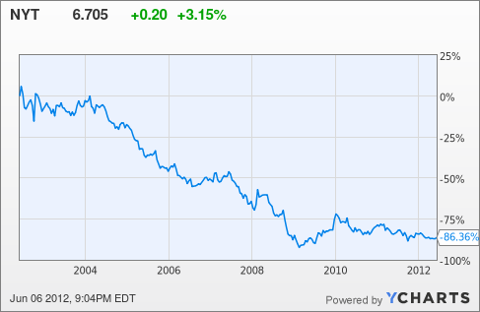 Click to enlarge
Newspaper Deals
Berkshire Hathaway (NYSE:BRK.B) has long been a major holder of The Washington Post Co (WPO). In November 2011, Berkshire purchased the Omaha World-Herald for $150 million. Following that deal, Berkshire announced a deal with Media General Inc (NYSE:MEG) in which Berkshire would acquire most of Media General's newspapers for $142 million and provide MEG with a $400 million credit line. Most recently, Berkshire announced a 3.2% stake in newspaper company Lee Enterprises Inc (NYSE:LEE).
Buffett's Take On Newspapers
A recent Forbes article discussed Buffett's opinions on newspapers.
For most newspapers in the United states, we would not buy them at any price- Warren Buffett 2009

I've loved newspapers all my life - and always will…. Berkshire will probably purchase more papers in the next few years- Warren Buffett 2012

Buffett loves newspapers, but he doesn't love them all equally. What he loves best are smallish papers in smallish markets where civic feeling runs high and competition is at a minimum. Those are the papers whose readers are most likely to be willing to pay for them once they erect paywalls
Buffett also wrote a piece in the Omaha World-Herald outlining his plans to acquire more papers.
We will favor towns and cities with a strong sense of community, comparable to the 26 in which we will soon operate. If a citizenry cares little about its community, it will eventually care little about its newspaper
This is the reason why NYT is not Warren Buffett's newspaper of choice. The New York Times is not a small town, local, community type of paper. Rather, the New York Times is a broad national paper which Buffett does not seem to be interested in. However, there is another, wealthier, individual who has shown interest in NYT.
Carlos Slim
The world's richest man, Carlos Slim, holds a 7% stake in NYT and has warrants to purchase an additional 16 million shares before 2015 bringing his stake in the company to 16%. It remains to be seen what Slim's ultimate motives are with NYT, but it is certainly something worth watching. Given NYT's market cap of just under $1 billion a takeover by Slim is not out of the question.
Short Interest
NYT currently has a short interest of 13.1%. If any positive news comes out on the company, the potential for a short squeeze certainly exists.
My Take
For investors looking to follow Buffett into newspapers, NYT would not be my choice. Rather, I would suggest looking at Lee Enterprises itself or McClatchy Co (NYSE:MNI), an operator of various local papers. However, just because NYT is not Buffett's newspaper of choice does not mean investors should avoid it. After all, NYT does have the backing of the world's richest man.
Disclosure: I have no positions in any stocks mentioned, and no plans to initiate any positions within the next 72 hours.