A few days ago I wrote an article about Sirius XM (NASDAQ:SIRI) which explored the possibility of a connection with the new Nook Tablet via Liberty Media (NASDAQ:LMCA) which currently owns a large stake in both Sirius and Barnes & Noble (NYSE:BKS). Liberty is trying to take total control of the satellite entertainment company, and possibly spin it off into an independent company under the Liberty umbrella through a Reverse Morris Trust (NYSE:RMT). In my research for that article I found enough information to write a book. The most interesting thing to me was seeing some of the news coming out about Microsoft's (NASDAQ:MSFT) Windows 8. Microsoft has now partnered with B&N to produce the Nook and its own tablet. Through this new "spinoff", the Nook will be designed with a Microsoft Operating System, which will presumably be Windows 8 which is touch-enabled.
There is a lot of chatter on the internet that this new Windows could have the same crushing effect on Apple (NASDAQ:AAPL) that it did almost twenty years ago with the introduction of Windows. I did a price comparison on the chart below for the period of 1991 to 2005. As you can see from this chart, Apple was beating Microsoft until the end of 1995.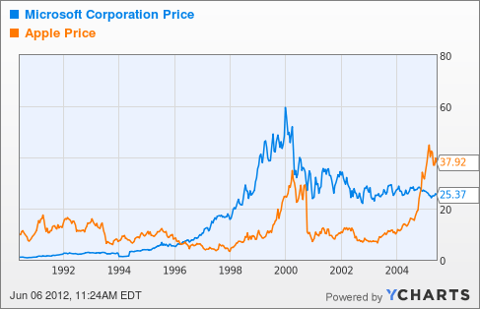 So what happened in 1995 that caused the price to suddenly take off, eventually surpassing Apple at the end of the year? There were two major developments that year which pushed Microsoft ahead of Apple for almost a decade, according to this chart: Windows 95 which was available in 12 languages, and the introduction of Internet Explorer. Both of which made it easy to "surf the net":
On August 24, 1995, Microsoft releases Windows 95, selling a record-setting 7 million copies in the first five weeks. It's the most publicized launch Microsoft has ever taken on. Television commercials feature the Rolling Stones singing "Start Me Up" over images of the new Start button. The press release simply begins: "It's here."

Launch day: Bill Gates introduces Windows 95

This is the era of fax/modems, e‑mail, the new online world, and dazzling multimedia games and educational software. Windows 95 has built-in Internet support, dial-up networking, and new Plug and Play capabilities that make it easy to install hardware and software. The 32-bit operating system also offers enhanced multimedia capabilities, more powerful features for mobile computing, and integrated networking.

At the time of the Windows 95 release, the previous Windows and MS‑DOS operating systems are running on about 80 percent of the world's PCs.

Windows 95 features the first appearance of the Start menu, task-bar, and minimize, maximize, and close buttons on each window.

In the early 1990s, tech insiders are talking about the Internet-a network of networks that has the power to connect computers all over the world. In 1995, Bill Gates delivers a memo titled "The Internet Tidal Wave," and declares the Internet as "the most important development since the advent of the PC."
With further research I found that my chart does not really tell the whole story. Both stocks have had numerous splits over the last several decades. So I changed the chart to show a percent of increase in price between Microsoft and Apple. That changed the story quite a bit. Microsoft had numerous splits from 1990 to 1995. So the actual date that it passed Apple was closer to 1989:
The chart below shows the splits Apple has had. Don't be confused by the fact that the companies switch color between the two pictures.
My first thought was to delete the original graph. However I decided to leave it to show how you must really check everything that you see and hear as part of your own due diligence. Some charts might show that over the years Apple would have been the best investment compared to Microsoft, however as you can see here, that is not the case. Because if you invested just $1 in Apple in 1986 your dollar would now be worth $200. And although Microsoft's share price of $29 seems pretty wimpy compared to Apple at over $550, your same dollar would be worth $300 if you had chosen Microsoft instead back then. And if you sold in 2000, your dollar would have been worth $600, a 60,000 percent increase in ten years. But even with its decline since that huge spike, it still beats Apple by over 10,000 percent since 1989.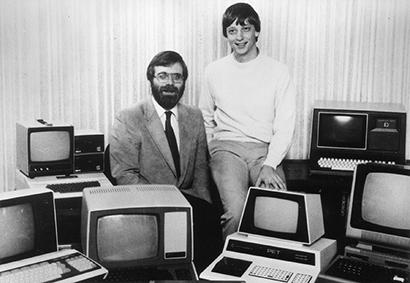 Getting started: Microsoft co-founders Paul Allen (left) and Bill Gates pose for the cameras.
So what happened in 1989 that caused Microsoft to jump so far ahead of Apple? Windows 1.0 was first released in 1985, followed by Windows 2.0 in 1987. Then in 1988 it was declared the largest PC software company by sales. At that time a lot of offices had personal computers with Windows software.
So here we are in 2012 waiting for another life changing Windows product. However, as with anything new, there are numerous critics of Windows 8:
But if Windows 8 is as bad as all the early critics say it is, it really could be a disaster. (We're defining disaster as a significant hit to its market cap, and the beginning of the end of Windows dominance.)

When Microsoft botched Vista, Apple was just starting to come into its own. Now it's a juggernaut with a secret weapon to kill Microsoft -- the iPad.
Most people who have tried the new online demos have mixed opinions. The ones who are complaining say they can not understand it. But for every critic, there seems to be a happy investor convinced that this new operating system will indeed crush Apple again. Here is the new start screen: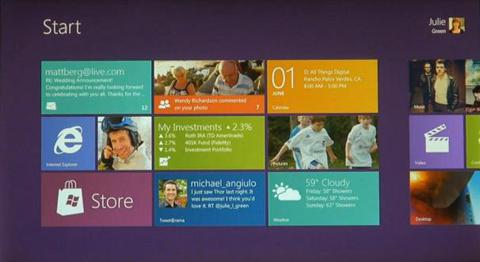 If you Google Windows 8 you can find numerous sites to explain how the new system works ahead of its expected release later this year. Several "testers" said that they could not even figure out how to turn it off. But to me, it is like getting a new phone. Even if you get one that is the same kind as your old one, it has new bells and whistles that must be learned. I remember when my daughter first got her iPhone 3 in 2008, we could not even figure out the slide button. And then it had to be set up online at Apple before it could be activated back then. But that first day of hassle is always worth the tech goodies that come with any new gadget:
Windows 8 will work on both tablets and traditional PCs. The operating system's home screen is filled with big, touchable panels, like the live tiles in Windows Phone 7, and from there you can tap and swipe your way to other touch-based applications. But underneath that touchy layer is plain old Windows, with a task bar, file manager, app icons--everything.

Users can multi-task between open apps by swiping across from the left bezel. And therein lies the coolest-looking feature of Windows 8: When swiping in a new app, users can snap it in place next to the app that's currently running. This allows users to view two apps at the same time--something that no existing tablet OS can do.
You can also switch between the touch screen and an "old fashioned" mouse on your PC or laptop. With this system, and the technology from the Nook, Microsoft will be able to come out with a tablet that may not top the iPad, but it will definitely top most of the other tablets out there. And with the ability to sell these tablets to school districts, for distribution to high school kids, the sales should go through the roof. Although the Nook is too small for regular textbooks, some schools are buying it anyway:
There is already a smattering of Nooks making their way into public school districts. Late last year, Houghton Mifflin Harcourt and Barnes & Noble partnered to provide Nook Color tablets pre-loaded with content from HMH and Cleveland Metropolitan School District to every student in two Cleveland schools. Just last week, ACSD announced it would offer 300 professional development books through the Nook.
Now, if this new partnership can just develop a tablet that is large enough to work with the Nook Study, which currently requires a MAC or PC screen for the larger textbooks; that would make Microsoft investors very happy. What is the connection with all of this and Sirius XM? It is all speculation right now. And it probably will stay that way until Liberty takes control of Sirius.
But on the Liberty Q1 conference call last month, Mathew Harrigan from Wunderlich Securities mentioned an interesting scenario that I have written about in several of my articles. He asked (if under the Liberty umbrella) could Sirius and Live Nation (NYSE:LYV) "tie in" with the (Microsoft) Barnes and Noble Nook High School Laptop/Tablet deal? Liberty CEO Greg Maffei answered:
Having seen some of the work that they (Sirius) have going down in their Boca Raton Technological Facility, I think there are a lot of capabilities both around Siri (inaudible) satellite based capabilities and internet based capabilities that I think can be packaged over time. This is very attractive on many platforms, and management is attuned to that.
So we will just have to wait to see what all of this brings. I think that these powerful "partners" working together will bring new life changing innovations to consumers, beyond Windows 8. The world desperately needs a satellite tablet to use for downloading music and video without gobbling up expensive data. And as we saw over 20 years ago, with the creation of Windows, there are probably a lot of things that we need, but we just don't know it yet.
Disclosure: I am long SIRI.
Additional disclosure: I may buy any of the stocks mentioned in the next 72 hours.