Soon you might have a choice: Get 60 items off the Dollar Menu at McDonald's (NYSE:MCD) or at least one share of the stock.
That's according to Hawkinvest who thinks MCD shares might "keep dropping" - to $60 or less.
These shares probably never should have traded over $100. At that price the stock was trading for about 20 times earnings, while the average stock in the S&P 500 was trading for around 13 times. McDonald's is a great company, it has solid management, it is relatively recession-proof, but valuation matters.
Yes, valuation matters. And I'll agree that $100 was probably too rich. But $60? That's way too poor. In my view, that values the stock below where it traded in March 2009 when the overall stock market bottomed.
First, let's take a look at the stock's PE over the last few years, based on trailing 12-month earnings data I got at YCharts.com.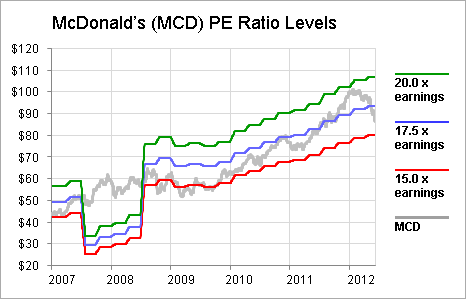 For the past two and a half years, the stock hasn't traded much below a 15 PE - so it's difficult for me to see how the stock gets all the way down to $60 or below unless the overall market falls apart on us.
Here's a look at a similarly constructed chart of MCD's price-to-sales ratio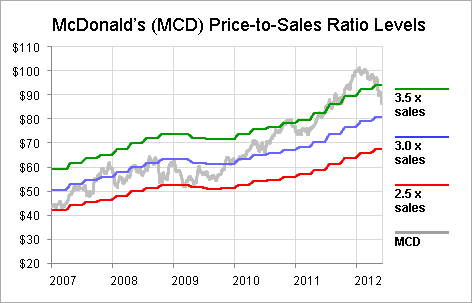 Even if McDonald's traded all the way back down to 2.5 times sales on a trailing 12-month basis, that's still more than $60 per share.
Growing dividend: 40% in just three years
Hawkinvest also suggests that MCD's dividend with a 3.2% yield is "not exceptional" compared to stocks like Johnson & Johnson that yield close to 4%.
But when has McDonald's last given you a chance to get a 4% yield to its market price?
Not within the last five years as this chart shows.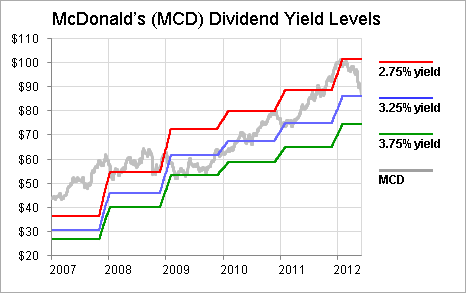 McDonald's yielding 4% is not unthinkable, but consider that the dividend is 40% higher now than it was back in March 2009. Each of the last three annual increases were 10% or more. That kind of growth raises your yield to cost basis year in and year out, which is why MCD is such a popular dividend growth stock.
Do you think MCD could trade below $60? I say don't hold your breath. The dividend growth story alone makes the stock worth well more than $60 in my view.
But that's what makes markets - buyers and sellers disagreeing on value. I just happen to disagree with Hawkinvest on this one.
Disclosure: I am long MCD.