The longest refined petroleum products pipeline system in the country is owned by Magellan Midstream Partners (NYSE:MMP). It owns 9,600 miles of refined products pipeline, 1,100 miles of ammonia pipeline, 27 terminals, and 7 storage facilities.
Investors should benefit from Magellan's fee-based business which provides steady distributions and underlying unit growth. The nature of its business provides steady income and appreciation without the risk tied to the fluctuating price of commodities.
Magellan has some solid financials. It has a profit margin of 23% and an operating margin of 29%. MMP has a nice operating cash flow of $520 million and free cash flow of $141.6 million. Magellan had an 11.4% increase in Q1 revenue growth and a 3.8% increase in Q1 earnings growth.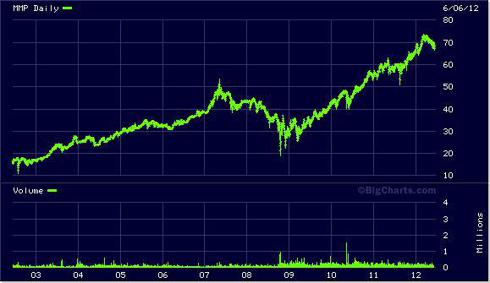 Click to enlarge
The partnership is fairly valued as it trades at 5.31 times its net asset value per unit. This is a valuation that should be expected for an MMP with steady, predictable cash flows.
Magellan's 5% cash distribution provides steady income on top of its steady unit appreciation. MMP was selling in the teens a decade ago and has risen to its current price of $68. Not a bad performance for a high distribution paying partnership.
Investors should expect a total compound annual growth rate (OTCPK:CAGR) of about 15% for the next five years. This means that in addition to the 5% yield, the units should appreciate in value about 10% per year. Therefore, if you reinvest the dividends, your initial investment will double in five years. The 10% unit appreciation is derived from the analyst's expected annual earnings growth rate. Since, the partnership is currently fairly valued, the units should rise in line with earnings over the next five years.
Magellan typically raises the distribution every quarter. The only exception to this was a stagnant distribution for 5 quarters from Q4 2008 through Q4 2009. Since its IPO, Magellan's cash distributions have increased 220%. Now, that's a good track record.
Some of Magellan's specialized services include: ethanol storage and gasoline blending, fractionation, and laboratory services for the testing of fuels. This is in addition to its standard petroleum transportation and storage services. The ammonia pipeline system delivers ammonia from Texas and Oklahoma to various Midwestern locations for use as an agricultural fertilizer.
Magellan is planning to spend $650 million on growth projects in 2012 and 2013. MMP is expecting large growth in domestic oil production over the next ten years. This growth will result from the rapid development of shale and unconventional resource plays. MMP also has another $500 million in growth projects planned, if needed.
If you are looking for a market-beating energy investment that doesn't have risk tied to the price of commodities, then MMP is something to consider.
Disclosure: I have no positions in any stocks mentioned, and no plans to initiate any positions within the next 72 hours.