When looking for information on solid investments, individuals and institutions alike turn to Morningstar (NASDAQ:MORN) to find quality research. Many, however, may be unaware that a high quality is right under their nose in the form of the holding company that supplies them with the research. Morningstar is known to most as the primary aggregator of information on publicly traded mutual funds. The company's ability to rank funds based on returns, expense ratios, style, volatility and many other measures has won them a loyal following. The company's product line is actually much more robust with information on individual securities both in domestic markets and increasingly covering international markets.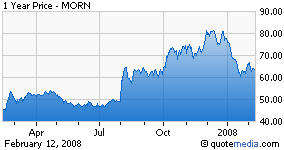 The company has divided its revenues into three primary categories. The Individual Segment encompasses the well known mutual fund service served to consumers through the companies website. This segment received revenues of 23.7m last quarter primarily through premium membership subscriptions and advertisements sold on the site. The second division is the Advisor Segment which provides workstation technology and managed portfolios typically to independent wealth advisers. This segment accounted for 29.3m in revenues last quarter and benefited from strong growth in the number of licenses in use. Finally, the Institutional segment covers investment consulting, retirement advice and more. This is the crown jewel of the company with revenue of $60.8m in the last quarter. With improving margins, the segment saw operating income more than double at $20.7m.
The most recent strength in margins across all divisions is nearly as important as the sales growth. The company has managed to scale its platform effectively to be able to offer services to more customers with relatively small increases in overhead expenses. Acquisitions have been integrated in such a way as to wring out excess costs thus leaving the company with a robust product suite powered by a stable contained back office. The institutional segment is considered to have just scratched the surface of the multi-trillion dollar addressable market and could see significant further growth with only modest increases in its cost structure.
While the company is known for its expertise in domestic mutual funds, international expansion has grown to the point it is now more than 20% of revenue. The potential to serve emerging markets is incredible as investors are craving strong quality research products in this under-served area. Currently the company has a presence in 21 different international markets spanning North America, Europe and Asia. The diversification away from dollar denominated revenue also helps to stabilize earnings and has most recently led to additional gains on currency translation.
The stock has taken its share of lumps along with most other growth stocks in January. Currently the price sits just above the 200 day average which has proven to be a support area for the stock in the past. Volume flow is positive with several strong price movements in above average volume the last few weeks. While the stock is not cheap, the multiple has shrunk considerably since the high and now seems very reasonable given the potential growth rate of the company. The company has a very strong balance sheet with no debt to speak of and ample cash to fund further acquisitions. While cash flow will be pressured a bit as the company develops its Chicago headquarters this year, it is comforting to know that a liquidity crisis would not have a material effect on the company's ability to finance future growth.
Bear markets are especially difficult for long only managers who are required to keep a certain amount of exposure in the markets. While I currently believe it is wiser to hold large cash balances and look for opportunistic short trades, this name may be very helpful for those who need to put some capital to work. With its talented management team, successful integration track record, low financial leverage and strong balance sheet, Morningstar should outperform its peers and possibly distinguish itself as a safe haven in a troubling market.