Qualcomm Inc. (NASDAQ:QCOM) should be on your watch list summer. If any company other than Apple (NASDAQ:AAPL) has benefited and will continue to benefit from the mobile revolution, it's Qualcomm. During the last seven quarters, revenue has increased from $2.7B in the June 2010 quarter to $4.94B in the March 2012 quarter.
Non-GAAP earnings have increased from $0.57/share to the June 2010 quarter to $1.01/share in the March 2012 quarter. Although the company's sequential revenue guidance for the June quarter is down 5.9%, there is no reason to believe the continued trend of explosive growth of smartphones and tablets will not continue.
Click to enlarge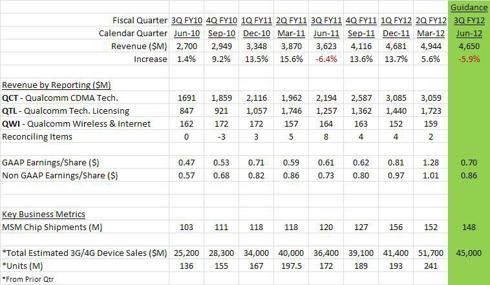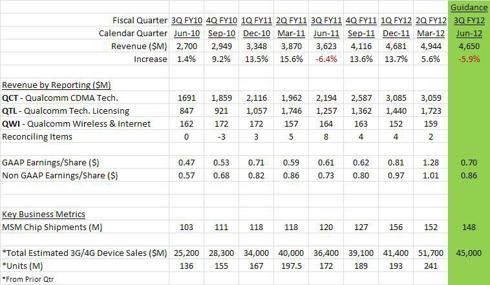 Chip Revenue
Qualcomm's largest revenue segment derives from its mobile communication chips and application processors. It's best selling integrated LTE Snapdragon processor MSM8960 is the processor of choice for LTE networks. In its Q1 earnings conference call, management cited a shortage of 28nm wafers to meet the very strong demand for the MSM8960 and other 28nm products. In application processors, Qualcomm competes with Nvidia (NASDAQ:NVDA) and Texas Instruments (NYSE:TXN). In communication connectivity devices, Qualcomm competes with Broadcom (BRCM) and Intel (NASDAQ:INTC). Qualcomm also makes a full line of communication chips for connectivity of mobile devices at every price point.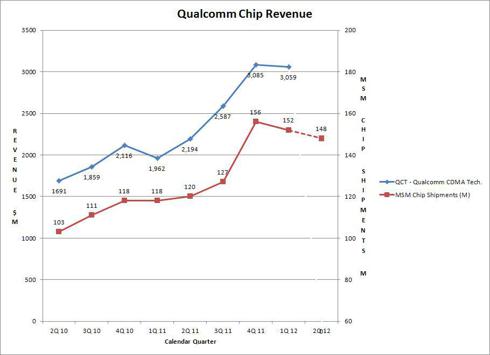 Licensing Revenue
Qualcomm has over 210 CDMA (3G) licensees and more than 20 OFDMA (4G) licensees. As with 3G, the company believes its 4G portfolio is the most widely licensed in the industry. In emerging markets 2G to 3G is being driven by smartphones. In China, Wireless Intelligence reported that there are over 1 Billion connections, with only 24% at the 3G level.
Tablets with 3G/4G connectivity have exploded over the last two years. Again, Qualcomm has a leadership position - where in the US, the MSM8960 Snapdragon processor is chosen when LTE connectivity is required.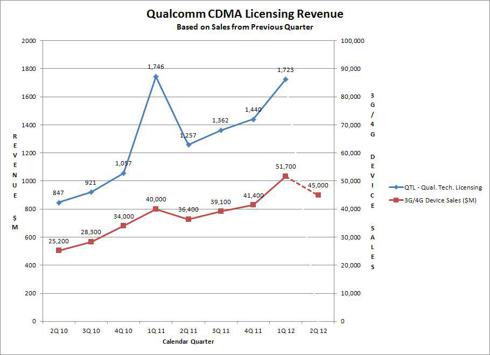 Cash and Dividend
Qualcomm's cash minus debt is $13.9B and the company pays a $0.25 quarterly dividend for a forward annual yield of 1.8%.
Conclusion
Last year, the summer downturn presented a great opportunity for the fearless to pick up Qualcomm on the cheap. This year, history looks like it will repeat itself.
Disclosure: I am long NVDA.
Additional disclosure: May initiate a position in QCOM over the next 72 hours.