I like American Express' (NYSE:AXP) business model. Its business strategy revolves around a simple principle. In order to be differentiated in a market that can be commoditized (like credit), a company should offer something unique for which it can charge a premium. In the case of American Express, its customers are the store vendors who pay for the ability to accept an Amex, while the product that American Express offers to the vendors makes for its user base.
For a variety of reasons - including industry leading customer service, a focus on charge, rather than credit cards, and impactful advertising among other things - American Express has become an aspirational brand. According to one source, "The average Amex household brings in $97,000 a year, compared with $71,000 for credit card customers overall". In addition, American Express has always excelled at creating targeted offers that bring its affluent cardholder base to its vendors.
This kind of access is something that vendors will pay for. American Express has long been known to charge the highest transaction fee (known as the discount rate) in the industry. Since vendors know that American Express will be delivering affluent cardholders with a lower risk of default, they are often willing to pay. The numbers below represent a typical transaction that everybody experiences.
| | |
| --- | --- |
| Card Network | Credit Card Fees on a $30 Tank of Gasoline |
| American Express (AXP) | 4.2% |
| Visa (NYSE:V) | 2.3% |
| Mastercard (NYSE:MA) | 1.9% |
| Discover (NYSE:DFS) | 2.2% |
Source: truecostofcredit.com
What I like the most about AMEX's future prospects though, can be gleaned from its annual report. In FY09-FY11, American Express' business generated outside of the United States increased by 42%. Furthermore, as a percentage of American Express' overall revenue, card billed business from outside of the US grew from 31.6% to 34.0%. This has been an obvious growth opportunity for American Express for years, and it appears it is finally gaining traction.
So, now that I have explained why I like American Express, I will tell you why I don't own it: The stock is too expensive. Shocker! I thought I would go through an exercise of establishing why it's too expensive and what price I'd be willing to pay. After all, if this market correction continues, an opportunity could present itself.
Valuation
As I have made clear from other articles I have written, I attach considerable importance to past earnings when I am deciding on an investment. Over the last 10 years, American Express' diluted EPS has grown at a healthy annualized rate of 8.7%. More impressively, while the Great Recession had a measurable impact on AXP's earnings, as could be expected from a financial company, the company remained profitable and continued its growth in 2010.
Click to enlarge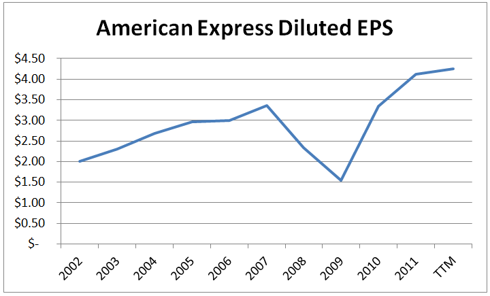 Data Source: Morningstar
At a recent price of $53.61 and TTM diluted earnings of $4.26, we arrive at a P/E of 12.6 - which does not seem prohibitively expensive. In addition, according to the data above, AXP has average earnings of $2.77 over the last decade, giving it a PE10 of 19.4 - which is also not terribly expensive.
Looking at forward earnings, analysts expect a long-term earnings growth rate of 11.87%. While this seems high to me, I actively work to reduce the sensitivity to predicted long-term growth in my valuation models. Using this growth rate and the TTM earnings figure, I used a discounted cash flow model to provide a valuation range. Plugging this data into my model, I get a valuation range of $53.51-$70.58. While some people like a discrete value, I prefer a range. The reason for this is that it helps to remind me that there are considerable assumptions baked into a DCF calculation.
As a disciple of Ben Graham (and with my background in engineering), I like to apply a safety factor to my investments. In this case, a safety factor of 33%, gives me a buy range of $35.67-$47.05. This is clearly a broad range, and while I think the lower end is probably unattainable, the upper range requires a dip of another 13% - which in today's volatile macro climate is to me a foregone conclusion.
Disclosure: I have no positions in any stocks mentioned, and no plans to initiate any positions within the next 72 hours.