The introductory statement to ECB's monetary policy press conference on June 6 provided some good detail on what the ECB expects for the area's economy in the months ahead. Mario Draghi, President of the ECB, did a wonderful job of explaining clearly the thought process of the region's central bank in one line: "…economic growth in the euro area remains weak, with heightened uncertainty weighing on confidence and sentiment, giving rise to increased downside risks to the economic outlook." If you're not familiar with the way central bankers speak, let me translate this for you: we are screwed.
Sure, Draghi went on to explain how the forecast for economic growth in 2012 has been unchanged since the last forecast in March. While that should be reassuring, the forecast range is of little comfort: -0.5% to 0.3%.
We know that this year is bad. Surely, things are looking up for next year, right? Well, a little. The ECB forecasts growth in the range of 0.0% - 2.0% for 2013. With Greece and Spain in recessions that are worse than previously forecast, and with continued downward momentum in much of the area, I'm inclined to believe that the 2013 numbers might prove to be a bit too rosy, unless a reasonable and effective stimulus plan is enacted.
Quite frankly, the ECB has kept rates relatively low. So low, in fact, that further reductions would have limited marginal benefit. What, then, is the likelihood of a well-targeted and effective fiscal stimulus? Don't count on it. As a result, the region will likely continue to weigh on global activity, and that's a best-case scenario if Greece remains in the euro, Spain doesn't come under more pressure, etc.
What does this mean for the US economy? Not necessarily favorable. Sure, it could be good for consumers, if Europe's weakness exacerbates weakness in the euro. After all, we like to buy things from Europe. And, if the euro tanks, those products become cheaper in dollar terms. We don't sell as much to Europe, though. We have a trade deficit with the euro area, with Germany accounting for a large chunk of that.
According to the government, in the first three months of this year, the US posted a $22.2 billion trade deficit with the eurozone, including a trade gap of about $13.3 billion with Germany alone. Still, exports to the euro area totaled $49.2 billion in the first three months of this year. When you consider that total US exports during the first quarter came in a little over $380 billion (depending on which method you use, Balance of Payments basis is a touch higher than that Census basis), exports to the eurozone seem like a drop, but they are still about 13% of total exports.
Meanwhile, within the EU, our largest export market is the UK. We shipped $15.3 billion worth of goods there in the first three months of the year. And how is the UK economy performing? Things aren't looking so hot. Seems like the recession there might also be worse than previously expected.
Based on the likely future (diminished) economic activity for much of Europe, demand for US goods will likely take a hit. Another concern, though, is the impact of these deteriorating economic conditions on the global finance industry. We've already seen the impact that concerns over Europe have had on the US stock market. It would not be unreasonable for the recent sell-off to further spook investors and consumers. With that in mind, the US economy will likely continue to just plod along, as concerns and fears subdue business activity. I would not be surprised to see a recession, even absent the fiscal cliff, any inaction on which almost assures a recession early next year.
There are several ways to hunt for stocks in this relatively unfavorable environment. Here is one approach:
We start by building a stock screen designed to identify companies that have been growing relatively well amid the tough business conditions of the last several years. While this does not guarantee that they will continue to do well in the future, the idea here is that companies that are performing better than their peers should have more of a cushion in the event that things really slow down. Our first requirement is that sales over the last five years be faster than the industry median.
We add another level to this, requiring that companies post sales in the trailing twelve-month period that are at least 25% faster than their peer average.
An improving top line means little unless it translates into higher earnings. Hence, we also seek companies where EPS over the last year has been growing faster than the industry norm. Running the screen thus far on Monday results in a list of 842 names.
While the past outperformance is nice, we would like some assurance that the growth is going to continue, going forward. Here, we turn to analyst expectations, and we require that the expected long-term EPS growth rate must be at least as fast as the growth rate posted over the last five years. While I'm not about to take bets on whether or not the companies will actually hit those targets explicitly, I'm just focused on the idea that this is where growth is expected to take place. This yields a list of 342 companies.
Next, we want to focus on price. Recent weakness in the markets has likely created some interesting valuation plays. We want to focus on stocks that are relatively cheap. While the degree depends on your personal preference, here we're going to require both P/E and P/Sales ratios, based on trailing twelve-month results, must be less than 85% of the industry average. This reduces our list to 61 names.
Let's reflect on estimates of future activity again. We want to make sure that the stocks are not only cheap based on past performance, but also on future expectations. As such, we require a stock to have forward P/E ratios, based on earnings estimates for this year and next, that are cheaper than the industry medians. This reduces our list to 26 companies.
Also, since we are trying to remove exposure to economic weakness that is external to the US, we dismiss any companies that are not domiciled here. This reduces our list down to 19 names. (A quick note on this requirement: While omitting non-US companies reduces exposure to foreign economic risk, it does remove all of it, because many US companies conduct business overseas. Rather unfortunately, we cannot screen out such companies, and thus only focus on companies that conduct business solely in the US. This is clearly a downside to this process.)
Nineteen is a reasonable number of stocks to start digging through, to see which ones fit our personal preferences the best. Here is the list:
Click to enlarge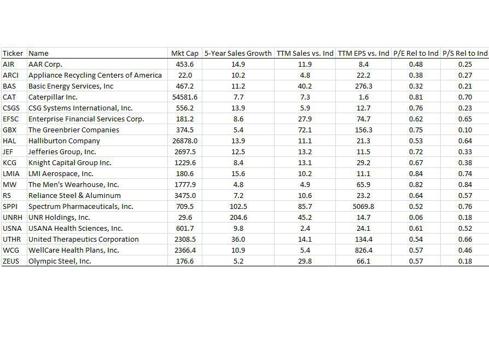 Given the likelihood that the stock market is going to be quite volatile in coming months, as investors react to every bit of good and bad news, we would like to identify stocks where the reaction should be somewhat subdued. To accomplish this, we first remove all companies in the finance industry. Next, we require that a stock's beta must be less than the average beta for its industry. (I readily admit that there are many problems with using beta, not the least of which is that it is a historical measure and it changes over time. Still, it is the best measure we have for this purpose.) Also, we remove small and micro-cap penny stocks, which might have relatively illiquid markets.
Rather remarkably, adding these requirements to our screen reduces our list to only one name: CSG Systems International (NASDAQ:CSGS). This technology company services the communications industry, among others. Ironically, in an effort to find companies that are somewhat shielded from the weakness in Europe, we developed a screen that identified a company where about 85% of its revenue is derived in the Americas, 5% from Asia/Pacific, and 10% from Europe, Middle East and North Africa.
CSGS stock has a beta of 0.86, just a touch short of the industry's beta of 0.90. According to Reuters, analysts see growth ahead, with EPS hitting $1.95 this year and $2.01 next year. Further, the company's profit margins over the last year easily eclipse the industry averages. A potential drawback, though, is that the company reportedly has relatively more debt. Still, it does have an attractive price tag, with PEG ratios of about 1.12 and 1.09, based on analyst EPS estimates for this year and next, suggesting that it may be worth a closer look.
Let me offer a few closing thoughts. Typically, when writing articles about stock screens, I prefer to highlight multiple stocks. That stated, while CSGS might be a good starting point, interested readers would likely be well served by running through the entire list of companies above, or otherwise tailoring this screening process to their specific preferences, to arrive at more choices.
Disclosure: I have no positions in any stocks mentioned, and no plans to initiate any positions within the next 72 hours.