In a previous article related to membership warehouse company Costco Wholesale Corporation (NASDAQ:COST) posted on May 9, 2012, a bull-put credit spread was considered for the company. The bull-put credit spread entered for the company was a 2012 Jun 70/75 with a potential return of 6.2% (57.6% annualized).
Costco's stock price has increased since entering the position (shown below), and the majority of the profit has been realized for the position.
The position can be exited for a net debit of $0.03, as found by PowerOptions tools, and as shown below:

Exiting for a net debit of $0.03 would represent taking a profit of 5.5% (72% annualized) on the position. However, opportunities for rolling the position should also be considered.
In Costco's Q3 2012 earnings call held on May 24, 2012, the company noted it has increased membership fees for Gold Star in business and Business Add-on by 9%. Revenue was up 8% on a total store basis and up 5% on a comparable store basis. The company's results in the U.S. were strongest in the Midwest, Northeast and Southeast.
Internationally, the company's strongest results were in Canada and Mexico and the weakest results were in Taiwan and Japan. The company indicated it is about to release the first two applications for mobile devices with the applications targeted at Apple and Android. Costco has a total of 602 stores, and plans to open 16 new stores this year and relocate one store.
Costco appears to be executing on all cylinders, so rolling the position is worthy of exploration. The current bull-put credit spread position could be rolled to the 2012 Jul 75/80 bull-put credit spread for a net credit of $0.37 ($0.40-$0.03), as found by PowerOptions tools, and as shown below: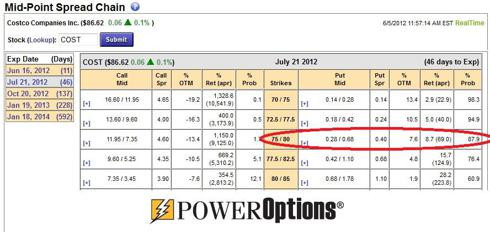 The total net credit for rolling, including the previous position, is $0.66 ($0.29+$0.37) - which represents a potential return of 14% (69% annualized). A management point of $83 is selected for the new position. If the price of the stock drops below $83, consideration for exiting or rolling the position should be given.
Disclosure: I have no positions in any stocks mentioned, and no plans to initiate any positions within the next 72 hours.