Let me preface this article with the caveat that Disney (NYSE:DIS) is not a high beta fast mover. However it has been in an extended rally since last October which (at least in my view) skews the perception of its absolute beta which is 1.14. The range between the 52 week high (May 31, 2012) and the 52 week low (October 4, 2011) is $17.91. This is an advance of 63% in 8 months.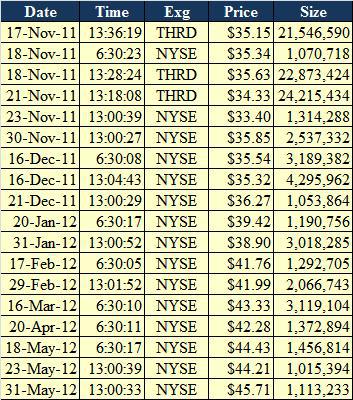 Clearly the blocks on November 17, 18, and 21, 2011 were hugely significant. They were a clear sign that the Disney Designated Market Maker, as well as, other insiders established major positions. As you probably have surmised by now (assuming you have read any of my previous publications): when I refer to exchange insiders, I am not referring to a corporate executive buying 10,000 shares of Disney stock.
I am referring to the insiders who transacted the blocks in the sample I have provided and similar blocks. Quite frankly, I am not interested in the intrigue. That is to say, I care less about who they are than what they are doing. I am supremely interested in the price consequences which follow. That said: It was clear (at least to me) that Disney would be used to advance the Dow or at the very least it would be the air in the submarine used to maintain buoyancy.
I believe that Disney was extensively distributed over the past 3 months and that the stock will be going absolutely nowhere (except down) over the next few months. In fact, if I were to project beyond what is immediately foreseeable I would say that Disney will decline from these levels and commence an advance beginning around September and continuing into the end of the year. There were many smaller blocks which I could not include. The file is much too big.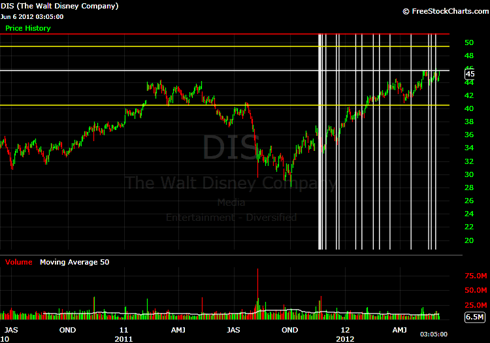 Click to enlarge
On the Basis of the foregoing these are my views and observations:
The Trade:
I recommend establishing a short position in Disney. Open your position with only 1/4 of whatever capital you intend to commit to Disney at $45.71. Purchase the remaining 3/4 of the position at $49.37 and stop out at $51.30. Do not post your stop out. I have said it before but it is so important that at the risk of being redundant and in an abundance of caution I will say it again. It is too easy for the Designated Market Maker to cash investors out by moving the price above or below your stop out and move the price right back down or up again. In addition, when a stop out is triggered it converts into a market order and that could be disastrous if the Designated Market Maker decides to really take advantage. Remember the "Flash Crash"? I would be looking to exit the trade at a downside price target of $40.50 (although my pricing model says $40.34). Do not allow this position to exceed 5% of your overall portfolio.
A portfolio of $1,000,000 should position size in the following manner.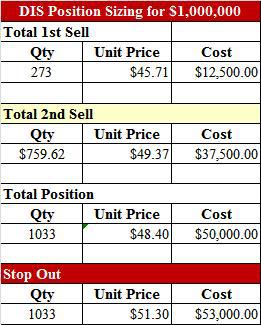 This is a trade, not an investment. Be ever vigilant.
Disclosure: I have no positions in any stocks mentioned, but may initiate a short position in DIS over the next 72 hours.