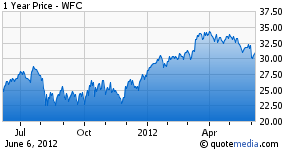 In late May, Wells Fargo (NYSE:WFC) hosted in annual Investor Day, and in the process various officers gave reports concerning most all of Wells Fargo's business. The various presentations comprise hundreds of pages, so here I will summarize the highlights.
Wells Fargo grew up a part of the American West, and took on its current incarnation through two key acquisitions. In 1998, Wells Fargo merged with Norwest Bank, the latter of which was the actual surviving bank, but it chose to take the name "Wells Fargo" for the surviving entity. Then, after the banking led recession took hold in 2008, Wells Fargo acquired its larger Southeast peer, Wachovia. This was truly the master stroke, as it gave Wells Fargo a national footprint for a tremendous price. And, unlike other banks that took years of losses writing off old acquired loans, Wells Fargo wrote off a large portion of Wachovia's mortgage and commercial loan holdings as soon as the merger was completed. Wells Fargo paid $12.7 billion in that acquisition, which seems like a lot until one considers that among the assets acquired in the deal was $13 billion in cash.
The highlight to me of the presentation was CFO Tim Sloan's financial section. First, he set upon the goals of the organization, which in general is for honesty, integrity, and a long term focus. Next, he looked at some key questions raised two years earlier, such as when efficiencies would be created from the Wachovia deal and when would net charge offs and non-performing loans settle back down. Obviously, in the two years since, earnings have increased about 80% on a quarterly basis, tier one capital has increased almost 300 basis points, and the dividend has more than tripled. Yet, the stock was trading in the high 20's in the first quarter of 2010, advanced less than ten percent though the end of May, 2012.
Reflecting the Wachovia merger, Wells Fargo now has more retail bank branches (6.227) than any other bank. It has a retail bank, a wholesale bank, or an advisory office in every state in the country, including Alaska and Hawaii. I note that I have criticized Citigroup (NYSE:C) for largely abandoning the domestic retail market, and to evidence that, it has just 1,064 retail branches. Alone among the four $1 trillion banks in this country, Wells Fargo does not own an investment bank. It does own a retail brokerage, courtesy of the Wachovia deal, but the focus there is "cross selling" retail bank customers. Due to that strong retail focus, Wells Fargo gets two thirds of its funding from deposits, while banks like Citigroup and Bank of America (NYSE:BAC) get 43% and 42% of their funding from deposits, respectively. This in turn gives Wells Fargo the lowest credit costs in the industry at 0.36%, while Citibank, for instance, pays 0.94% in credit costs.
Much of Wells Fargo's success in avoiding the worst of the banking crisis last decade was due to its disciplined approach, both to underwriting and to acquisitions. It never chased ultra-low cost teaser loans, and combined with its low credit cost, has had a net interest margin average from 2009 through 2011 of 4.16%, over 100 basis points higher than Citigroup, Bank of America, or JPMorgan Chase (NYSE:JPM). Its expenses have also long been lower than its peers, and over the 2009 through 2011 period, its efficiency ratio average of 58.4% leads the averages of JPMorgan (58.8%), Citigroup (61.4%), and the woeful Bank of America (71.3%). And again, because the focus of Wells Fargo has nothing in common with London trading desks or credit default swaps, the company's liquidity as defined by the first quarter 2012 ratio of total deposits to total liabilities stood at 78%, while its peers Citigroup, JPMorgan, and Bank of America were all between 51% and 53%.
Looking ahead, questions raised included dealing with pressures on non-interest income, maintaining the net interest margin, controlling non-interest expenses, its acquisition strategy, and profit targets. The non interest income for the first quarter of 2012 came to $10.74 billion, more than $1 billion over the year earlier quarter. Revenues from mortgage origination fees more than offset declines from the Durbin Amendment and overdraft fee limit. And like other banks, Wells Fargo plans to take advantage of lower income individuals by selling overpriced and non-regulated products.
Mr. Sloan emphasized that Wells Fargo is more interested in actual interest income more so than any particular margin. Yet, mathematics does not lie and if the margin declines, ever more loans must be made if interest income is to be maintained. Wells Fargo has not had to shrink its assets to conform to regulatory capital requirements. Quite the opposite, as despite a 14 basis point drop in the interest margin from the first quarter of 2011 to the first quarter of 2012, net interest income was up about $220 million, to $11.05 billion.
Non-interest expense is the subject of the company's Project Compass program, designed to reduce these expenses. First quarter 2012 non-interest expenses were $13 billion and the company aims to bring that down to $11.25 billion by the fourth quarter of this year, and maintain its efficiency ratio in the 55% to 59% range. Wells Fargo has also made a number of small, targeted acquisitions this year. The largest impact likely will be from the purchase of BNP Paribas' (OTC:BNOBF) energy finance unit. In 2011 Wells Fargo acquired the domestic assets of Bank of Ireland (NYSE:IRE), as European Banks seek to shed assets to raise capital ratios. Similar opportunities will exist as pressure on European banks continues.
Finally, Wells Fargo seeks returns on assets of 1.3% to 1.6%, and returns on shareholders' equity of between 12% and 15%. The bank is already near the bottom of these thresholds, and the stock's recent slide in May of 12%, to about $30 per share, reflects a tremendous buying opportunity for America's best megabank.
Disclosure: I have no positions in any stocks mentioned, and no plans to initiate any positions within the next 72 hours.