In an earnings report call with analysts, Jim Foster, Chairman, President and CEO of Charles River Labs (NYSE:CRL), characterized the clients of the China facility as "large international and multinational companies that have discovery efforts, either of their own or in some contract basis, in China and specifically in Shanghai." In other words, drugs discovered elsewhere are not being shipped to Shanghai to take advantage of the reduced costs available at CROs in China.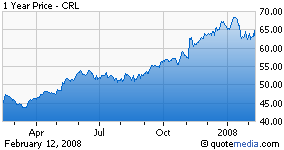 According to Foster, its China pre-clinical CRO activities are a natural extension of the services it provides worldwide: "[The work] is not to support local Chinese companies, it's to support the clients that we have elsewhere in the world, for whom we do work, both in North America and Europe. And this is for discoveries that are made locally, where they're going to want a preclinical task force locally as well."
With respect to China, CRL said that "robust" demand has caused the company to accelerate its schedule for building a new 50,000 square foot lab. Now, Charles River hopes to provide GLP services in China during the second half of 2008 rather than the first quarter of 2009.
In June 2007, CRL announced it had formed a joint venture with Shanghai BioExplorer Co., Ltd. to provide clinical research services. Although the deal was structured as a joint venture, Kewen Jin, PhD, BioExplorer's co-founder and CEO, told ChinaBio Today that Charles River had acquired BioExplorer.
BioExplorer, which was founded in 2002, was operating a 15,000 square foot facility in Zhangjiang Hi-Tech Park in Shanghai.
In broader terms, Charles River Labs said its continuing financial success was the result of a decision made in 2005 that saw a paradigm shift in the global pharmaceutical industry. CRL calls the shift the "virtualization of the pharmaceutical industry" as the industry began to increase the out-sourcing of its drug discovery work. Driven by a desire to replace its off-patent drugs in a world in which cost-containment is paramount, CRL maintains that big pharma has no other choice.
To meet demand, CRL has been investing heavily to build up its facilities and its slate of services. CRL is not exactly a disinterested observer in this process, so the "virtualization" may be more of a trend than an accomplished fact. So far at least, CRL is not seeing its international clients request that the pre-clinical services performed by CRL be carried out in China to save money.
Charles River Labs plans to increase its workforce by 10% or 800 employees during 2008.
Disclosure: none.