On Tuesday JA Solar (NASDAQ:JASO) delivered its Q1-2012 results, and while net income is negative and the company has lost $0.20 per share, the largest Chinese cell maker seems to be unperturbed by recent US actions imposing preliminary anti-dumping (AD) and countervailing duties (CVD).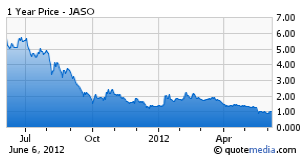 JA Solar shipped 366MW of cells and modules, producing revenues of $254.4M. This was an 8.1% drop from shipment volumes in Q4. The gross margin, which included provisions of $2.9M for the AD/CVD, reached 2.1%, an improvement over the GM (gross margin) of 0.05% in Q4. The low GM shows that the company continues to draw revenue from cells, while looking towards greater penetration of modules in future shipments, and particularly in high-efficiency category.
In Q1, module sales were 38.8% of total shipments, with cells being 57% and the rest accounting for tolling services. During the quarter, 47% of sales went to China, with 20% to Japan and the US. JA Solar CEO Dr. Peng Fang pointed out during the conference call that the majority of products reaching the US market were produced with cells made outside of Mainland China, avoiding potential duties.
Last quarter the company had revealed plans to reach module capacity of 2GW by the end of 2012. Those plans are apparently still in focus, as confirmation was given in the conference call. Nonetheless, by the end of 2011 the capacity for modules was at 1.2GW, which suffices for current full-year plans. The backbone of aggressive module expansion plans consists of two high-performing cell lines with monocrystalline SECIUM cells reaching 19.2% average conversion and multicrystalline MAPLE cells averaging 18.5%. In Q2, the company predicts sales of 420 to 440MW, with 264MW module penetration being 60% of the total. This module uplift is due to sales to China, which consist mostly of conventional cell-based product.
For the entire year JA Solar has guided 1.8 to 2GW, with approximately half of the volume in modules. In geographic distribution, sales for the year are seen as 50% to China, 40% to Europe and the rest being shared by Japan, India and the US. Considering that 30% is around 300MW of modules, and the majority of the high-end product is going to Japan for commercial and perhaps residential roof-top markets, the US exposure is seen as minimal, limiting need for procurement of third-party cells.
In technological developments, JA Solar disclosed an ability to produce MWT (metal wrapped through) cells commercially. A few days ago Canadian Solar (NASDAQ:CSIQ) announced a 21.1% conversion ability of its mono ELPS cell, which has also a MWT structure. Many peers pursue increased conversion as an avenue to reach differentiation from other companies. High-conversion modules continue to execute 10% ASP (average selling price) premium and when costs can remain constant, an increase of conversion produces automatic gross margin improvement. The company is also seeking improvements in costs by working with a new supplier of silver paste. Starting in June, a 10% drop in the cost of paste is expected.
In contrast to its peers, the company does not disclose clear manufacturing costs; therefore, it is very difficult to understand the effects of efficiency improvements, and even further, the breakdown of gross margins between modules and cells. During the conference call the company discussed current trends in ASPs offering "by region" pricing, with European and Chinese ASPs sitting in the range of $0.68 to $0.75 per watt, while the US market was still bringing quotes of up to $1.00 per watt. However, in the Japanese market, where the company is gaining a greater share, pricing is still in excess of $1.00 per watt, showing an opportune range for revenue generation.
When asked about costs, management described them as high $0.60 to low $0.70 in terms of overall manufacturing costs. As noted, these are in the low end of the range reported by others, which is impressive, as in terms of module manufacturing JA is considered a newcomer. The only more precise disclosure was made on the cost of wafer processing for crystalline wafers. Those were stated as $0.12 to $0.14 per watt, with similar costs for mono wafers. Since they occurred at under 50 to 60% utilization of 1GW wafer capacity, they are bordering on incredible, beating at those levels wafer specialist Renesola (NYSE:SOL) and challenging GCL Poly's (HKG: 3800) with its $0.135 per watt.
Another interesting notation made by the company, which also spelled a positive outcome to the majority of US-listed companies, is the statement about wholesalers, installers, and development companies seeking branded product, recognizing quality and staying power, with a focus on availability and the ability to retain product warranties. Current market conditions have placed tremendous amounts of financial pressure on solar companies to sustain operational ability. Liquidity and ability to garner financing have become issues for most of the companies. This is where the Chinese companies, in addition to efficiency and low cost, have exceptional potential not only to support those requirements but also to lead the markets.
Faced with market challenges, JA Solar did a good job of increasing its cash holdings by 9.1%, or $60M; however, $82M in debt was also added in this quarter. Accounts receivable increased by $33M, a relatively small amount of sales on credit in comparison to other major module makers. JA Solar maintains tight reins on inventory, with a dollar value remaining well below the quarterly revenues, suggesting full turnover of raw materials within the period. In what is the standard tool for retaining cash, accounts payable increased by over $104M.
JA Solar, through a combination of smaller loss and downplayed outcome of duties, has overcome the test perceived as a potential fatal blow to a cell-dominant manufacturer. This serves as proof that despite antagonisms created in the US and the possible threat of punitive action in the EU, the Chinese will continue to dominate the industry.