Apple (NASDAQ:AAPL) has a long history of releasing critically acclaimed ads starting back in 1984 with "The Greatest Commercial of All Time." More recently, one of the coolest aspects of Apple advertising has been the use of relatively unknown musicians, with their music as the (seemingly) most important element of the commercial. Through multi-million dollar ad campaigns, Apple helps bring these lesser-known artists mainstream. With the recent launch of the iPod Nano, iPod Touch and Macbook Air, Compete took a look at how consumers' exposure to offline commercials influenced online behavior, and also how artists (and Apple) benefit from a partnership.
What's incredible is how high quality TV commercials can foster online research. From August 2007 to January 2008, U.S. consumers conducted nearly 1 million queries for iPod related commercials or the underlying music. The table below shows the top 20 search phrases (in terms of query volume), and how these queries were conducted over the period.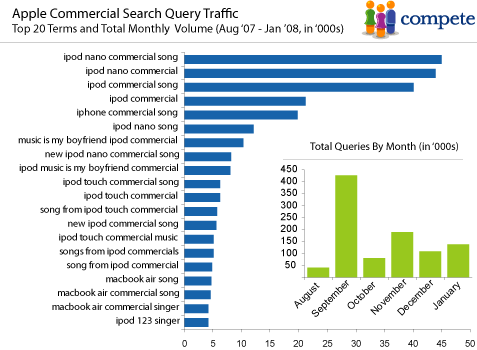 It's interesting to note that 15 of the top 20 searches contained the word "song" or "music" and also helps to explain search behavior. With almost no information being given about the music used in Apple commercials, consumers unfamiliar with the artist (and who apparently enjoyed the song) naturally search for the song in the commercial.
Additionally, the fact that September was such a huge month in terms of Apple commercial search activity indicates the degree to which consumers enjoyed Feist's "1-2-3-4," a song that appeared in Apple iPod Nano commercials. Over 425,000 people were actively searching in September for the song in this commercial.
click to enlarge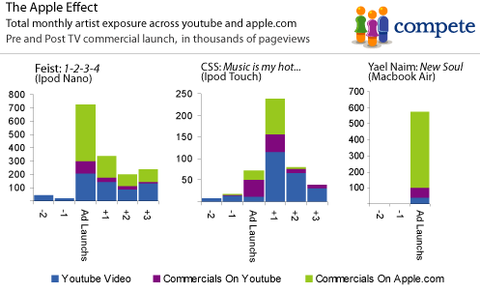 Apple TV ads are all about branding, but they apparently do a great job at getting people to revisit the advertisements online. They also are an amazing opportunity for an undiscovered musician. For all three artists in recent commercials (Feist, CSS, and Yael Naim), Apple ads resulted in exponentially greater exposure to consumers, even excluding the offline component.
For Fiest's "1-2-3-4" YouTube video, traffic grew 1200% from the month prior to the Nano commercial's launch, and over 45X when views of the actual commercial (on YouTube, or Apple) was included.
Growth for CSS's "Music is my hot hot sex," which was created by a fan, and then used by Apple, showed substantial growth as well.
It appears that being exposed through Apple commercials also results in loyalty. In fact, 3 months after the Nano commercial launched, traffic to Feist "1-2-3-4" videos on YouTube was receiving 5 times the monthly views it was getting prior to its feature in the Nano commercial.
It's not surprising, but people seem to have confused the iPhone with the iPod Touch. Traffic to iPhone commercial videos on YouTube and Apple.com spiked around the same time as the iPod Touch ad was released. (not shown)
What is so significant about Apple's advertising is that it not only helps to define the company and generate demand for talented musicians, but also helps encourage the music discovery process, which ties directly back to iTunes. By exposing consumers to great music from new (or unknown) artists, they get people interested in the music search. With an artist the company exposed nominated for a Grammy, and millions of people seeking out commercials instead of avoiding them, Apple is doing a few things right.