Often a down market is a remarkable opportunity for the brave to sink their teeth into their favorite biotech. Biotechs, though risky, can offer high return on value. Here are some biotechs capturing our attention.
Antares (AIS) or soon to be [ATRS]
(click charts to enlarge)
Antares investors have a lot to be excited about. The stock fully retraced and has broken out in a very strong reversal. The move to the NASDAQ couldn't come at a better time. I expect Antares to head in the direction of $4/share. Congratulations to all!
Spectrum (NASDAQ:SPPI)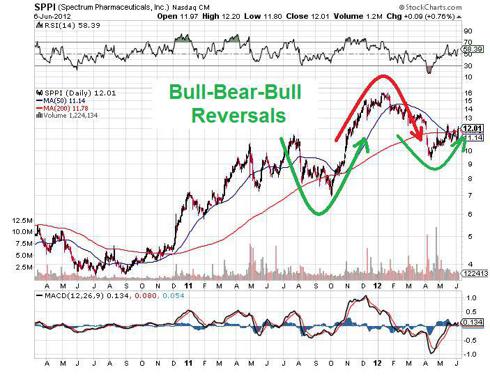 Spectrum has reversed a few times in very short periods of time. It currently has moved into a bullish upside. Its short-term target is $16/share and could be a nice month-long flip unless the global markets tank what appears to be a promising 20% run.
Zalicus (ZLCS)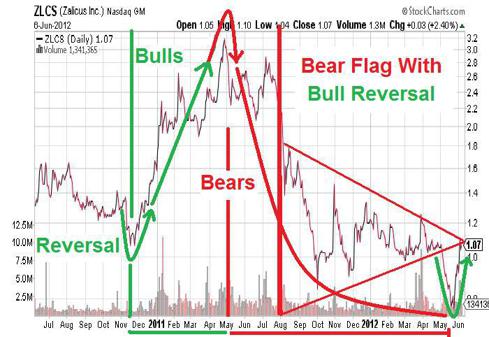 Investors will observe that after the bullish run in the first half of 2011, Zalicus turned very bearish and formed an upside down flag. Chartists will immediately see the three reversals marking new trends. What the chart targets is $3/share, so assuming risk, the upside is substantial.
Pharmacyclics (NASDAQ:PCYC)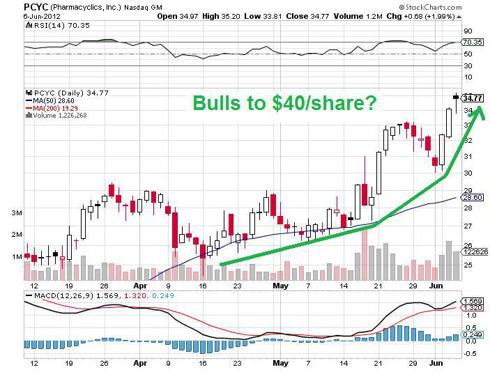 Here's a biotech that's been on an extended run. I called it to $40/share back when it was in the $20s. Notice how the trajectory is getting steeper and steeper. This means the stock in nearing the end of its end. There could be an opportunity here to still register a gain but don't hang on too long because every stock eventually retraces.
Ariad (NASDAQ:ARIA)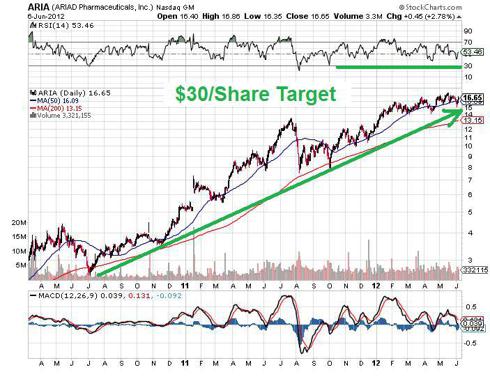 Can you get more bullish than this chart? With Jim Cramer highlighting this stock on CNBC I expect their share price won't lose its legs till it hits at least $30/share. It appears an investor could just sit on this stock for the next year and grab an easy double.
Disclosure: I am long ZLCS.
Additional disclosure: Investors buy and/or sell at their own risk. I declare that I may day-trade at any time any stock listed in this article. For me "Long" is until I sell. I do not "Short" stocks.