Many investors are of the view that unless the commercial construction activity picks up, US steel stocks will keep underperforming. Year to date, the S&P 500 Steel Index is down 21%, and has lost 38% over the last 52 weeks. Decline in steel prices, the European debt crisis, high financial leverage of the US steel stocks, weakening steel demand and the supply concerns due to increasing imports from China and rising utilization rates of US steel manufacturers have restrained market participants from investing in steel companies.
However, companies with exposure to industries where the end demand is still growing present a buying opportunity. AK Steel (NYSE:AKS) is one such stock. We are also recommending Nucor (NYSE:NUE) and Steel dynamics (NASDAQ:STLD) based on their competitive advantage, potential of margin expansion and cheaper valuations. We think their stock prices have already discounted the industry bad news. Any positive news flow on the construction activity or on the macro front will help these stocks to trade higher.
We recommend staying away from US steel (NYSE:X) because of its highly leveraged balance sheet and a weaker operating environment.
From a Bull's eye:
Since 2011, the iron ore prices have been on the decline, whereas Chinese inventories have risen. This bodes well for the steel industry, as Iron ore is a major input in the production of steel.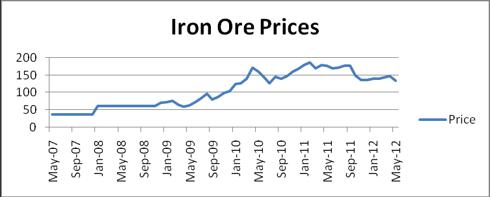 China import Iron Ore Fines 62% FE spot (CFR Tianjin port), US Dollars per Metric Ton
The Bearish view:
Steel producers in the U.S have a price cap and cannot increase prices due to the cheaper supply of steel available from China. Currently, both China and the U.S have excess capacity installed.
Despite a weak pricing scenario, the capacity utilization of the domestic producers is on the rise.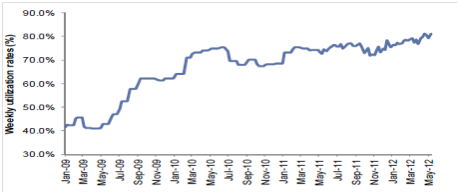 Source: AISI
Have a look at the following chart showing the fall in steel prices.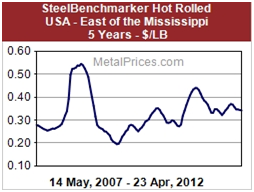 Watch out for the potential reversals in:
ABI: The Architecture Billings Index, an indicator of American construction activity, had shown increased billings for non- residential construction in the five straight months before declining in April. If the ABI recovers going forward, it will be favorable for the steel industry.
European Crisis: Uncertainty in Europe has hampered the steel demand and any resolution will be beneficial for the steel industry.
Overview of the Steel production:
U.S is the third largest producer of steel in the world with production for 2011 totaling 86.2 million tons. It is interesting to note that the US production has declined over the past few years with production dropping from 98.1 million tons in 2007 to 86.2 million tons in 2011.
Comparison of U.S and Global Steel production

Year

2007

2008

2009

2010

2011
| | | | | | |
| --- | --- | --- | --- | --- | --- |
| United States | 98,102 | 91,350 | 58,196 | 80,495 | 86,247 |
| Total World Production | 1,347,002 | 1,341,205 | 1,235,841 | 1,428,711 | 1,490,060 |
Source: World Steel Association
However, even after being the third largest producer of steel, the U.S is still a net importer of steel. This is due to the vast demand and competitive pricing scenario globally (especially China) and the high fixed costs associated with steel production domestically in the U.S.
The major input used in the production of steel is Iron ore or Iron Scrap. The US produced 54 million tons of Iron ore in 2011 (Source: USGS). US is a net exporter of Iron Scrap. Recycled scrap is used for the production of approximately 66% of the steel produced in the U.S. Recycling scrap is environmentally friendly as it causes less air and water production as compared to production of steel from iron ore.
Comparison of U.S and Global Iron Ore production

Year

2007

2008

2009

2010

2011

United States

52

53

26

49

54

Total world Production

2,000

2,200

2,240

2,590

2,800
Source: World Steel Association
The End market:
Major end consumers in the steel industry include autos, transportation, heavy equipment, energy and construction (both residential and non-residential).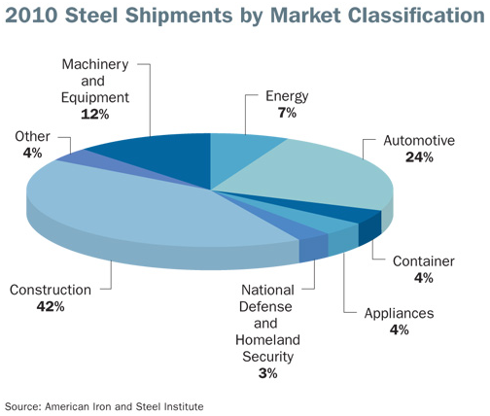 Global trends affecting Steel prices:
China
China's Fixed Asset Investment (FAI) is considered one of the best indicators for the steel demand. Year to date, its growth has fallen to 20.2%, slightly below the consensus estimates of 20.9% .Furthermore, the domestic steel prices have been falling which have squeezed Chinese Steel mill margins. The low margins realized by the Chinese steel mills have also been exerting pressure on other raw material prices. According to the Head of Fortescue Metals Group Ltd. (OTCQX:FSUMF), Australia's third-largest producer, coal prices are expected to decrease by 19% to $110/ton before finding a "long term, sustainable" level.
April Industrial production of steel fell to 9.3%, below consensus of 12.00%-12.30%. According to the World Steel Association, steel output in China, the world's largest steel producer, declined by 1.6 percent to 60.57 million tons in April. The Steel output in China peaked at 61.58 million tons in March 2012.
On May 12, the Peoples Bank of China announced, that the Reserve Requirement Ratio (RRR) would be cut by 50bps which should help increase the economic activity. There are expectations in the market that the Peoples Bank of China may loosen the policy stance in the 2H12 as also expressed by Goldman Sachs China Economic team in its report titled 'Steel Scraps Monthly' dated May 15, 2012.
Europe
The financial turmoil in the eurozone due to the debt crisis of Greece and Spain will bode negative for the industrial activity and any negative news will exert downward pressure on the steel demand as well as its prices. The European Union accounts for 11.14% i.e. 153 million tons while total world demand was 1,373 million tons for 2011. Construction accounts for almost 50% of the steel demand followed by Machinery.
United States of America
Despite weak pricing scenario in the domestic U.S market, the steel producers are pushing more steel into the market. The weekly utilization rates for domestic steel producers are on the rise and are currently hovering around 80%. In 1Q12, Imports have increased by 17% from last year; reiterating the fact that supply is constantly increasing despite low demand.
However, one potential turnaround for steel stocks could be the revival of housing market in US. Housing starts for the first four months of this year are 24 percent higher than the comparable 2011 period. In May, the US homebuilders' confidence reached five years high.
Major Companies:
Comparison Sheet
| | | | | | | | |
| --- | --- | --- | --- | --- | --- | --- | --- |
| Financial Ratios | AKS | NUE | STLD | X | | Industry | |
| | | | | | | | |
| LT growth rate | 25.75% | 8.73% | 10.21% | 5.00% | | | |
| Quarterly change in net income | 93.91% | 5.87% | 51.26% | -3.10% | | | |
| Stock Price Performance (3months) | -14.76% | -12.97% | -25.54% | -26.4% | | -19.92% | |
| EPS Growth rate (Q4 2011 - Q1 2012) | 93.75% | 6.98% | 50.00% | -3.18% | | | |
| Dividend yield | 3.38% | 4.15% | 3.81% | 1.02% | | 1.67% | |
| P/E (NYSE:TTM) | N/A | 14.91 | 10.81 | N/A | | 48.33 | |
| PEG (5 year expected) | 0.99 | 1.64 | 0.89 | 1.28 | | 0.68 | |
| P/S | 0.1 | 0.56 | 0.29 | 0.14 | | 1.85 | |
| EV/ EBITDA | 13.10 | 6.63 | 6.20 | 6.58 | | | |
Steel Dynamics Inc.
STLD's stock has not performed well in the previous 3 months (down by 25.54%) because of low metal margins, high iron ore costs and low-end demand. However, it is currently undergoing a joint venture with Magnetation in Minnesota, which will reduce iron ore costs, increase commercial activity and improve its margins. These factors, coupled with high expected earnings growth and attractive valuations are the reasons for our buy stance.
STLD's key end customers are construction, transportation, automotive and heavy equipment industries. Management believes that steel consumption will continue to grow in almost all these sectors. For residential and nonresidential construction, the management thinks that activity has reached its bottom and may continue to show some growth. The management also believes that metal margins will improve in the upcoming quarter.
Its current gross profit margin of 10.51% is extremely low. Its net profit margin of 2.55% also trails behind the industry average of 13.26%. However, the reduction in iron ore costs, because of the joint venture with Magnetation, will improve the margins in future.
Its long-term earnings growth rate of 10.21% is very lucrative. Furthermore, the price-earnings ratio of 11x is lower than that of its major competitor Nucor. Nucor is trading at a price to earnings ratio of 15x. Likewise, its price-to-sales ratio is just 0.29 compared to industry's 1.85.
U.S. Steel Group
US Steel Group's high beta, high fixed costs, weak liquidity position, recent reduction in its credit rating by Fitch and poor stock performance are the reasons for recommending a short position in the stock.
X's beta of 2.45 is higher than industry's average of 1.38. Moreover, the company is highly leveraged because of its high fixed costs and net debt-to-equity ratio is near 110%. This has resulted in Fitch reducing US Steel's long-term Issuer Default Rating (IDR) from 'BB' to 'BB-'.
U.S. Steel Group's loss has dramatically decreased after it sold off its Serbian operation. This positively impacted the performance of its European division. However, it is a one-off event and such a large reduction in loss is not expected in the future.
Liquidity position of US Steel, as illustrated by its quick ratio of 0.92 vs industry's average of 1.90 is not helping the stock either. Stock's 26% makes it the worst performing steel stock for last three months. Its dividend yield of 1.02% and EPS growth rate of -3.18% are the lowest among its peers.
Nucor
Nucor's sustainable competitive advantage lies in its modern steel making techniques, use of scrap steel, focus on environmental protection, successful strategic alliances and potential growth opportunities. These factors along with Nucor's highest dividend yield in the industry makes it a buy.
Nucor is investing in various growth projects, and it is moving up the value chain. Nucor will continue to benefit from the exclusive rights it holds on the Castrip technology, which helps it lower operating costs and maintain flexibility. It distinguishes itself from the rest of the steel industry by its use of scrap steel, a fact that makes Nucor the largest recycler in the nation. Furthermore, the company uses modern steel making techniques allowing Nucor to employ fewer workers. This gives Nucor a sustainable competitive advantage. Its overarching commitment to environmental excellence is also one of the factors distinguishing it from its peer group.
Recently, Nucor acquired Skyline Steel LLC. Strong technical support, considerable distribution network, and excellent customer fit of Skyline will help Nucor improve its competitive position further.
Most of Nucor's end markets (autos, manufacturing, energy and heavy equipment) are performing well. Its Dividend yield of 4.15% is the highest among its competitors and well above the industry average of 1.67%. The stock is also one of the best performing steel stocks, year to date.
AK Steel
AK Steel's dramatic reduction in its net loss, lower iron ore costs in future, attractive growth opportunities, and lucrative valuations lead us to recommend a long position in the stock.
In June 2011, AKS permanently closed one of its plants, Ashland. The plant was no longer competitive due to increased maintenance costs and stringent environmental regulations.
In October 2011, AK Steel incorporated Magnetation LLC, a joint venture with Magnetation Inc., which will help reduce costs and increase quality of iron ore. AKS expects Magnetation to be accretive to its 2012 earnings.
Once its iron ore costs are reduced, after Magnetation's plant starts operations in Q3 2012, its gross margins will expand. AK Steel's price-to-sales ratio of 0.1 is the lowest among all its competitors, which makes it an attractive option. Its long-term growth rate of 25.75% is also the highest among its competitors.
Conclusion:
We recommend putting together a steel basket comprised of 25% long positions in AKS, STLD and NUE. Investors can short sell X giving it a 25% weight. The stock prices of recommended long positions have fully discounted the weak environment in the steel industry and can trade higher as the economy grows. On the other hand the high beta of X will protect investors in case steel prices continue to slide lower.
Disclosure: I have no positions in any stocks mentioned, and no plans to initiate any positions within the next 72 hours.