Research In Motion (RIMM) continues to fall as the market is concerned about the company's loss of market share and negative operating income.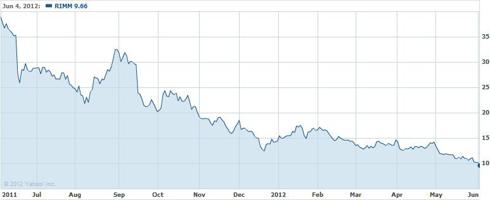 Click to enlarge
Another reason for the falling share price was due to the news of Samsung's new Galaxy phone will be coming out soon. In addition, last Tuesday, RIM provided investors a weak outlook for this quarter. The company expects an operating loss and plans to layoff a large portion of its workforce.
Some analysts have been citing that RIM is a value play based on various metrics, but I believe their numbers are off.
For example, the sum of all parts is a typical method used in trying to properly value RIM.
RIM currently has around $2.1 billion in cash. Then we need to start looking at the value of patents. Michael Walkley of Canaccord Genuity puts the value of the entire business at $5.25 billion. However, Walkley believes the cash on hand will deteriorate due to the payout of severance packages. Many of RIM's employees will be laid off, which means they will be eligible for benefits such as severance pay, which will initially hold the company back. Walkley also states that RIM has 78 million users, but only 20 million are corporate. The 58 million consumers could switch to Apple (NASDAQ:AAPL) and Google (NASDAQ:GOOG) if they desire to.
Based on this estimate of parts, the company would retain a market cap of somewhere around $7.4 billion. However, keep in mind the value of the business is on the higher end. This estimate puts the value of the shares at $14.
A few issues with this assumption is that it is based on the idea of a bidding war between major plays such as Apple, Google, and Microsoft (NASDAQ:MSFT). In addition, it assumes that the patents would retain their values as the business is slowly dying.
RIM could really only unlock this value through a sale and the only suitable buyers are Apple, Google, and Microsoft. There are issues these companies would have buying RIM. For starters, even if these companies had an interest in acquiring RIM's patents, they would face several legal hurdles. Any of these patent purchases would be subject to heavy scrutiny from regulators.
Google already paid $12.5 billion to acquire Motorola Mobility, so it might be difficult for the government to even allow them to purchase their patents. Apple is a company that does not really need RIM's patents due to the strength of its own phones. The only reason for them to buy the portfolio would be for protection from IP litigation. Microsoft's $1 billion deal with Nokia hasn't really paid off, so they have more incentive to access the smartphone market by acquiring RIM's stronger patents.
In the end, it doesn't matter if any of these companies want to acquire RIM or its patents, the real question is will Thorsten Heins accept their offers?
RIM was just trading at $35 last year. My concern with Heins is that I hope he does not believe he can get Microsoft or a similar company to pay that price. This is similar to Dick Fuld refusing to sell Lehman because the selling price was too low. We all know how that went.
I believe the risk-reward situation at this point is just not worth it. Sure, an optimistic scenario is that RIM could be worth $14 per share, but ultimately the executives have the last say. If RIM chooses not to pursue a sale, the business could continue to deteriorate and the value of its patents will fall. In that scenario, it would be just better for Apple, Google, and Microsoft to just wait it out to purchase patents at a more distressed price.
Investors should not look at RIM as a value play because the only way value can be unlocked is if one of its major competitors are willing and allowed to purchase it.
Disclosure: I have no positions in any stocks mentioned, and no plans to initiate any positions within the next 72 hours.