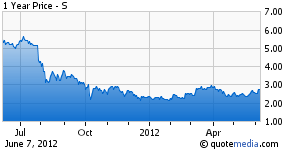 Sprint Nextel (NYSE:S) - currently trading around a paltry $2.50/share - recently announced it would shut down its Nextel network in June of 2013. This news, combined with the general pattern of the stock for the last decade, suggests to me that even at $2/share, there does not seem to be anything to get excited about in the future with regard to the troubled telecom company.
The news Sprint would be shutting down its Nextel network should not come as much of a surprise. Nextel is based around "walkie-talkie" sort of phones, which just do not have much demand. The phones are based around "push to talk" technology, in which the user presses a button to talk and releases it to listen, similar to the way a walkie-talkie works. Why anyone who isn't a 10-year-old playing in their backyard would buy a walkie-talkie phone is beyond me. Nextel's network is 2G, which cannot even handle smartphone technology. Brilliant. While it's a good move to end this failed experiment, it's still pretty embarrassing for Sprint. Sprint bought Nextel in 2005 and has struggled with turning a profit ever since.
Nextel's network will be decommissioned in favor of a new 4G network, clearly the telecom technology of the future. However, it could be too late for Sprint. Other companies, like competitors Verizon (NYSE:VZ) and AT&T (NYSE:T) have already launched similar networks, so they have quite a head start on Sprint. This technology lag is likely responsible for the amount of customers that have been jumping ship from Sprint over to Verizon and AT&T. Sprint also has a ton of debt, $300 million of which must be repaid by March of next year, with another $1.5 billion (yes, billion) due seven months later.
The importance of 4G networks for telecom companies going forward cannot be understated. The fact that Sprint is behind in this is the main driving factor behind my apprehension about the company in general. Sprint cannot afford to be seen as behind the times. In a lot of tech circles, however, it already is. A recent Zacks scorecard for Verizon touted the fact that Verizon is leaps and bounds ahead of Sprint, and even AT&T. Verizon plans to expand its 4G coverage to 400 markets by the end of 2012. Again - Sprint is just getting started with this technology, wasting years on the walkie-talkie debacle that is Nextel. Furthermore, network speeds using Apple's (NASDAQ:AAPL) extremely popular iPhone lag behind on Sprint, as compared with Verizon and AT&T.
Another negative for Sprint could be rival Verizon acquiring SpectrumCo and Cox Communication for $3.6 billion. With the move, Verizon would expand its coverage of the wireless spectrum. This is disconcerting to Sprint, who - along with fellow telecom competitor T-Mobile - called the deal a "clear threat to competition." Verizon has also previously been looking to acquire another competitor of Sprint's, Vodafone (NASDAQ:VOD), which would also give it a leg up over Sprint.
It's not all bad news for Sprint, however. The company recently announced an additional 263,000 subscribers. This comes at a time when Verizon and AT&T are seeing less new customers. Also, Sprint ranks very highly in rates of customer satisfaction. In fact, according to a survey by the American Customer Satisfaction Index, Sprint is number one for wireless carriers. And strikingly, the survey noted Sprint is the lone corporation among all 47 industries contained in the survey that had its customer satisfaction go from last to first from 2008-2012. Sprint CEO Dan Hesse stressed the results are a great sign for the company.
"Not only to come from last place to first place in our industry, but to be the most improved U.S. company, period, over the last four years in the ACSI survey is a testament to the relentless focus the people of Sprint have placed on serving our customers," Hesse said.
Indeed, Sprint was known for quite poor customer service as recently as 2008, as reflected in the survey. Part of the problem was its merger with Nextel in the first place, as the two networks just didn't work very well together. So, the fact that customer satisfaction with the company has seen such a drastic turnaround is certainly a great sign for Sprint.
That's all fine and dandy, but customer satisfaction is far from the most important metric to consider when deciding whether or not to buy a stock. Even those more bullish on Sprint, such as Saibus Research, point out that while customer satisfaction has risen, profits have not. Nonetheless, there are those who have confidence in the future of Sprint. One of the reasons Saibus cites for its confidence is that Sprint is the lone company still offering unlimited data plans. Companies like Verizon allow its smartphone users to use up to 2 GB of data per month before they are charged an extra $10 for each GB after that. Sprint has touted this fact on many of its commercials, but those familiar with how much data 2 GB actually is realize that this is a rather minimal difference. Even heavy users of data who stream content like internet radio for hours a day almost never go over 2 GB, so the advantage of having unlimited data over a 2 GB is extremely marginal. Thus, I do not think this difference between Sprint and its competitors is nearly as important as some do.
Overall, I cannot recommend getting involved in Sprint, even at its extremely low stock price. I suppose one could argue taking a chance on them; who knows, maybe Sprint has reached its bottom. But given the deluge of negative press Sprint will receive until the Nextel closure blows, maybe it would be best to wait until Sprint sheds Nextel next June and begins focusing on 4G technology. If it is able to gain ground in that realm, the future could look bright. Until then, I would stay away from Sprint.
Disclosure: I have no positions in any stocks mentioned, and no plans to initiate any positions within the next 72 hours.